Part II of Wine Lister's annual Bordeaux Study, "Going the (quality distance)", explores the outperformers of the latest vintage – the top 15 wines whose Wine Lister Quality score (part of our Pro rating system) in 2020 most exceeded their wine-level average.
Read on below to find out more, or head to our analysis page to download the Bordeaux Study here.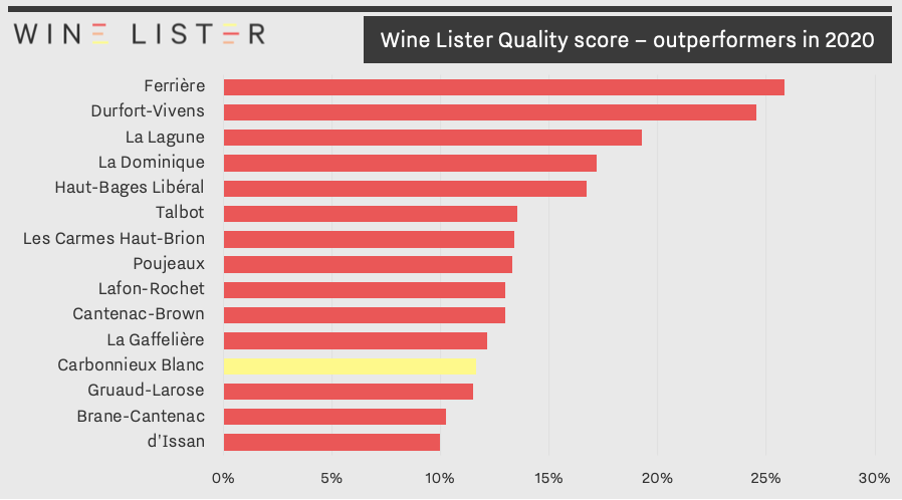 Margaux is well-represented in the 2020 outperformers chart, with five wines showing significant improvements this year. Appearing in fourth place of quality outperformers for 2019, Ferrière now tops the chart. Gaining a score of 94-96 from Wine Lister's partner critic, Antonio Galloni (Vinous), he describes the latest release as a "powerhouse" that shows, "the more virile side of Margaux off to great effect." Appearing in the top spot in 2018 and 2019, Durfort-Vivens ranks second place this year, while fellow Margaux châteaux, Cantenac-Brown, Brane-Cantenac, and d'Issan take 10th, 14th, and 15th place, respectively.
La Lagune appears third in the list of outperformers for the second year running, having been described by Wine Lister CEO, Ella Lister, as having, "Exquisite texture" in 2020. Also hailing from the Haut-Médoc, Poujeaux appears in eighth place, with Antonio Galloni (Vinous) calling the latest release "Plush, engaging, and flat-out delicious."
In neighbouring Pauillac, Haut-Bages Libéral returns for a second year to rank fifth amongst the top outperformers in 2020. Awarding 17 points, James Lawther for JancisRobinson.com found the latest vintage to be, "Pure and precise with plenty of energy and drive."
On either side of Pauillac's parameters, two châteaux from Saint-Julien feature in the list, with Talbot and Gruaud-Larose showing strong improvements in Quality score in 2020, while Saint-Estèphe is represented by Lafon-Rochet. Awarding a score of 93-95, Antonio Galloni (Vinous) describes Lafon-Rochet 2020 as, "Silky, elegant and so pure […] shaping up to be one of the real under the radar gems of 2020."
Alongside Les Carmes Haut-Brion – who appears in seventh place amongst top outperformers in 2020 – the Pessac-Léognan picks comprise the only Bordeaux white to feature in the ranking.  Carbonnieux Blanc receives a score of 90-92 from both Antonio Galloni and Neal Martin (Vinous), with the latter noting, "A fragrant, well-defined bouquet of Braeburn apples, pear and wild mint".
Two wines from Saint-Émilion made significant advancements in this year's ranking, with La Dominique ranking fourth, and La Gaffelière appearing in 11th place. The latter features for the second year in a row, receiving 96-98 from Neal Martin in 2020, who calls it a "magnificent prospect".
Part II of Wine Lister's annual Bordeaux Study also explores evaluating the leading Bordeaux bottles for long-term price performance and presence at auction. Check out the Study Digest for some key findings here, or purchase the full report on our Analysis page. Pro subscribers can access their free copy here.