With the bank holiday weekend approaching, Wine Lister has selected 10 mature Bordeaux MUST BUYs that promise to please with your Easter Sunday lunch. Boasting at least nine years of ageing, these top picks are available to purchase for under £100 (per bottle in-bond, when purchasing by the case in general).
Check out all of our Bordeaux MUST BUYs here, or read more below.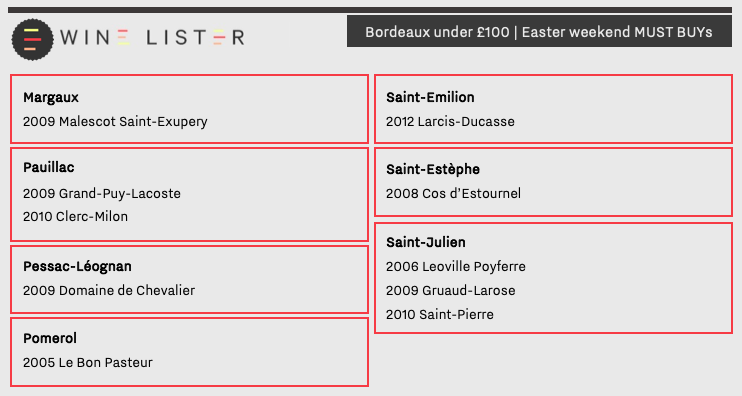 Regarded as a top-quality year for Bordeaux across appellations four of the 10 MUST BUY picks hail from 2009. Following a wet spring that provided plentiful water reserves, the summer of 2009 saw almost perfect growing conditions with minimal disease pressure, and many great wines from the vintage are beginning to either their optimum drinking window.
Described by Wine Lister partner critic, Jancis Robinson, as "very winning and opulent" with "massive volume and finish", Margaux's Malescot Saint-Exupery achieves a WL score of 93 in 2009. The property has exhibited an upward quality trajectory since the turn of the century, with the legendary Michel Rolland consulting on its production of a single, unfiltered and unfined wine. The 2009 vintage can be purchased from Fine+Rare for £71 per bottle (in-bond).
Grand-Puy-Lacoste's 2009 vintage receives 18 points from Robinson, who notes; "a very sweet start. Herbal and interesting. Lots of fine tannin and savour. Very distinctive and ambitious". Marking the estate's highest WL score since its 1990 vintage (94), the 2009 is available to purchase from Bordeaux Index for £59 per bottle (in-bond).
Another classic left bank brand, Gruaud-Larose's 2009 is described by Wine Lister partner critic, Neal Martin (Vinous), as offering refined aromas of "blackberry, cedar and leather", and a "fine bead of acidity [with] great precision on the brown spice infused finish". Hailed for the longevity of its wines, this can be enjoyed now, or aged for at least 10 more years. It is available from Bordeaux Index for £81 per bottle (in-bond).
Moving across to the right bank and back a few vintages, 2005 Le Bon Pasteur achieves the property's highest ever WL score (94), and is described by Wine Lister partner critic, Bettane+Desseauve as offering notes of "dark fruits and fine chocolate", and a "refined tannic structure, brilliant length and freshness". With over 15 years of age, and only 2,500 bottles released, it has limited remaining market availability, but can be sought out for £100 per bottle (in-bond) from Cru World Wine.
Slightly south in Saint-Émilion, our chosen younger offering from Larcis-Ducasse – the 2012 – is available from Cult Wines for £41 per bottle (in-bond), making it the least expensive of the group. While rain in October forced many left bank estates to pick their late-ripening Cabernet Sauvignon earlier, the predominance of Merlot on the right bank saw its wines perform comparably better in 2012. Wine Lister partner critic, Jeannie Cho Lee, describes the 2012 Larcis-Ducasse as an "elegant, full bodied red with opulent tannins and wonderful energy".
Last but not least, Saint-Estèphe star Cos d'Estournel makes the cut for its 2008 vintage. Robinson describes it as "very luscious and round" with a "strong blackcurrant element" and "surprisingly gentle tannins". Achieving a WL score of 94, it is available to purchase by the bottle from Lay & Wheeler for £88 (in-bond).