On 11th February, Sassicaia 2018 was released at £150 per bottle (in-bond), 6% up on the release price of the 2017.
Wine Lister attended an online tasting of this new release, as well as Guidalberto and Le Difese 2019, hosted by Armit Wines and Sassicaia's third-generation director, Priscilla Incisa della Rocchetta. Armit's Managing Director, Brett Fleming noted the uptake on all three wines has been excellent: "it has been an extremely successful launch from Tenuta San Guido over the past two weeks. Update and demand have been far in excess of anything we've been able to manage".
Though all three wines are made in the large majority from international grape varieties, Priscilla's observation that "Cabernet [has] found its sense of place in Bolgheri" shines through the wines. Each has its own distinct character, but with a fundamentally Tuscan undertone.
Background
Sassicaia began as the passion project of Marchese Mario Incisa della Rocchetta. While studying agriculture at the university of Pisa, he developed a penchant for wine from Cabernet vines, and subsequently invested in his own, so as to have wine for his family and friends that appealed to his tastes.
During the Zoom tasting, Priscilla told us that in the 1960s, Marchese Mario's third son, (and Priscilla's father) Marchese Nicoló, managed to convince him to begin distributing the wine, "transforming his hobby into something resembling a business". Over the last half-century, the agricultural focus of Sassicaia's 2,500-hectare estate has shifted increasingly towards top-quality winemaking. Still continued today nonetheless is the breeding of race-horses on the estate, as well as the preservation of a 500-hectare wildlife reserve.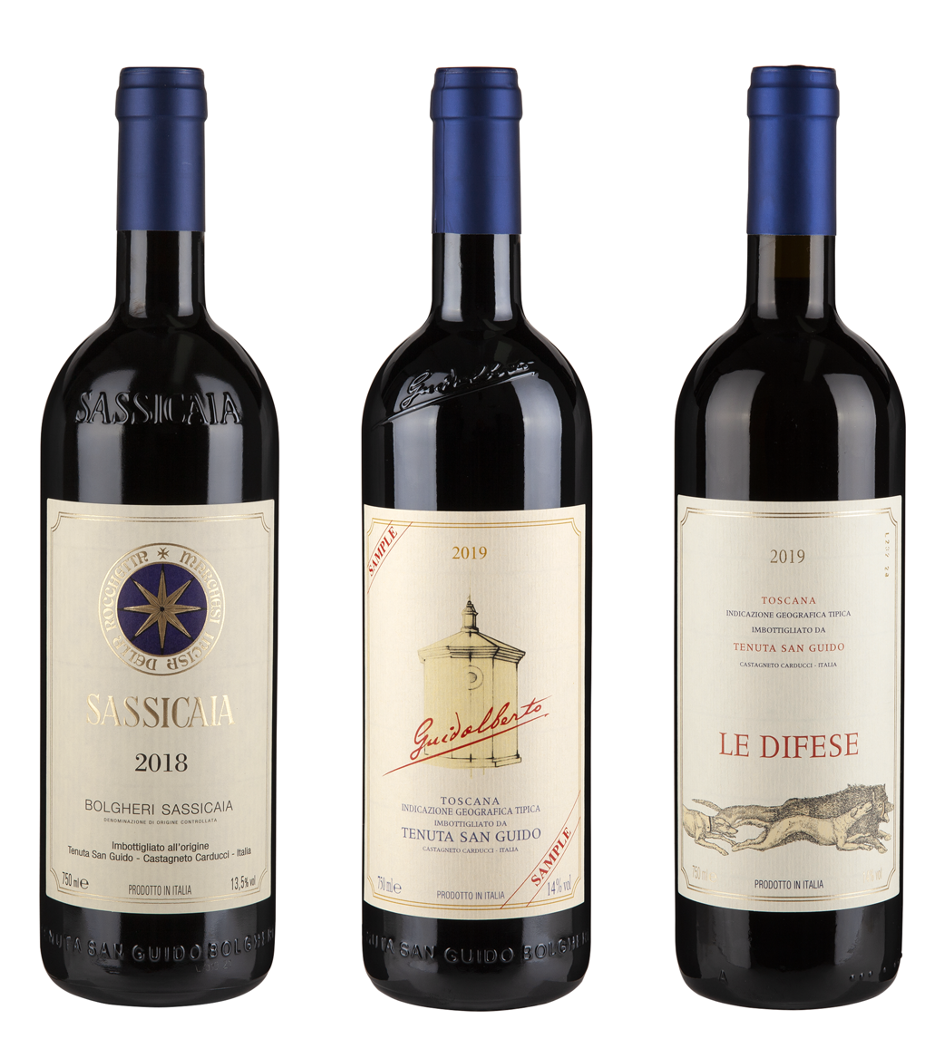 Official photos courtesy of Tenuta San Guido
Sassicaia 2018
This is the 50th vintage of Sassicaia to be released onto the global wine market. Priscilla notes that "8" is usually a lucky number, and this was the case once again for the growing season resulting in this year's anniversary release.
The wine leaps from the glass, with an energetic nose featuring suave red fruit, and a floral note of cherry blossom. The palate shows great depth – red cherries and plums as well as an earthier undertone, matched with a fine, elegant texture, particularly lifted by the wine's vibrant acidity.
Guidalberto 2019
The only wine of the three tasted from a cask sample, the latest release from Guidalberto shows a sultry wine with impressive structure, yet seamless integration of its elements. The fruit profile is darker than its big cousin, but the same lift and freshness resounds on the palate, giving the wine a round and long finish.
Priscilla explains that the 2019 vintage was "warmer than other preceding vintages, not as much as 2017 or 2012, but comparable with 2009". She continues, "we had a dry and mild winter, cool and rainy spring, but a regular summer, apart from rain during the middle of August which brought fresh air that allowed grapes to stay longer on the vines". This small interruption to the ripening gave the Merlot a little extra time to soften.
She shares with us during the tasting the big news for Guidalberto – after postponing building plans for a brand new cellar of its own due to Covid restrictions, the works are finally underway, and the wine is set to have its own home, completely separate from Sassicaia, by 2023.
Le Difese 2019
After nearly 20 years in production (its first vintage was 2002), Le Difese proves itself a vibrant and well-balanced drinking wine. The 2019 shows an intense and immediate nose of sour cherry, and pure, juicy red berries on the palate.
Priscilla comments on its design; "[It] should be a wine that's easy to drink, enjoyable young, aromatic but with some good structure because of the Cabernet Sauvignon". The winemaking team has chosen to increase the amount of Sangiovese in the blend of the 2019 (from 30% up to 45%), so as to better service market demand for an easy-drinking wine that is approachable younger.