The end of 2020 is perhaps reason enough to pop open a bottle of champagne. With Christmas and New Year around the corner, Wine Lister has compiled a list of 21 Champagne MUST BUYs to enjoy over the last days of this year, and into 2021. Whether you have a penchant for discovering grower champagnes, or prefer to relish in those the top Grandes Maisons have to offer; whether you enjoy the purity of a Blanc de Blancs, the balance of an assemblage, or the opulence of a Blanc de Noirs, the selection of vintage champagnes below is sure to offer guidance for any preferred style.
Find out more about our 21 Champagne MUST BUYs for 2021 below.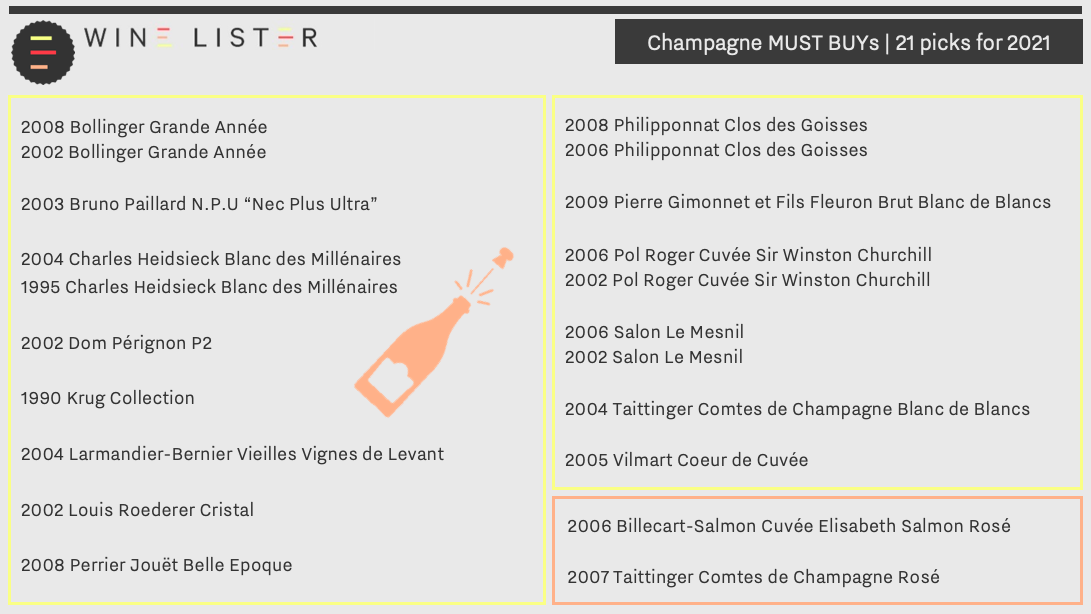 Long-established house, Charles Heidsieck, is represented in our MUST BUY selection with two vintages of its Blanc des Millénaires – 1995 and 2004. The wine is so-named to reflect its high ageing potential, and is only created in vintages worthy of the label (since its inception, just five have been made). The 2004 achieves a WL score of 95, and is praised by Wine Lister partner critic, Jancis Robinson, as having "sheer confidence, appeal and completeness". Earning one more WL point, the 1995 shows "just how compelling this often-overlooked vintage can be", according to Wine Lister partner critic, Antonio Galloni (Vinous). Both vintages can be bought by the case of six in-bond from Cru World Wine.
Also the crown jewel of its own house, Perrier-Jouët's Belle Epoque carries its own portion of history within its name, referencing the Art Nouveau movement of the early 1900s. The prestige bottling can be appreciated on the inside and out, particularly in the spectacular 2008 vintage. Wine Lister tasted it recently, and found it to have a concentrated nose of white peaches, brioche, and a hint of honeysuckle, with brilliant tension on the palate. 2008 Belle Epoque is available to purchase by the bottle from Lay & Wheeler, for £129 (in-bond).
A further two MUST BUYs hail from the boutique house, Philipponnat Clos des Goisses. The 5.5-hectare Clos de Goisses parcel is the oldest and steepest "Clos" in champagne. The 2006 and 2008 vintages of this single-vineyard cuvée both receive a WL score of 96. Jancis Robinson praises both vintages, writing that the 2006 "positively screams for attention", while the 2008 is "explosive… like a firework on the palate". They can both be acquired in-bond from Bordeaux Index.
Included in our 21 MUST BUY champagnes are two grower offerings lying outside of champagne's more widely-declared vintages. Notorious for its killer heatwave, 2003 is not well-appreciated among the champenois. Bruno Paillard's 2003 N.P.U. challenges this perception, offering a "dancing" palette of "open and floral notes" according to Jancis Robinson. Acknowledging that the vintage was hugely criticised, Paillard says that for him, "it's a great vintage". Another elusive grower champagne rounds off our list. Jancis Robinson hailed the 2005 Vilmart Coeur de Cuvée as "a wine to wallow in", praising its complexity and "refreshing finish".
Also featured in the list of 21 Champagne MUST BUYs for 2021 are: 2006 Billecart-Salmon Cuvée Elisabeth Salmon Rosé, 2008 Bollinger Grande Année, 2002 Bollinger Grande Année, 2002 Dom Pérignon P2, 1990 Krug Collection, 2004 Larmandier-Bernier Vieilles Vignes de Levant, 2000 Louis Roederer Cristal, 2009 Pierre Gimonnet et Fils Fleuron Brut Blanc de Blancs, 2006 Pol Roger Cuvée Sir Winston Churchill, 2002 Pol Roger Cuvée Sir Winston Churchill, 2006 Salon Le Mesnil, 2002 Salon Le Mesnil, 2004 Taittinger Comtes de Champagne Blanc de Blancs, and 2007 Taittinger Comtes de Champagne Rosé