The first of the Burgundy 2019 en primeur releases began this month, reigniting conversation of last year's growing season, and its subsequent offerings. Wine Lister has spoken to several key Burgundy producers, and has sampled the 2019s from leading négociant, Louis Jadot, to get a better picture of this promising vintage.
Burgundy's 2019 growing season was marked by a notably hot and dry summer, resulting in wines of extreme concentration. Due to a combination of spring frost, uneven flowering, and summer drought across many sites, yields in 2019 are significantly lower than average.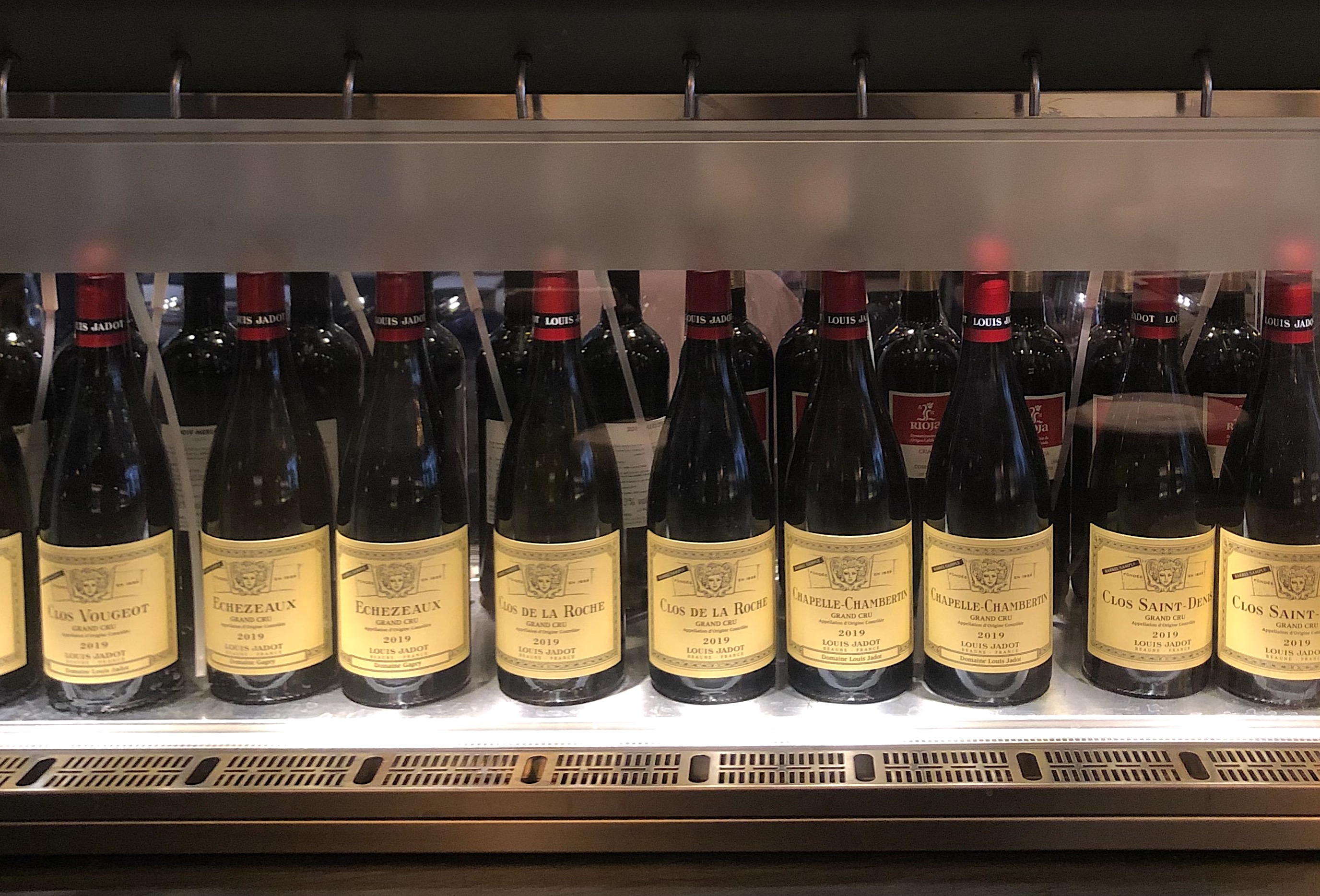 A line-up from Louis Jadot's 2019 en primeur tasting, organised by Hatch Mansfield at Vagabond, Monument on the 3rd of November 2020
Sourcing grapes from across the region, including its own holdings in some of Burgundy's most prized plots (e.g. Chapelle Chambertin, Clos Vougeot, and Vosne-Romanée), Louis Jadot's production in 2019 is down 50% for Chardonnay, and 30% for Pinot Noir. A cool and windy spring caused millerandage across Jadot's sites, leading to many of the smaller, unripe berries being discarded. Warm temperatures in 2019 meant that grapes had high natural sugar levels, and correspondingly high alcohol across the region. Deputy General Manager, Thibault Gagey, tells us that several Louis Jadot wines are approaching 14 degrees in 2019, however, they nonetheless offer "good acidity, so they are powerful but balanced", and there "isn't a feeling of high alcohol".
Wine Lister agrees whole-heartedly, and was particularly impressed by the quality of the whites. The Chablis Blanchot was "pure and lithe with an already-sumptuous texture", while the Chassagne Montrachet Morgeot Clos de la Chapelle offered a delightful nose of "honey, truffle, and brioche", with "rich citrus" on the palate. For reds, Wine Lister enjoyed the "complex and earth-toned" Clos Saint-Denis, and the "powerful but poised" Gevrey-Chambertin Clos Saint-Jacques. Gagey informs us that he is indeed "very proud of the 2019s", and is "confident that it will be a good vintage".
Across the Côte de Beaune, harvests were small in 2019. Arnaud Ente tells us that his namesake domaine saw "a spell of spring frost", which caused significant damage and loss of yield, and "uneven weather patterns during flowering", caused coulure and millerandage. The summer was mostly hot and dry, causing hydraulic stress to the vines, but "20-30mm of rainfall in late August" helped to unblock phenolic maturation, and allow the grapes to reach "impressive levels of maturity while maintaining good sugar levels, and also a very lovely acidity". Ente notes that his 2019s have achieved "extraordinary balance, due to the acidity in the grapes developing slowly". The vintage is of "enormous potential", if down 20% on an average year in terms of volume.
Domaine Jean-Noël Gagnard similarly experienced significant frost in 2019; the principal cause of its small harvest. Winemaker Caroline Lestimé echoes the experience of  "millerandage followed by hydraulic stress on the vines during the summer drought", resulting in "small, but thankfully exceedingly concentrated berries". Due to the two extremes of conditions throughout the season, Lestimé analysed the sugar / acid balance frequently near to harvest, so as to pick the optimum window for picking. Once again, quality here is likely a triumph, but Lestimé adds that "Jean-Noël Gagnard has not seen such a small harvest since 1999".
Guillaume d'Angerville tells us that in Volnay, "frost risk was on everyone's mind", however, "dry and windy conditions helped to avoid frost damage" across Marquis d'Angerville's plots. Water and heat stress in summer was a problem here too, "stopping the plant's evolution, and veraison was delayed as a result". He similarly explains that "selecting the correct harvest date proved difficult", in part due to the "heterogenous grape maturation", however in the end, "the entire range benefitted from the perfect maturity of the grapes", despite yields being down 20-30% on the average year. He tells us that his 2019s are "succulent and full of energy", without being "jammy" from such a hot year, and therefore providing "another successful vintage ending in 9".
Akin to Louis Jadot, Winemaker Jean-Nicolas Méo tells us that Méo-Camuzet's 2019s are "well-ripened", with "fairly high alcohol levels, around 14 degrees". He states that there is nonetheless "a nice acidity to start", which provides the wines "a good freshness and a certain structure", as well as lengthy ageing capacity. Echoing d'Angerville's sentiment on the success of 9s, Méo foresees "an evolution of this vintage like the 2009: rich and greedy at first, then gradually closing, to emerge in a decade more tense and structured than suggested today".
Despite the significantly reduced volumes in 2019, the quality of Burgundy's latest vintage release clearly suggests a long and promising future ahead. The combination of these two factors will surely see demand outweigh supply for en primeur once again. For more guidance on buying Burgundy 2019 en primeur, and essential analysis to inform your wider Burgundy investment decisions, purchase our in-depth Burgundy study here.