Château Palmer launched its first back-vintage release yesterday (Thursday 24th September). Named "N-10", this new release phenomenon is planned as an annual event henceforth, releasing each year the vintage celebrating 10 years of age.
N-10 therefore begins on an exceptional note for quality, with Palmer's 2010 vintage (which earns a WL score of 96 – its second-highest ever). It is also worth noting that 2010 was the second vintage of Palmer to benefit from some biodynamic experimentation, ultimately leading to its full certification in 2017.
Wine Lister partner critic, Neal Martin, awarded Palmer 2010 96 points after tasting at BI Wines' 10 years on tasting in February this year. "This is an outstanding Palmer, but it needs more time in bottle", he notes. Wine Lister's CEO and Founder, Ella Lister, concurs, stating, "the wood still apparent after spitting will certainly integrate more with time – because this needs lots of time", though her overall assessment is perhaps more generous than Martin's 96 points. She adds, "There's a quiet, dreamy poise to this wine. [It is] enigmatic, brooding, and spellbinding".
The last remaining ex-château stocks of Palmer 2010 entered the UK market at £293 per bottle (in-bond), making them the highest-priced recent vintage on the market. The new price of Palmer 2010 therefore sits at a 33% premium to previous remaining market availability.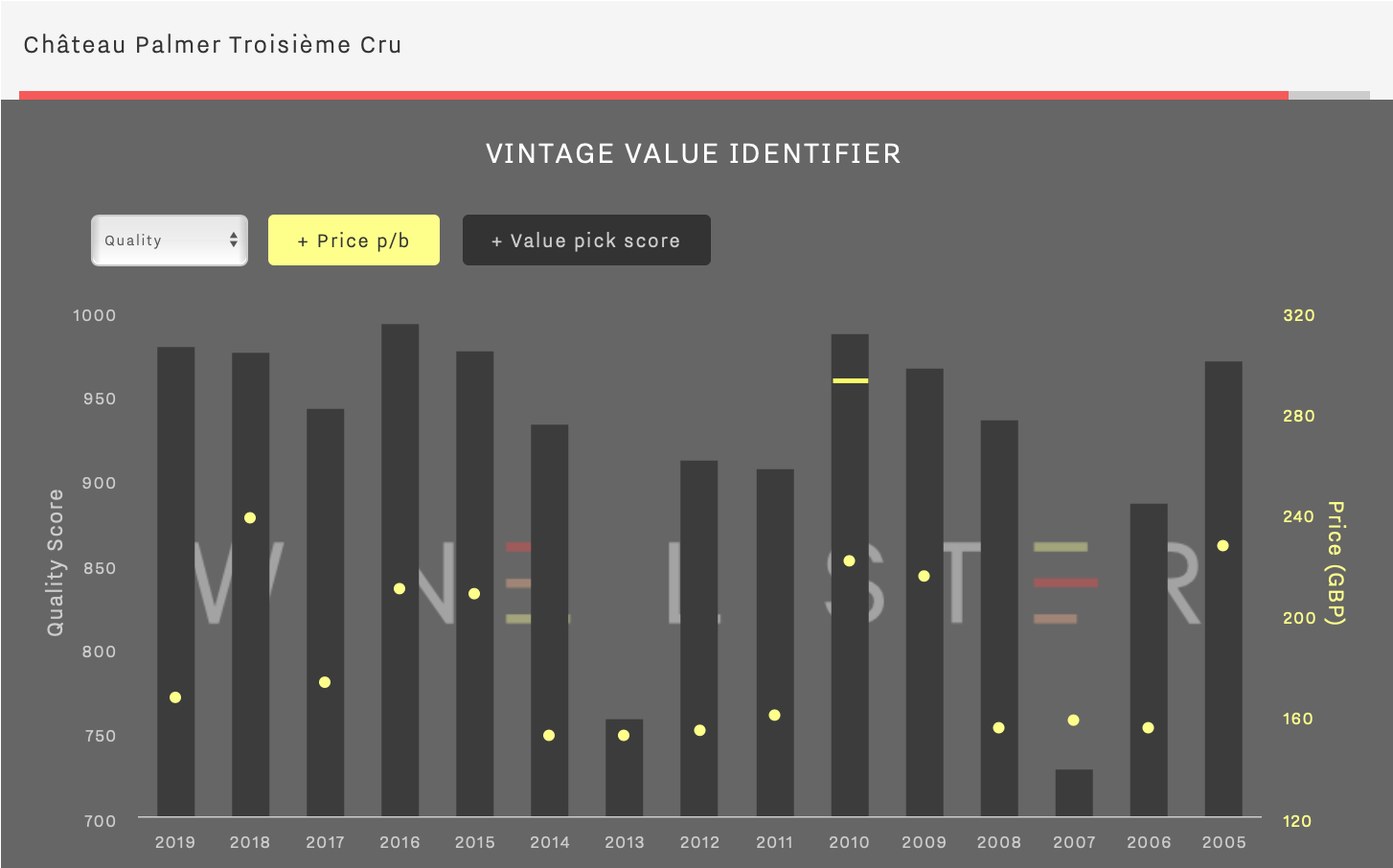 This is a bold hike up from Palmer 2010's initial release price, however Director Thomas Duroux's communication on production quantities and pricing as a direct result of the château's uncompromising commitment to biodynamics and exceptional quality has prepared the market for it. The last few en primeur releases have set a solid scene for Palmer's new strategy, and provide definitive proof that the château has outgrown the bounds of its classification.
We understand that immediate take-up for the N-10 release has been good, if not quite at the fast sell-out pace of en primeur. That is not the objective here – Duroux is confident that this ex-château stock will satisfy demand in the mid-term.
Indeed, even at its higher price, Palmer 2010 remains a Wine Lister MUST BUY.