With September approaching, Wine Lister has begun to anticipate the collection of top fine wine producers from around the world that release their latest vintages through the Place de Bordeaux. Although a region steeped in tradition, the trend for Bordeaux négociants to offer these wines in the first weeks of September suggests a loosening in the division between Old World and New World fine wine production.
To celebrate the impending campaign, this week's blog examines a small selection of New World wines with longstanding histories: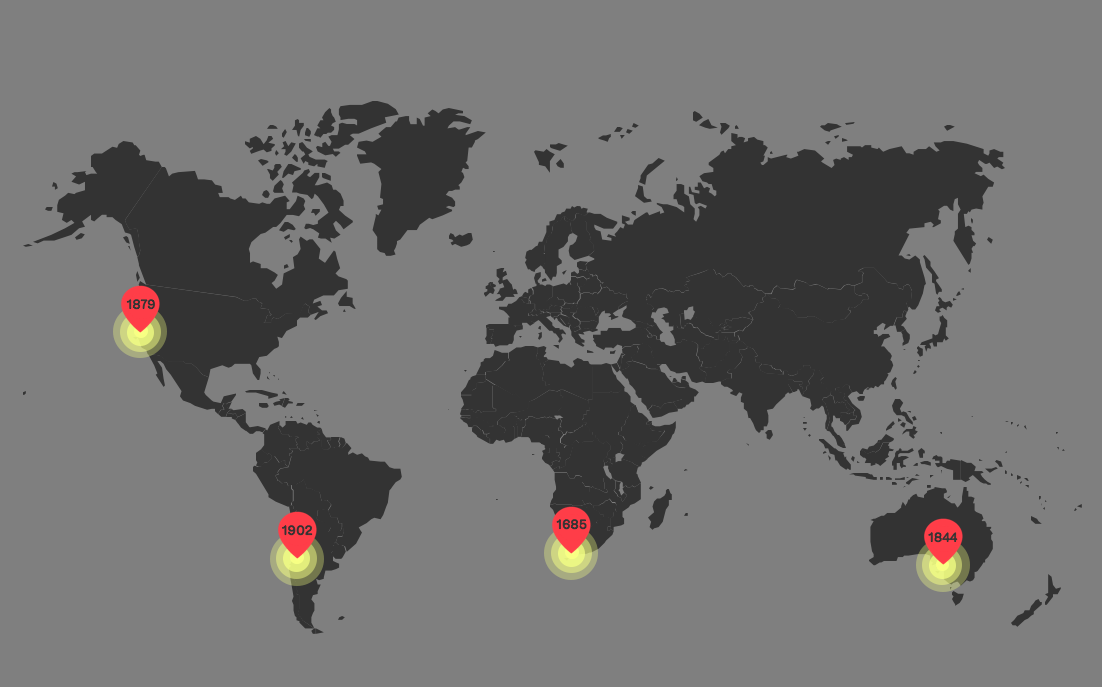 A map of the selected New World wineries: Klein Constantia, Penfolds, Inglenook, and Bodega Catena Zapata
South Africa – Klein Constantia Vin de Constance
Established in 1685 by the first Governor of the Dutch Cape Colony, Simon van der Stel, Klein Constantia was the first commercial wine producer in South Africa. A keen viticulturist, Van der Stel executed extensive research to find the best quality soil in the region, finally deciding on the decomposed granite terroir of the valley he named "Constantia". Here he planted the first Muscat de Frontignan vines, and commenced the production of Vin de Constance.
In more recent history, Klein Constantia has been elevated over the past decade under Managing Director, Hans Astrom, and Winemaker, Matt Day. Its cellar has been entirely rebuilt, and viticultural practices are now widely organic and biodynamic. The 2017 Vin de Constance is the third vintage produced in the new cellar and will be released through the Place de Bordeaux next month; however, until then, Vin de Constance 2013 achieves a WL score of 94 at c.£71 per bottle (in-bond). It can be purchased by the case of six half-litre bottles from Albany Vintners.
Australia – Penfolds Magill Estate Shiraz
Penfolds was founded by an English doctor, Christopher Penfold, and his wife, Mary, who had transported French vine cuttings on their journey from West Sussex to Australia. After acquiring 500 acres of land in the Adelaide foothills, they commenced production of medicinal tonics, brandies, and fortified wines in the style of sherry and port, to ameliorate the symptoms of Christopher's patients. As demand for the wines proliferated, production was expanded, and Penfolds was officially established in 1844. The single-vineyard Magill Estate Shiraz is intrinsically linked to the winery's beginnings, being the only wine grown and made on the original Penfolds property.
With a WL score of 95 at £88 per bottle (in-bond), the 2014 Penfolds Magill Estate Shiraz is a MUST BUY, and was described by Wine Lister partner critic, Jancis Robinson, as "racy and lively", illustrating "a winemaking tour de force". It is available to purchase by the case of six from IG Wines.
California – Inglenook Rubicon
Although vines had been planted on the property by its previous owner eight years prior, Napa Valley's Inglenook estate was officially founded in 1879 by Gustave Niebaum, a Finnish sea captain, fur-trader, and oenophile. With the intention to build a winery to rival Europe's finest, Niebaum swiftly invested in the development and expansion of Inglenook, purchasing additional land from six neighbours, and commencing construction on the present-day château. Rubicon, the estate's flagship wine since 1978, is produced from the estate's best fruit, including Gustave Niebaum's original Cabernet Sauvignon plantings.
Rubicon typically contains small percentages of other Left Bank Bordeaux varietals, however, the quality of Cabernet Sauvignon in 2013 called for its pure varietal composition. According to Wine Lister partner critic, Antonio Galloni, the 2013 Inglenook Rubicon features "Layers of dark fruit built into a crescendo of aromas, flavors and textures laced with mocha, espresso, gravel and dark spice overtones". Achieving a WL score of 96, and MUST BUY status, it can be bought by the bottle from Lay & Wheeler for £145.75 (in-bond).
Argentina – Bodega Catena Zapata Nicolás Catena Zapata
Bodega Catena Zapata was founded in 1902 by Italian immigrant Nicola Catena, who planted the initial Malbec vines to produce wine to satisfy the large European immigrant population in Mendoza. As examined in a recent blog post on New World MUST BUYs with rising popularity, Nicola's grandson, Nicolás Catena Zapata, continued his grandfather's legacy of establishing of European winemaking techniques in Argentina, through his dedication to high altitude farming, soil studies, and preserving pre-phylloxera Malbec strains.
Its 2017 vintage is due to release through the Place de Bordeaux next month; until then, the 2016 Nicolás Catena Zapata can be acquired by the case of six from Cru World Wine for £278 (in-bond). Comprising 61% Cabernet Sauvignon, 31% Malbec, and 8% Cabernet Franc, the 2016 achieves a WL score of 93, and was described by Jancis Robinson as "very broad, well integrated and welcoming".
Keep up to date with the September Place de Bordeaux releases through Wine Lister's twitter.