With so many interesting offers coming in from different merchants, it can be tricky to keep track of what wine you have, let alone where it is, and when it should be drunk. To help you get the most out of your wine collection, Wine Lister has opened up its data analysis and fine wine expertise to private clients, who can now commission all kinds of portfolio analysis, from detailed geographical split and purchase advice, to investment forecasting and a fully-fledged "drink vs. sell" plan.
Wine Lister's "fantasy cellar"
The current list of Wine Lister MUST BUYs – wines showing notable quality and value within their respective vintages and appellations, and wide praise from the international trade – is 1,728 picks strong. While the Wine Lister team would love to own (and enjoy) all of them, below is a short selection to be put away and enjoyed at their best in five, ten, and twenty years, respectively.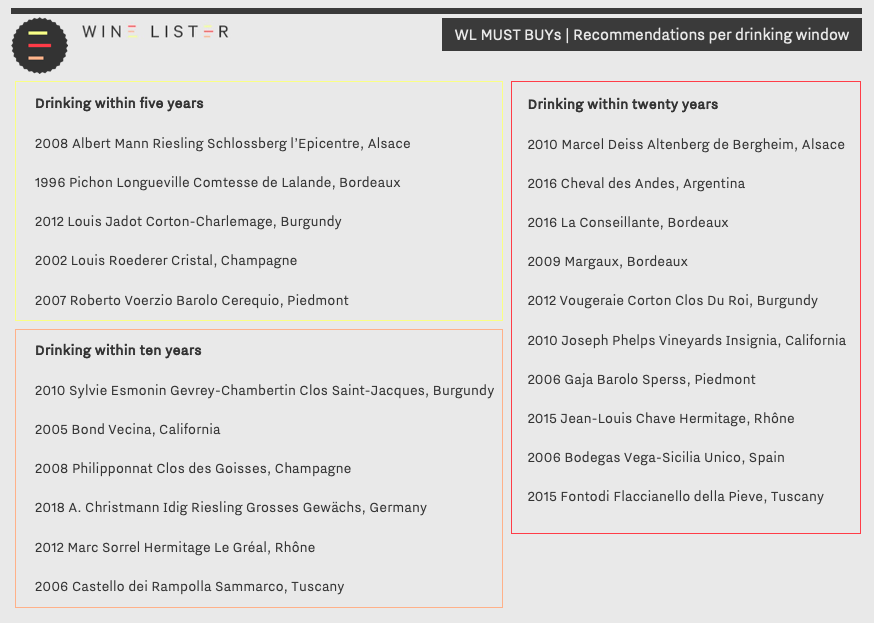 Riesling to reserve
With remarkable ageing potential, and good value across the board, Riesling constitutes a brilliant white addition to any wine collection. To be opened within ten years, the 2018 A. Christmann Idig Riesling Grosses Gewächs hails from Germany's famed Mosel, and is described by Wine Lister partner critic, Jancis Robinson as "the thinking-person's Riesling". She notes the "understatement of individual components" in the wine,  "which allows the taster to focus on balance and elegance". Creeping over the border into the Alsace, where Riesling tends to be drier in style, Albert Mann's 2008 Schlossberg l'Epicentre is ready but will improve – offering optimum enjoyment within the next five years. Another Alsatian, the 2010 Marcel Deiss Altenberg de Bergheim can endure another 20 years of ageing, also providing a reliable white to add to any cellar. Wine Lister partner critic, Antonio Galloni, describes its "perfumed aromas of nectarine, apple blossom, minerals and honey", calling it "vibrant and penetrating". With notable value for their quality, the three Rieslings achieve a shared WL score of 96, at £54, £98, and £59 per bottle (in bond), respectively. For something to stash away, the latter is available by the case of six from Millésima UK.
Burgundy on standby
Louis Jadot Corton Charlemagne 2012 is a similarly reliable white to be stored in the cellar, achieving a WL score of 95 at £126 per bottle (in-bond). Barrel-fermented and aged for a further eight to ten months in 100% new oak barrels, the wine has developed complexity and enhanced ageing potential. Production in 2012 was kept notably small – indeed winemaker Frédéric Barnier states, "it is critical to control the yields in Corton-Charlemagne to make a wine of real Grand Cru quality." It can be purchased by the case of 12 from Fine+Rare Wines, and can be opened within five years. Burgundy also offers an abundance of reds with promising ageing potential, including the 2010 Sylvie Esmonin Gevrey-Chambertin Clos Saint-Jacques, and the 2012 Vougeraie Corton Clos Du Roi. Both wines achieve a WL score of 95, at £192 and £90 per bottle (in-bond), respectively.
Champagne to store
A sure pick to pop open within five years, the 2002 Louis Roederer Cristal was aged on lees for six years, before being matured for a further eight years in bottle after its disgorgement in 2009. Wine Lister partner critic, Jeannie Cho Lee notes that it is a "gorgeous Cristal with a fine line of acidity running through it – it vibrates on the palate". With a WL score of 96, at £192 per bottle (in-bond), it is available in cases of three from Vinum Fine Wines. With an identical WL score of 96, the 2008 Philipponnat Clos des Goisses can be acquired by the case of six for £850 (in bond) from Justerini & Brooks, to be enjoyed within the next decade.
New World to wait for
For some New World picks that are worth putting away for the future, Napa Valley offerings include the 2005 Bond Vecina (owned by the famed Harlan family) and the 2010 Joseph Phelps Vineyards Insignia. In regards to the former, Antonio Galloni stated that he would "prefer to cellar it, as the future for this wine is unquestionably very, very bright". With a WL score of 97, at £347 per bottle (in-bond) it is an opulent option to be enjoyed within the next twenty years. Of the 2010 Joseph Phelps Vineyards Insignia, Galloni states similarly that "the 2010 will enjoy a long drinking window once it softens". Achieving a WL score of 96, at £158 per bottle (in-bond), it is available in cases of six from Goedhuis & Co.
Also featured in the above MUST BUY recommendations are: 2016 Cheval des Andes, 2016 La Conseillante, 2015 Fontodi Flaccianello della Pieve, 2015 Jean-Louis Chave Hermitage, 2012 Marc Sorrel Hermitage Le Gréal, 2009 Margaux, 2007 Roberto Voerzio Barolo Cerequio, 2006 Bodegas Vega-Sicilia Unico, 2006 Castello dei Rampolla Sammarco,  2006 Gaja Barolo Sperss, and 1996 Pichon Longueville Comtesse de Lalande.
For personalised, impartial fine wine purchase recommendations, as well as further wine collection analysis, get in touch with our team at team@wine-lister.com, or download the full Cellar Analysis information pack.