Like a virtual treasure map, Wine Lister's Hidden gem indicator helps you discover fine wines that are under the radar, yet worth uncovering. These wines are seldom found in the top restaurants, infrequently searched for online, but have high ratings from wine critics, or are assigned "Hidden gem" status by the global fine wine trade.
Of the 1,639 wines that are currently recognised as MUST BUYs by Wine Lister's proprietary recommendation algorithm, 87 are Hidden gems. To help you uncover these underrated wines, this week we examine the Hidden gem MUST BUYs with WL scores above 95.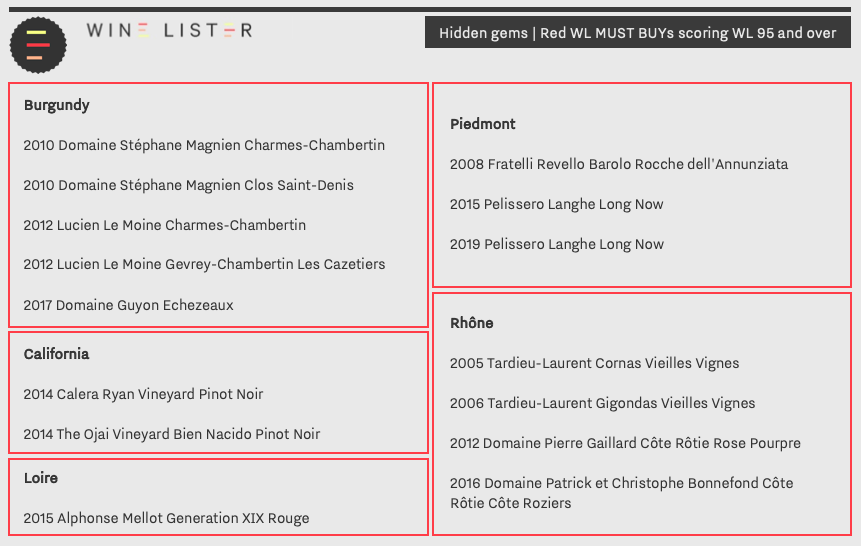 A preliminary look at the elected wines reveals a common trend of lower-than-average prices. While achieving WL scores of 95 and over, the 15 red Hidden gems illustrated above have an average price of £67 (per bottle in-bond) – perhaps a consequence of their slight obscurity. By virtue of being "Hidden gems", these wines are also harder to source, however, it is worth informing your merchant of your interest in purchasing them, in the event of their availability.
Burgundy achieves five entries in this week's subgroup, with two from a small-production négociant house, Lucien Le Moine. Well-deserving of their Hidden gem status, both wines achieve a WL score of 96. The 2012 Lucien Le Moine Charmes-Chambertin is available from Lay & Wheeler at £173 (per bottle in-bond), and the 2012 Lucien Le Moine Gevrey Chambertin Les Cazetiers can be purchased from BI Fine Wine & Spirits for £83 (per bottle in-bond).
California is represented by two wines of the same vintage and grape. The Ojai Vineyard Bien Nacido Pinot Noir 2014 hails from vines in Santa Barbara's Santa Maria Valley, whose east-to-west face encourages the flow of cooling Pacific Ocean breezes, apt for the Burgundian variety. The Ryan Vineyard Pinot Noir 2014 from cult California producer, Calera, is produced from vines in several sites across the Central Coast.
Two entries from Rhône's Tardieu-Laurent show notably good quality-to-price ratios, achieving "Value pick" status. With a WL Score of 96, the 2005 Cornas Vieilles Vignes is priced at £43 (per bottle in-bond), while the 2006 Gigondas Vieilles Vignes has a WL Score of 95 at £24.
A joint venture between two négociants, Dominique Laurent (of Burgundy fame), and Michel Tardieu (Rhône), Tardieu-Laurent is a boutique négociant operation. Buying young wines from growers across the Rhône, the domain completes maturation and blending, before bottling with no fining nor filtration. The 2005 Tardieu-Laurent Cornas Vieilles Vignes is available to purchase from Fine + Rare (in magnum form), and the 2006 Tardieu-Laurent Gigondas Vieilles Vignes can be bought from Wine Bourse (by the case of 12).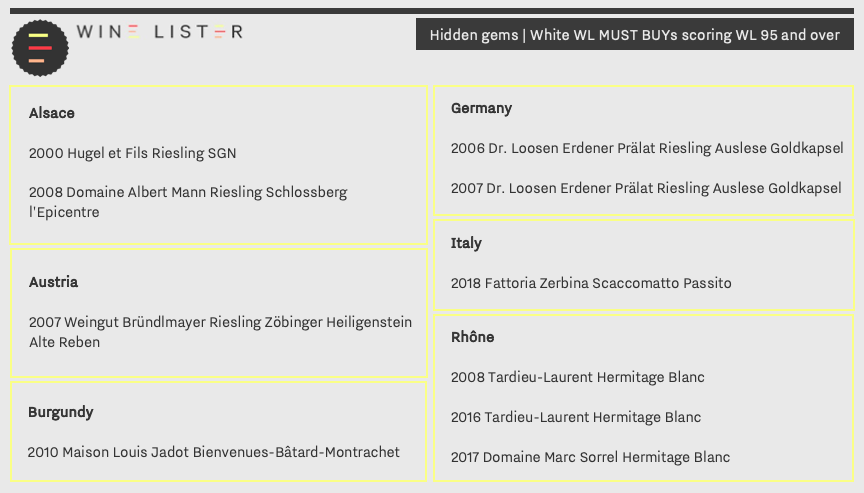 Tardieu-Laurent also features twice on the list of white Hidden gem MUST BUYs, with both its 2008 and 2016 Hermitages Blancs achieving WL Scores of 95.
Like their red counterparts, Tardieu-Laurent's white Hidden gems are Value picks. Jancis Robinson pays compliment to both vintages, describing the 2008 as "Clean, intense, multilayered", and the 2016 as "Very serious stuff". Both wines can be purchased from Corney & Barrow (by the case of 12 in-bond).
Five out of the 10 white Hidden gems shown above are Riesling-based. There is no doubt that the noble grape can produce impressive quality wines at reasonable prices, though this remains somewhat of a fine wine trade secret (when compared with the consumer popularity of other white grape varieties and styles).
The two whites from Alsace cover icon Riesling producers Hugel and Albert Mann. Germany's entries comprise of the 2006 and 2007 vintages of Dr. Loosen Erdener Prälat Riesling Auslese Goldkapsel, which achieve WL Scores of 96 and 95 respectively.
Loosen's four-acre Erdener Prälat vineyard has south-facing red slate soils, and a notably warm microclimate, which, combined with the warming effect of the river and the heat-retaining cliffs that surround it, ensures ripeness in every vintage. The 2006 Dr. Loosen Erdener Prälat Riesling Auslese Goldkapsel can be purchased from Lay & Wheeler for £47 (per bottle in-bond).
To discover more of Wine Lister's Hidden gem MUST BUYs, click here.