While we would normally be packing our bags in preparation for one of Wine Lister's favourite weeks of the year, the postponement of this year's Bordeaux en primeur tasting week comes as a blow for all. Until we can sample the eagerly-awaited 2019 vintage, we can comfort ourselves in self-isolation with the abundance of physical Bordeaux vintages still available for delivery.
In celebration of the brilliant wines that are helping keep Wine Lister's glasses half-full during the pandemic, this week we focus on some of the best red Bordeaux Value Picks, so that you too can avoid compromising on your quarantine drinking preferences without breaking the bank.
Wine Lister's Value Pick score is calculated based on the quality-to-price ratio of a wine and vintage, as informed by price data and reviews from our partner critics. See the image below for five of our top Bordeaux Value Picks over the past four vintages.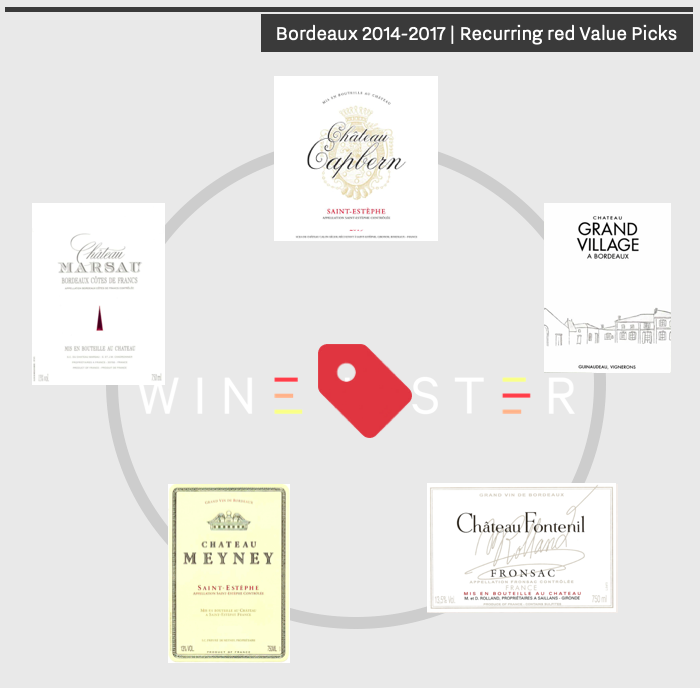 Capbern obtains an average Value Pick score of 35 across the last four deliverable Bordeaux vintages, and offers excellent value for money. This Saint-Estèphe château is the sister property of Calon-Ségur. Described by one of our partner critics, Jancis Robinson, as a 'veritable steal', the 2014 vintage 'continues to look exceptionally good and still fully deserving of its score of 17 en primeur'. The 2016 vintage achieves Capbern's highest WL Value Pick score (36.2) of the four vintages, and we highly recommend getting your hands on some, available by the dozen in-bond starting from £200, from UK merchants including Farr Vintners and FINE+RARE. Millésima USA and Millésima HK also deliver this brilliant wine.
Achieving Value Pick status for three of the four vintages examined (2017, 2016, 2015), Grand Village exhibits a dependably high quality-to-price ratio. As the original Bordeaux home of the Guinaudeau family – the producers of Lafleur – Grand Village is the accessible answer to the same exceptionally high winemaking standards applied to its parent wine. Its classification as a Bordeaux Supérieur plays a part in its inherently reasonable price (c.£13 per bottle in-bond, when buying by the case). Grand Village's 2017 vintage achieves the highest Value Pick score (38) of all five wines and four vintages here mentioned, and is available for delivery from the Guinaudeau family wines' UK agent, Justerini & Brooks.
A second Value Pick from an 'outlying' Bordeaux appellation, Fontenil's 8.5-ha vineyard is located at the highest elevation on the plateau of Fronsac. As renowned flying winemaker, Michel Rolland's 'passion project', he purchased the site with his wife, Dany, in 1986 with the intention of inhabiting the house that was situated on its land. Taking on the responsibility of attending to the vines that came with it, and creating an entirely new estate, Fontenil is now a boutique wine of excellent quality at an average cost of c.£20 per bottle in-bond. Given its small production volume, Fontenil is not as easy to find as our other four Value Picks, however, in the UK, Laithwaites is the place to buy (as soon as they reopen their website for orders – they are currently experiencing an overload of demand due to lockdown buying).
Located in the east of Saint-Estèphe, the plots of this Cru Bourgeois are situated next to Montrose. Long considered a wine trade darling for its impressive value, Meyney continues to achieve high WL scores. Its 2015 vintage received particular praise from our partner critics, with Neal Martin describing it as 'blowing everyone's expectations, including his own'. With prices starting at £25 per bottle in-bond, you can order this wine through Goedhuis in the UK, where a case of 6 bottles stands at £200, including VAT. If you are in the USA, you can place your order with Millésima.
Like Meyney, Marsau's 2014 and 2015 vintages are Wine Lister Value Picks. The 2016 is too, and though the wine seems to get better every year, the latter may need a touch more time in bottle before drinking. Marsau is run by Anne-Laurence and Mathieu Chadronnier (Managing Director of the Bordeaux négociant, CVBG). The Marsau vineyards feature 85% Merlot planted on predominantly clay soils, resulting in a classically right-bank wine with soft, round fruit and great balance. The 2014 vintage represents particularly good value – priced at £20 for the bottle in-bond, with a high Value Pick score of 35. The UK-based merchant BI Wines is delivering this vintage, whilst those on the other side of the pond can place their order with JJ Buckley Fine Wines.
You can identify good value in further back vintages of any of the above-mentioned wines by using the Vintage Value Identifier on each wine page. See the example for Meyney  below or by clicking through to its wine page here.