This week Wine Lister published its first in-depth study of 2020, focusing on the leading wines and producers of Piedmont.
The key takeaways from the report prove Piedmont to be somewhat of an enigmatic region, earning high praise from critics, and experiencing strong long- and short- term price performance, while still lagging behind in terms of consumer popularity.
While this is perhaps a consequence of Nebbiolo's relative obscurity when compared with international grape varieties, Piedmont's unique position – a veritable treasure trove of gems to uncover – presents a real opportunity both for vinous discovery and future value.
Wine Lister Pro members can read the full Piedmont report here. All free users can purchase the report for £200 from Wine Lister's Analysis page.
Below we examine the top Barolos and Barbarescos by WL score.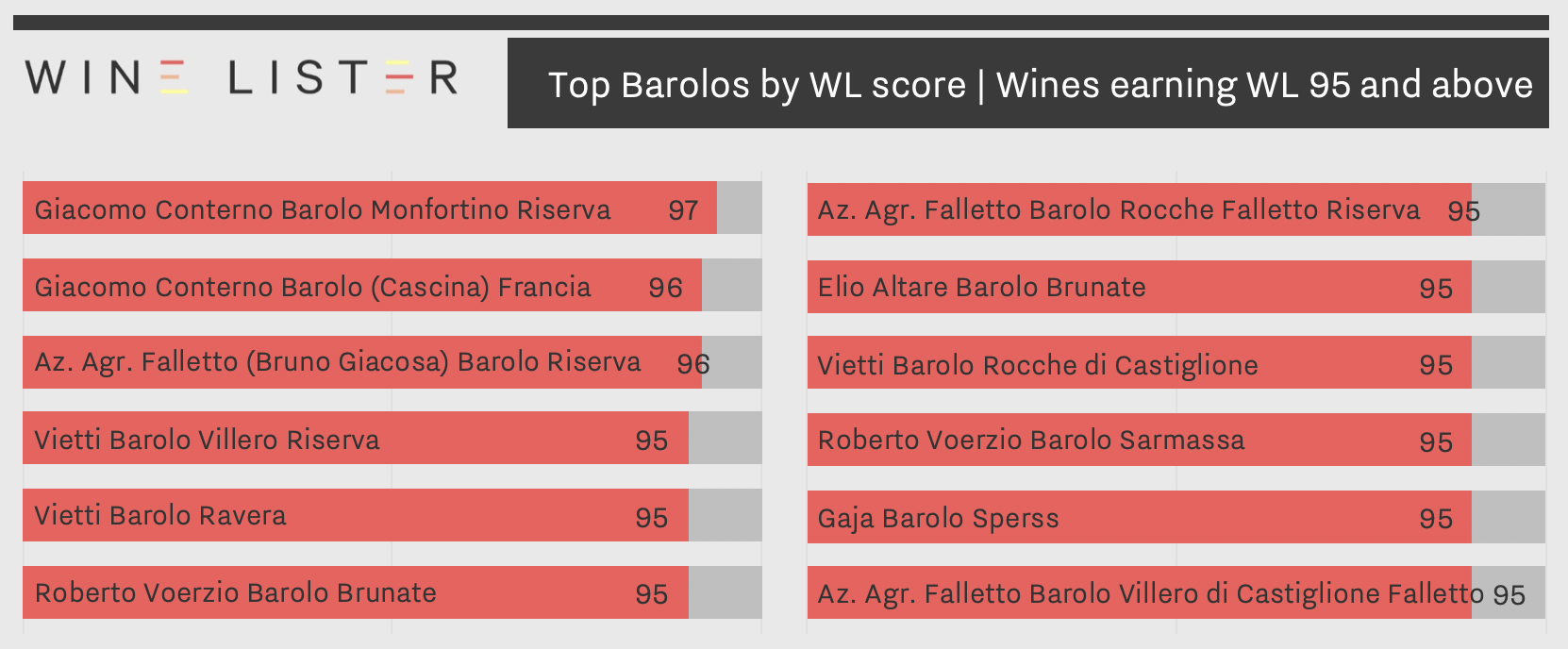 Giacomo Conterno takes both first and second places in the ranking of Barolos by WL score. The icon wine, Barolo Monfortino Riserva is the only Piedmont wine to earn a WL score of 97, while the Barolo Francia shares its score of 96 with the Barolo Riserva from the legendary Bruno Giacosa's négociant outfit, Azienda Agricola Falletto, as well as the two highest-scoring Barbarescos (see below).
While earning joint-second place for the straight Barolo Riserva, Falletto also features for two site-specific bottlings, the Barolo Rocche Falletto Riserva and Barolo Villero di Castiglione Falleto, making the renowned house the joint-most prolific producer in the top Barolo rankings shown. It shares this position with Vietti, which earns WL 95 for its Villero Riserva, Ravera, and Rocche di Castiglione Barolos.
Elio Altare's Barolo Brunate is the most reasonably priced of these top 12 Barolos, with an average price of £112 per bottle in-bond (when purchased by the case). Both of Roberto Voerzio's highest-scoring wines, the Sarmassa and Brunate, follow with average prices of £152 and £165 respectively.

Eight Barbarescos achieve a WL score of 95 or above. The appearance of multiple wines per producer is accentuated here, with Roagna and Gaja earning three places apiece, followed by two Barbarescos from Falletto (totalling seven wines in Falletto's hoard of WL scores of 95 and above).
Both sets of rankings provide useful leads in terms of producers to look out for, particularly heading into further releases of Barolo's latest vintage, 2016, in the spring. For more specific recommendations of further Piedmontese wines and back vintages, see the region's full list of MUST BUYs, and / or Piedmont's Hidden Gems.