Earlier this week, we explored Wine Lister's top red Value Picks (wines with the best quality-to-price ratios of all those in the Wine Lister database), noting that Tuscany and Bordeaux are the two best regions for value overall.
Having seen a noticeable lack of red Value Picks in Burgundy, the region's white wines perform much better for quality-to-price ratio. The chart below shows the top eight regions for white Value Picks, and their average price per region.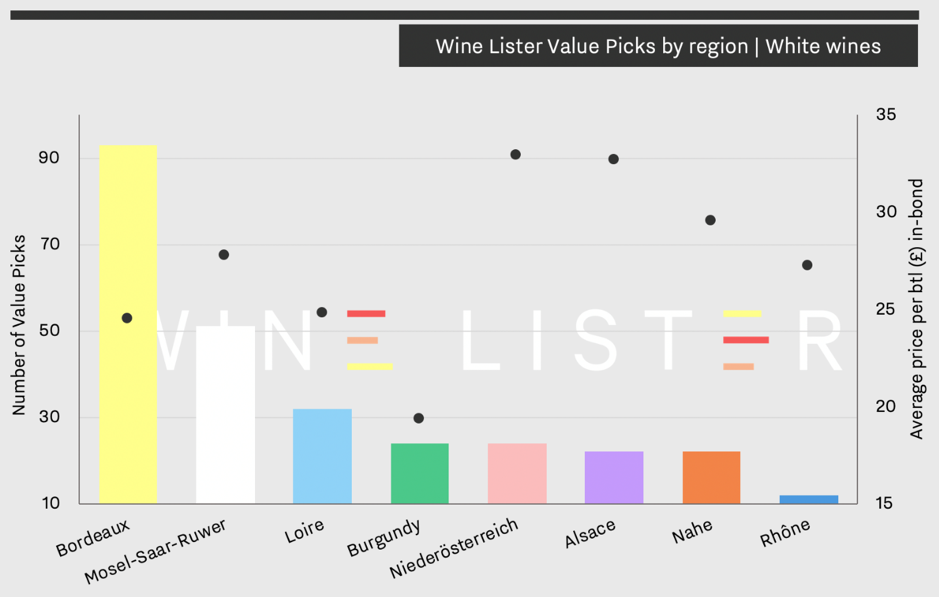 Of the 280 white Value Picks shown above, Bordeaux and the Mosel are heavily represented, in most part due to the impressive quality-to-price ratio of their sweet (or semi-dry) wines. Indeed, whites from Sauternes and Barsac make up all but one of the Bordeaux white Value Picks. While not the "most popular" these are some of the oldest Value Picks on Wine Lister, and include examples such as 1995 Clos Haut-Peyraguey, and 1996 Nairac.
The Loire provides a mix of different sweetness levels, however those achieving the highest quality are also sweet (such as 2006 Domaine Huet Clos du Bourg Moelleux).
Treading into Riesling-land, the Mosel and Nahe offer up the likes of Joh. Jos Prüm's Wehlener Sonnenuhr Riesling Auslese Goldkapsel, and Dönnhoff's Oberhäuser Brucke Riesling Auslese Goldkapsel. Alsace and Austria's Niederösterreich produce some gems too (from the likes of Zind-Humbrecht and F.X. Pichler respectively), though of all white Value Picks these two regions are the most expensive on average.
Burgundy achieves 24 white Value Picks, the majority of which come from Chablis – the appellation which historically renders the best value for Burgundian whites. Other white Value Picks of note are Patrick Javillier's Meursault Les Tillets, and Paul Pillot's Chassagne-Montrachet Clos Saint-Jean.
See all white Value Picks here.