Last week we introduced Wine Lister's new toy, a dynamic guide to the ultimate wines any fine wine lover should consider for their cellar – WL MUST BUY. While the full list is approximately 1,800 recommendations strong, Wine Lister provides some useful segments to help cut into all that data, aside from the usual criteria that can be found in our advanced search function (region, price, colour, score etc).
Wine Lister Indicators are designed to provide suggestions for your specific buying purpose, whether it be to discover something new (Hidden Gems), impress at a dinner party (Buzz Brands), drink well without breaking the bank (Value Picks), or add to your investment portfolio (Investment Staples).

MUST BUYs and Indicators together provide a ready-made source list of the best wines to meet your needs. Below we look at the combination of our MUST BUY algorithm with Investment Staples.
Investment Staples are wines above a certain price, that are long-lived (but not too old), have proven wine price performance or represent good value compared to their peers, and are relatively stable and liquid, with recognition from our network of global fine wine trade members.
There are 18 MUST BUY Investment Staples that score 97 WL points or above. Perhaps unsurprisingly, Bordeaux represents almost half of these, with eight MUST BUYs, including two first growths (2016 Mouton, and 2016 Lafite), and 1975 Petrus.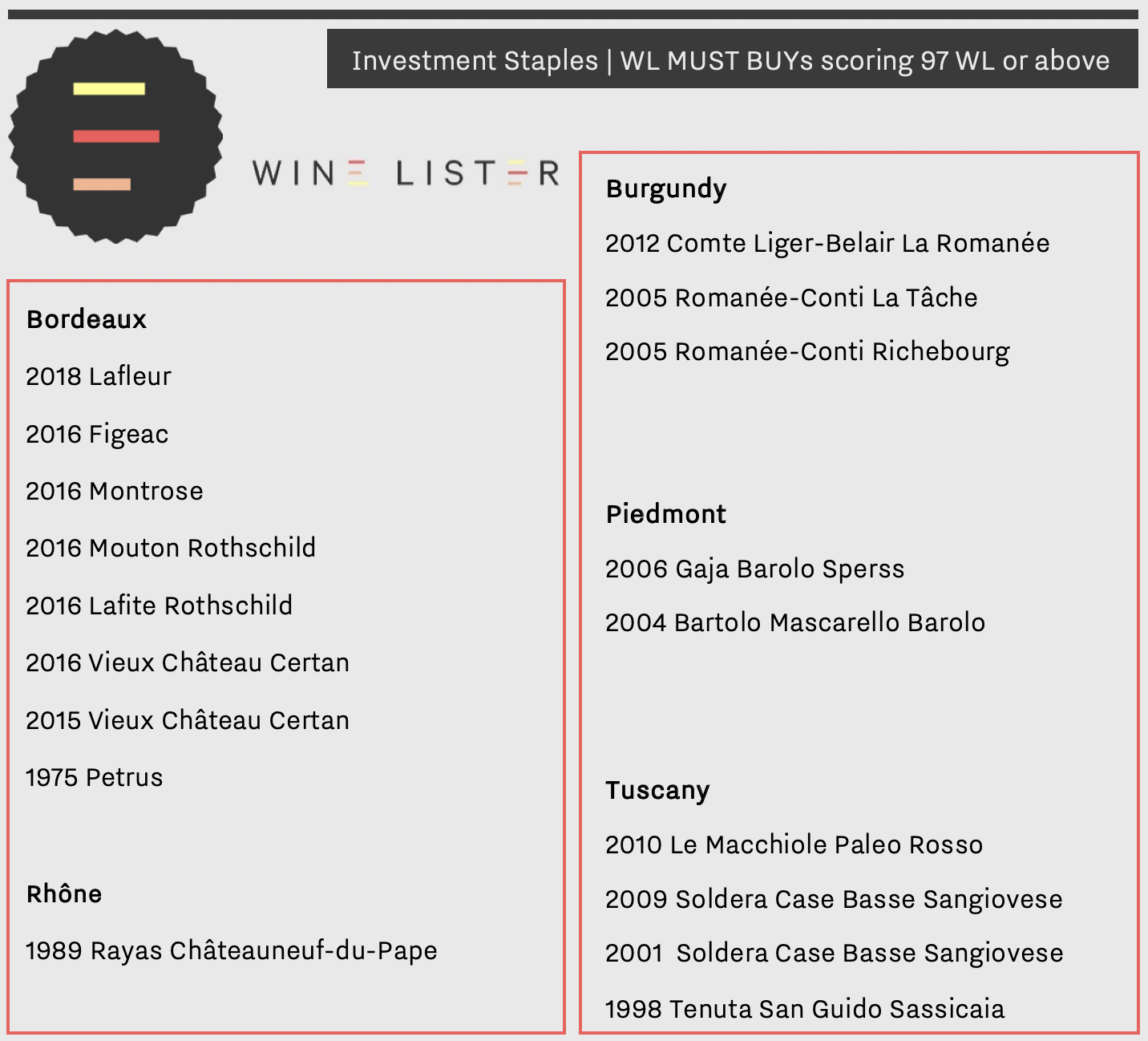 These eight Bordeaux have an average price of £511 per bottle, or just under an eighth of the average price of the three Burgundies to qualify as MUST BUY Investment Staples. However, as investments, some of them may require patience – the prices of those from 2016 have yet to increase any significant amount. By contrast, DRC's La Tâche 2005, Richebourg 2005, and Comte Liger-Belair La Romanée 2012 are testament to Burgundy's impressive upward price trajectory, having already achieved three-year CAGR (compound annual growth rates) of 21.8%, 23.4%, and 33.1% respectively.
Outside of Bordeaux and Burgundy, Italy holds court with MUST BUY Investment staples from Bartolo Mascarello, and the indomitable Soldera among others.
You can see the full list of MUST BUY Investment Staples here, or check out some other MUST BUY lists, such as MUST BUY Hidden Gems, or MUST BUY Value Picks.
Don't forget that the MUST BUY list changes weekly. Revisit MUST BUY Investment Staples again next week to see new entries.