While the market for Bordeaux remains sturdy, and interest in Burgundy continues to grow, it is easy to overlook other traditional European fine wine regions despite their impressive quality and value for money, particularly compared with upward-spiralling Burgundian price tags. This week's top five looks at such a region – the best of Spain's iconic Rioja.
In first place is Bodegas Lopez de Heredia's Rioja Gran Reserva with an overall Wine Lister score of 910. Though by no means the most expensive of the five (at £63 in-bond per bottle), it earns the highest Economics score of the group (926). This is down to impressive growth over both the short- and long-term, with a six-month price performance of 28.8% and a three-year compound annual growth rate (CAGR) of 36.2%.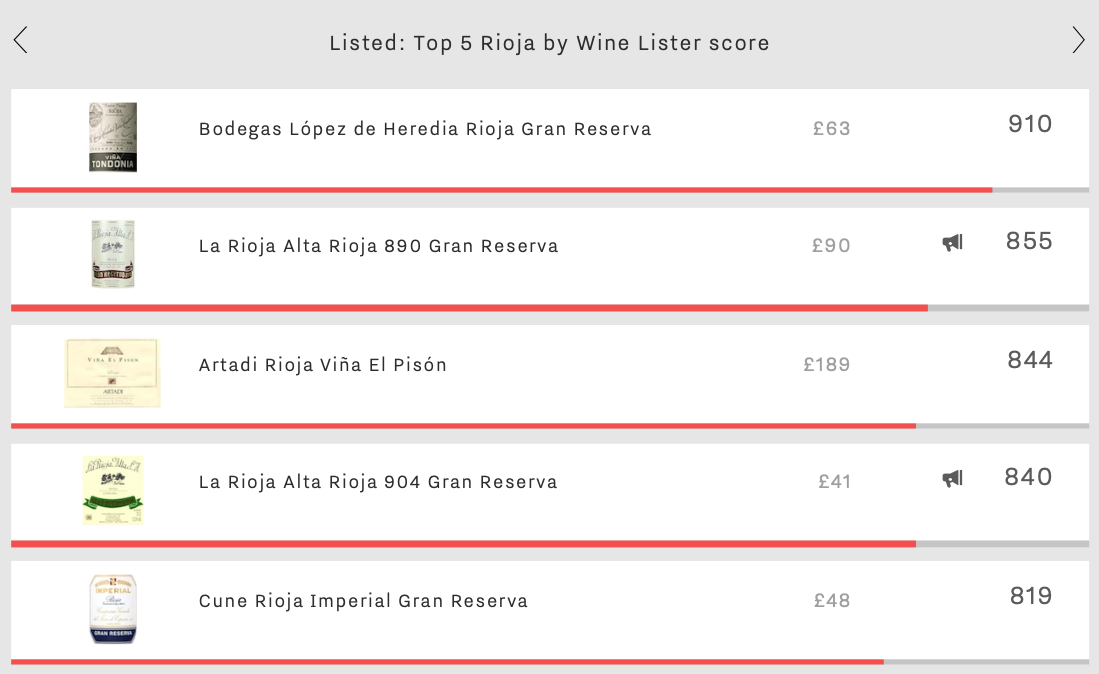 Next is the first of two wines in this week's top five from La Rioja Alta, the 890 Gran Reserva with an overall score of 855. Its younger sibling, the 904 Gran Reserva earns fourth place in this week's top five with a score of 840. Both wines are Buzz Brands, and while one costs more than twice as much as the other on average (£90 for 890 vs. £41 for 904), both sport similar brand successes, earning the top two spots for search rank in this week's top five. La Rioja Alta's 904 Gran Reserva is the 119thmost-searched-for wine of the 4,000+ wines on Wine Lister (the 890 is 284th), and earns the best Brand score of the group (902).
In third place of this week's top five is a wine with a very different profile, not least as the only non-Gran Reserva of the group. Artadi's Rioja Viña El Pisón achieves the lowest Brand score of the group, but the highest Quality score at 954. This combined with its low production rate of just 6,000 bottles per annum on average likely contributes towards it also having the highest price of this week's top five, at £189 in-bond per bottle. In a global context, this price is still remarkably low for the Quality achieved – the nearest comparable Quality score for red Bordeaux is 953, achieved by Château Margaux at an average price of £422.
Finally, at number five is Cune Rioja Imperial Gran Reserva. Though middle of the range for almost every score criterion, Cune achieves the best vertical restaurant presence of the group, with an average of 1.6 vintages and/or formats in 10% of the world's best restaurants.