To many a wine expert, Riesling is amongst the world's finest white wine grape varieties, perhaps thanks to its versatile nature. The aromatic grape does well as both a sweet and dry wine, to drink straight away or suitable for long-term ageing. This week Wine Lister looks at the top five Rieslings under £100 by Quality score, which all hail from Alsace or the Mosel.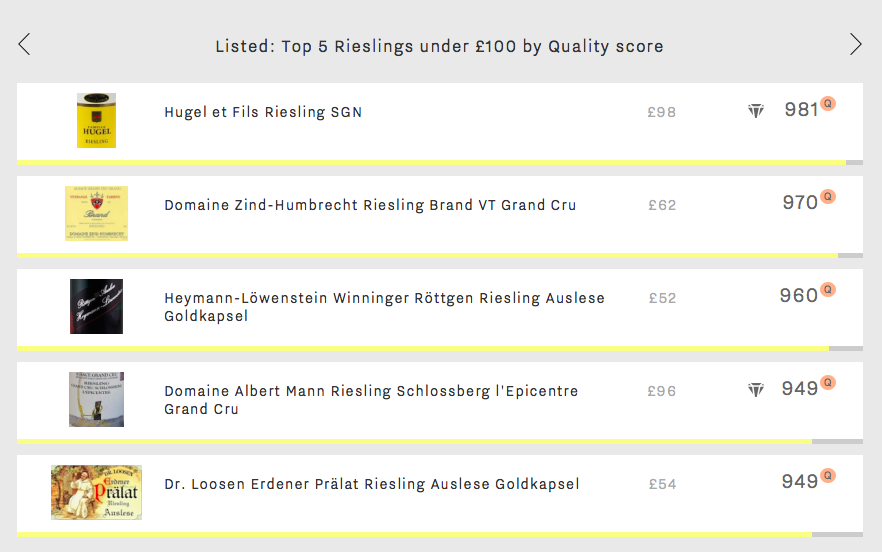 Hugel et Fils' Riesling SGN takes the top spot this week with a Quality score of 981. This phenomenal Quality score is in part the result of an average wine life of 24 years (compared to 13 years for the rest of this week's top five). The Riesling SGN from Hugel is therefore perhaps justifiably this week's most expensive choice, at an average price of £98 per bottle in-bond. Sadly, it might take a Christmas miracle to source this in time for next week's festivities. An average of just 600 bottles are produced of this Wine Lister Hidden Gem each year.
Next is Domaine Zind-Humbrecht's Riesling Brand VT with a Quality score of 970. Though in second place for Quality, it achieves this week's best Economics score of 633 (and also this week's best overall Wine Lister score) – despite only 18 bottles of it having been traded at auction in the last year. It is the short-term price performance that really boosts the Economics score – the price having increased by 17% in the last six months.
In third place is this week's first German wine – Heymann-Löwenstein's Winninger Röttgen Riesling Auslese Goldkapsel. It achieves a Quality score of 960, and at only £52 per bottle in-bond it is this week's most affordable option.
The two remaining spots of this week's top five share the same Quality score (949). Domaine Albert Mann Schlossberg l'Epicentre Grand Cru is this week's second Hidden Gem. Its Hidden Gem status is confirmed by a modest Brand score of 255 – the lowest of the group, due to presence in just 1% of the world's top restaurants, and being only the 3,797 most-searched-for of Wine Lister's wines on Wine-Searcher.
Rounding off the group is the second Riesling from Germany, Dr. Loosen Erdener Prälat Auslese Goldkapsel. If you are looking for Quality look no further than its 2006 vintage, which achieves a Quality score of 975 at an average price of £44 per bottle in-bond (compared to the wine's overall average price of £54 in-bond). Its excellent quality-to-price ratio earns it a spot as one of Wine Lister's Value Picks – indeed, it is given high praise from Wine Lister partner critic, Antonio Galloni, claiming it to be a "…massive and yet somehow delicate auslese of stunning quality".