Last week we revealed the top 20 gainers in presence in the world's best restaurants over the past 12 months. That was in terms of breadth, i.e. the number of restaurants in which a wine features. Wine Lister also analyses the depth of presence – the range of vintages and/or bottle formats of each wine therein. Here we look at the top 21 wines achieving the largest increases in restaurant presence depth since last year.
In first place, with an impressive 35 additional vintages and/or bottle formats listed across the world's 150 best restaurants since this time last year, is Vega-Sicilia's Unico. This brings its total references to 250 (almost three and a half in each of the 71 lists in which it features). Given Unico's average drinking life span of 13 years, and its reputation for longevity (an Unico vertical tasting is an opportunity not to be missed), this result is hardly surprising. Its strong restaurant presence is matched by online popularity (Unico is the 33rd most-searched-for wine in our database), resulting in a Brand score of 992 – the best of any Spanish wine on Wine Lister.
Though Spain takes the number one spot, Italy is the overall biggest mover in increased depth of representation, claiming 12 out of the 21 places shown on the chart below.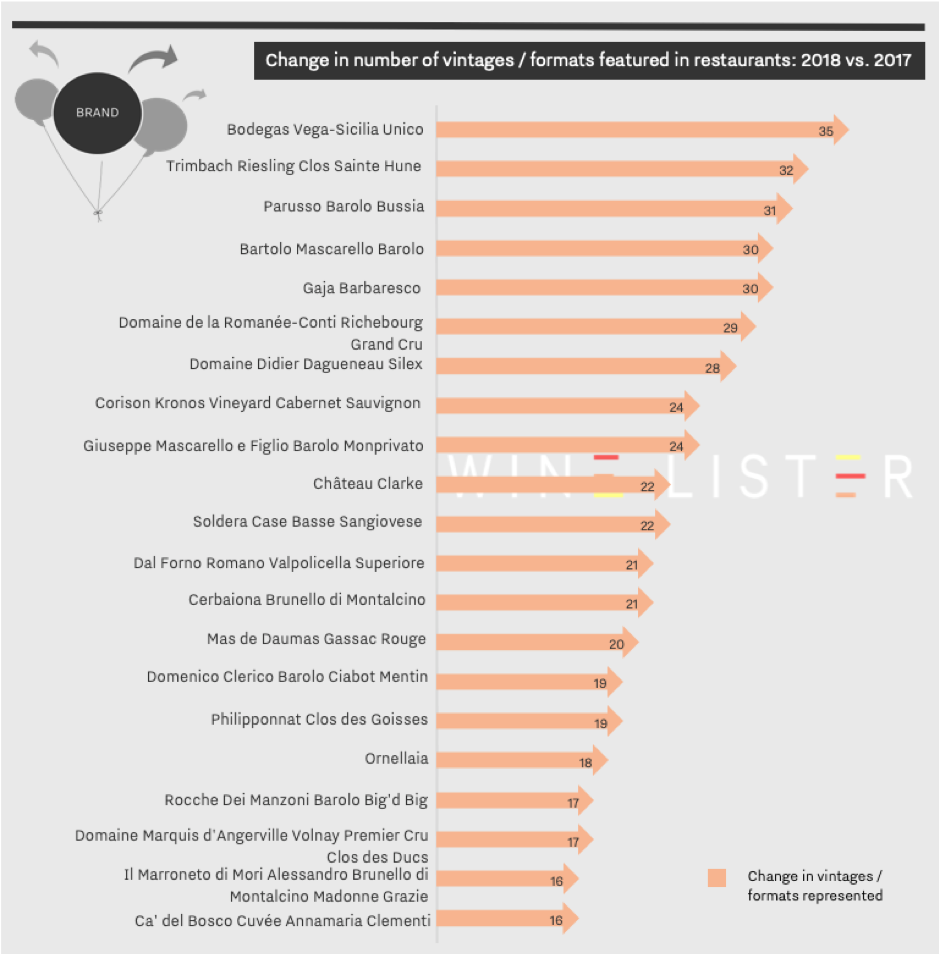 Ornellaia is among these, and is also the most thoroughly represented wine of the group, with 280 vintages and/or bottle formats featured across 43% of the world's best restaurants.
Several others – Cerbaiona Brunello, Dal Forno Romano Valpolicella Superiore, Ca' del Bosco Cuvée Annamaria Clementi, and Domenico Clerico Barolo Ciabot Mentin – feature in the top gainers for horizontal as well as vertical presence in the world's best restaurants. The latter is one of five Barolos to feature in the chart above, joined by Parusso Barolo Bussia, Bartolo Mascarello's Barolo, Giuseppe Mascarello e Figlio Barolo Monprivato, and finally, Rocche Dei Manzoni Barolo Big'd Big, which sees the biggest increase in vertical presence of the whole group. Despite a horizontal representation increase of just 1%, the number of vintages and/or bottle formats listed across the 3% of the world's best restaurants in which it features has grown from two to 19 in the last 12 months (or in other words, by 850%).
Outside Italy, the overall picture of restaurant presence depth somewhat contradicts that of breadth painted last week. Though Champagnes, and in particular grower offerings, have increased significantly in terms of horizontal presence, their vintage and/or format gains have not been sufficient to make this week's top 20. This suggests that whilst sommeliers are keen to add more variety of Champagne, they aren't so worried about listing reams of vintages / formats thereof. Only one Champagne features in the group: Philipponnat's Clos des Goisses.
Bordeaux is conspicuous by its absence in this list, other than Château Clarke, with 26 overall references up from just four. In fact, Bordeaux's big names are more likely to find themselves at the very bottom of the list, many having seen their vertical entries on restaurant wine lists shrink significantly. This seems to suggest that as restaurants diversify, they are choosing to hold less Bordeaux stock, still listing the top wines, but not necessarily in multiple vintages or formats.