This week's top five require absolutely no introduction. As Buzz Brands – Wine Lister's group of wines that achieve outstanding online popularity and restaurant presence, and are also identified by the global fine wine trade as trending or especially prestigious – that is perhaps a given. Couple that with the fact that they hail from Bordeaux, and are the region's most expensive Buzz Brands, it would be nigh on impossible for you not to be familiar with them to some degree.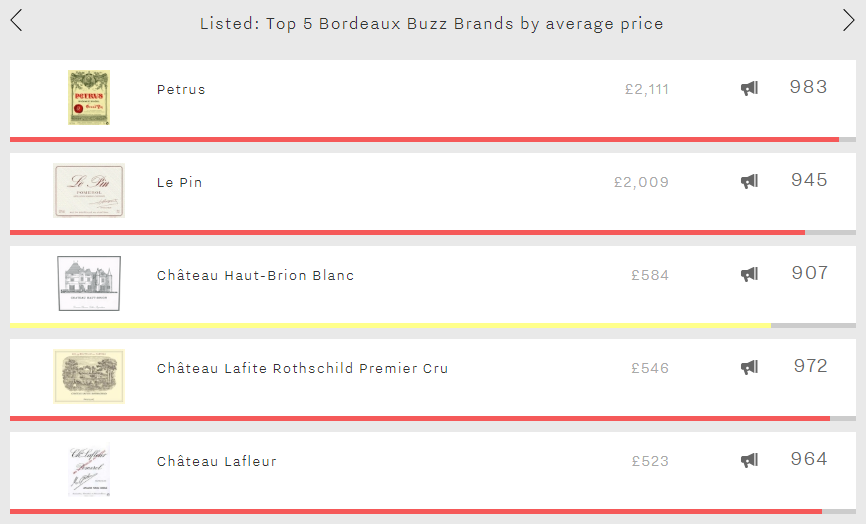 Pomerol is home to three of the five. With the limited production volumes of the plateau's top wines, it is perhaps no surprise that they reach eye-watering prices. Petrus leads the way with an average price across all vintages of £2,111. It is Bordeaux's best wine, and the fifth best in the world, its phenomenal score of 983 only bettered by Salon and three (!) DRC cuvées. Petrus is consistently brilliant across Wine Lister's three rating categories with Quality, Brand, and Economics scores of 978, 998, and 972 respectively. It is worth focusing on its Brand score. Despite its relatively low production volumes, its rate of restaurant presence is outstanding. Visible in 45% of the world's top establishments, and with more than five vintages / formats featuring on each wine list on average, it is clearly a wine that commands the utmost respect from sommeliers. Moreover, receiving over 60,000 online searches each month, it is well over five times as popular as its Pomerol neighbours Le Pin and Lafleur.
Le Pin comes next (£2,009). It enjoys Bordeaux's second-best Economics score (979), pipped at the post by Carruades de Lafite (980). Its outstanding score comes courtesy not just of its high price, but also strong price performance, with a three-year compound annual growth rate (CAGR) of 17% and having added 8% to its price over the past six months alone. With those sorts of figures, it will soon overtake Petrus as Bordeaux's most expensive wine – its neighbour having recorded a three-year CAGR of 13% but only managing to add 4% to its value since March.
At roughly a quarter of the price of Petrus and Le Pin, Lafleur is Bordeaux's fifth most expensive Buzz Brand (£523). It was Bordeaux 2017's top red for Quality, its score of 978 putting it just ahead of Petrus (971). Across all vintages it is also the longest-lived of this week's top five, with Wine Lister's partner critics predicting an average ageing potential of 21 years.
We cross over to the left bank for the group's remaining two wines, the first of which might come as a slight surprise. Haut-Brion Blanc is Bordeaux's third-most expensive Buzz Brand (£584). It is of course its rarity that propels it up the price tables. Producing just 6,720 bottles on average each year – 15 times fewer than Haut-Brion Rouge – it is over 60% more expensive than its red counterpart, despite trailing across each category.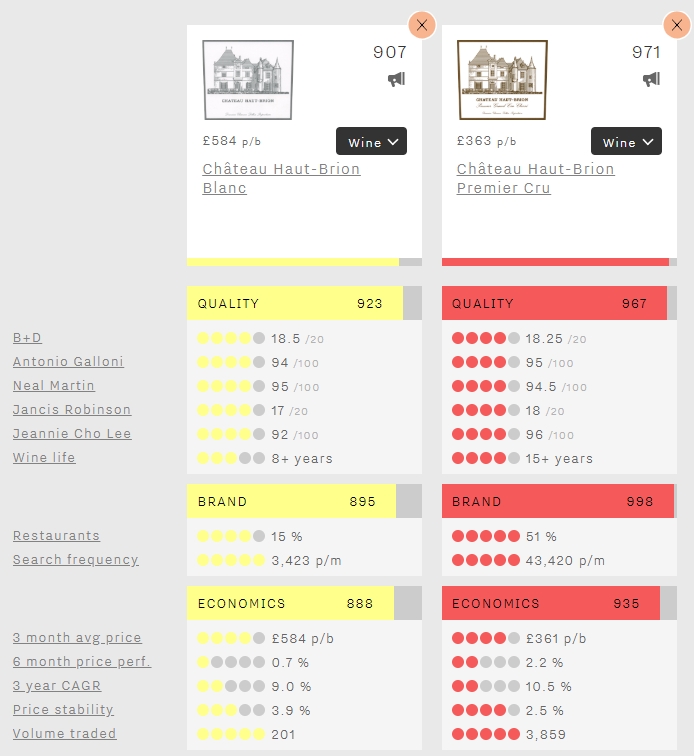 Rounding out the group – if it can ever be described as such – is Lafite (£546). With the best part of 200,000 bottles of it produced each year, it will come as no shock that it manages the best restaurant presence of the five, both in terms of the number of establishments in which it appears (54%) and the number of references per list (6.3 on average). It is also the most popular wine in the world, receiving over 80,000 online searches each month.