While Europe swelters, the structured reds of Rioja might not immediately spring to mind. However, this summer must surely at some point come to an end, and before we know it, it will be cold, dark, and we'll once again be reaching for steadying reds. So in the spirit of planning ahead, this week's Listed section considers Rioja's five best reds by Quality score.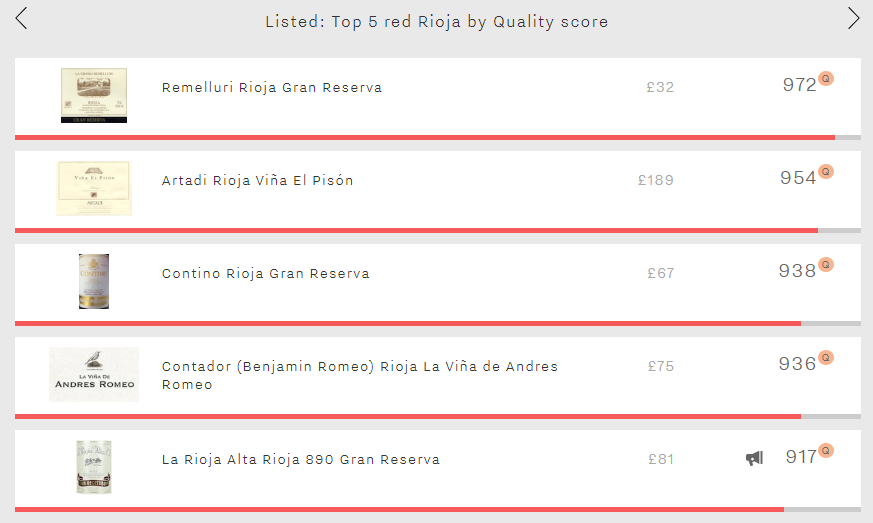 Remelluri's Gran Riserva comes out on top with a formidable Quality score of 972. Costing on average £32, it is also the most affordable of the five. The 2010, which achieves a Quality score of 977 is available for as little as £35, and with Julia Harding awarding it a score of 18+/20 and calling it "long, dry and already elegant and refined" it seems a lot of bang for your buck.
From the most affordable to the most expensive, in second place is Artadi's Viña El Pisón (954). Its high price tag is perhaps the result of its low production of on average 6,000 bottles each year. It is remarkably consistent, with its Quality score deviating just 18 points on average from vintage to vintage. 2007 is its best vintage according to Wine Lister's partner critics, with a score of 985, Julia Harding calling it "(the) essence of Tempranillo".
Next come Contino's Gran Reserva and Contador's La Viña de Andres Romeo, their Quality scores separated by just two points. It is in fact the Contador that is favoured by the critics – the result of superior ratings by Vinous, with for example Josh Reynolds calling the 2010 "a distinctly graceful and seductive expression for this vintage" and awarding it a score of 94/100. The Contino's marginally better Quality score is thus the result of a longer ageing potential, Wine Lister's partner critics predicting it to last on average nine years, nearly twice as long as the Contador's five years.
The remaining spot is filled by La Rioja Alta's 890 Gran Reserva. Whilst it experiences the group's lowest Quality score – its score of 917 nevertheless putting it amongst the highest echelons on Wine Lister's scale – it enjoys the best overall score of the five (851). It turns the tables on the competition in the Brand and Economics categories, both of which it comfortably leads with scores of 792 and 807 respectively.