The eyes and ears of the industry are focused on Bordeaux 2017. Price is always a key factor in the commercial success of a fine wine, but never more so than during the annual en primeur period, when release pricing can make or break a wine's en primeur campaign.
It is therefore timely to take a look at some Bordeaux Economics score successes, this week from Saint-Estèphe. Wine Lister's Economics score combines five criteria – based on price and volume data – to measure a wine's commercial success (read more on the Economics score calculation here).
Calon-Ségur has the highest Economics score of all Saint-Estèphe wines (943). Not only does it score 53 points higher than the next wine in its peer group, it is also the number one third growth for Economics score, sitting in eleventh place for Economics of all Bordeaux wines. This is particularly impressive, considering that the average price per bottle of those ranking in the top 10 is £614, nine times higher than Calon-Ségur's comparatively modest average price tag of £69 (read more about Calon-Ségur's pricing in the en primeur: part II blog).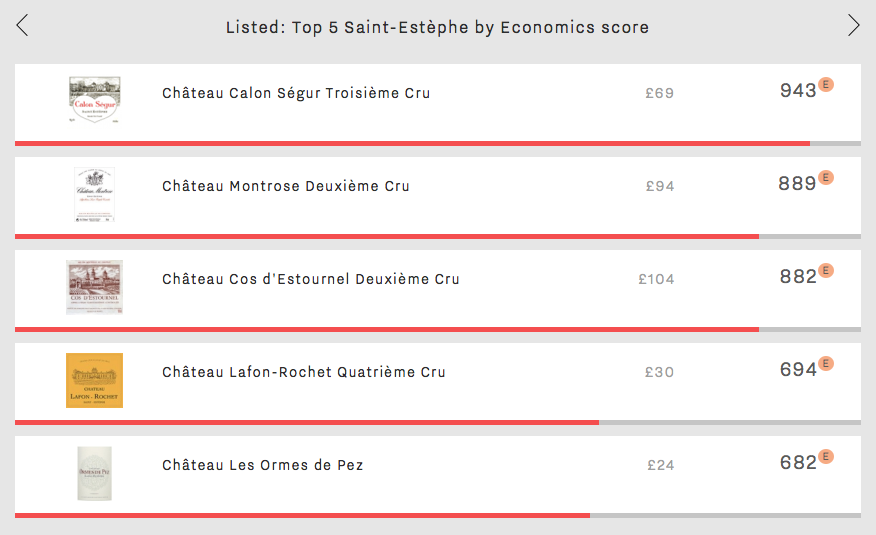 The number two Economics score in Saint-Estèphe is held by Montrose (889). It has the highest average Quality score of the five (936) and an average wine life of 15 years. Its steady price growth over the last two years (30%) makes it one to watch for investment potential.
Cos d'Estournel is the most expensive Saint-Estèphe wine at £104 per bottle. Though it comes in third place for Economics, it has the best Saint-Estèphe Brand score of 996, thanks to presence in 52% of the world's best restaurants and over 23,000 online monthly searches. Its popularity is also clear from its position as the most traded of the five at auction (calculated using data from one of our partners, The Wine Market Journal).
Lafon-Rochet and Les Ormes de Pez take fourth and fifth places, with Economics scores of 694 and 682 respectively. Both are a level below the top three in terms of price per bottle and Quality score, but they match Montrose on long term price performance, with compound annual growth rates (CAGR) of 9%. Saint-Estèphe is an appellation on the rise.