Yes, that question: "which are better, Old World or New World wines?" Traditionalists may argue that the latter lack the prestige and quality of their Old World counterparts. Those with a preference for the New World might see these wines as better value for money, free of the price tag accompanying wines from famously exclusive Old World vineyards.
Wine Lister has compared the top 50 wines by Quality score from Old World and New. The average Quality score of the top 50 wines is 983 in the Old World and 948 in the New. Though both Worlds sit comfortably in the "strongest" section of the Wine Lister 1000-point scale for Quality, the price gap tells a different story. The average price for a top 50 ranking Old World wine is £2,114 per bottle – seven times higher than the average New World equivalent (£297).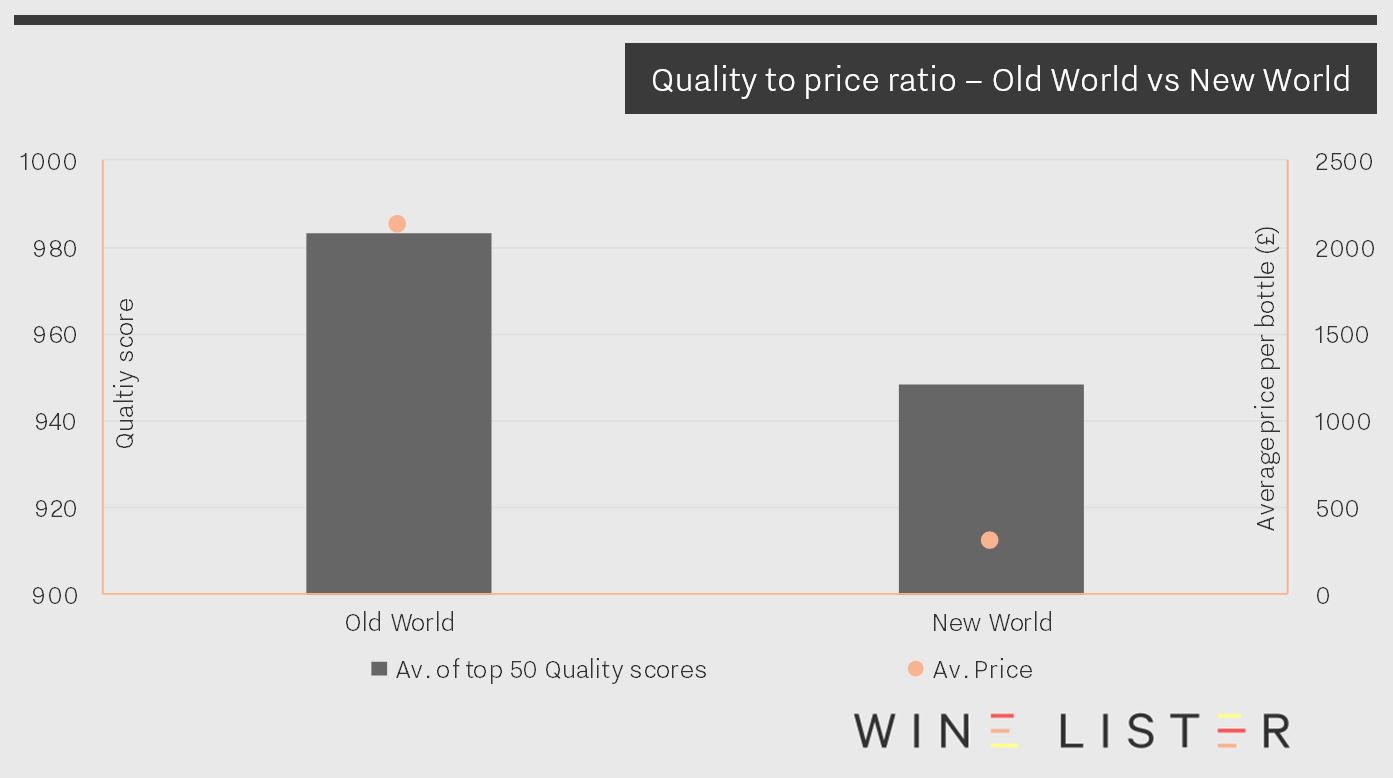 The wine with the highest Quality score on Wine Lister is Egon Müller's Scharzhofberger Riesling TBA, which achieves a wine level Quality score of 995, having fallen just one point shy of the perfect 1,000 point score for the 2010 vintage. Riesling's quality proliferates in the top 50, with 16 entries across Germany and Alsace. The high critics' scores are balanced by exceptionally high prices, with an average price of £2,509 per bottle.
Though the Old World Quality top 50 is in fact white wine dominant, red Burgundy is well represented, with 13 entries and an average Quality score of 983 at £3,164 per bottle. Even excluding DRC La Romanée-Conti's remarkable price (£11,722 per bottle), Burgundy's remaining 12 finest reds command an average price of £2,450 per bottle.
Champagne wins the price vs quality race for the whites, with an average Quality score across its four entries of 981 at £348 per bottle. Even more impressive are the five Port entries, with an average Quality score of 982 at £244 per bottle.
In contrast to the diverse set of regions represented in the Old World top 50, the New World list is dominated by California (with 40 out of 50 wines hailing from the region). These wines achieve an average Quality score of 948 at £315 per bottle – not quite as good value as the Champagnes and Ports, but seemingly better value than their red Burgundian counterparts.
Though there are fewer entries from Australia (seven in total), the New World's number one wine for quality comes from the Barossa Valley. Torbreck The Laird has a Quality score of 984 points and a price of £427 per bottle. When comparing this to an Old World wine of the same score, the price difference is evident. Domaine Leroy's Romanée Saint Vivant benefits from the same Quality score, but is nearly five times more expensive, at £1,975 per bottle.