After a distinctly Burgundian start to 2018, we are ringing the changes this week to look at some of our most improved Brand scores, with Champagne dominating.
Alongside presence in the world's best restaurants, Wine Lister's Brand score measures a wine's online popularity – as indicated by the number of searches received on Wine Searcher – as a marker of real consumer demand.
The search frequency data for December is in, and it is no surprise that searches in Champagne increased significantly leading up to the Christmas period.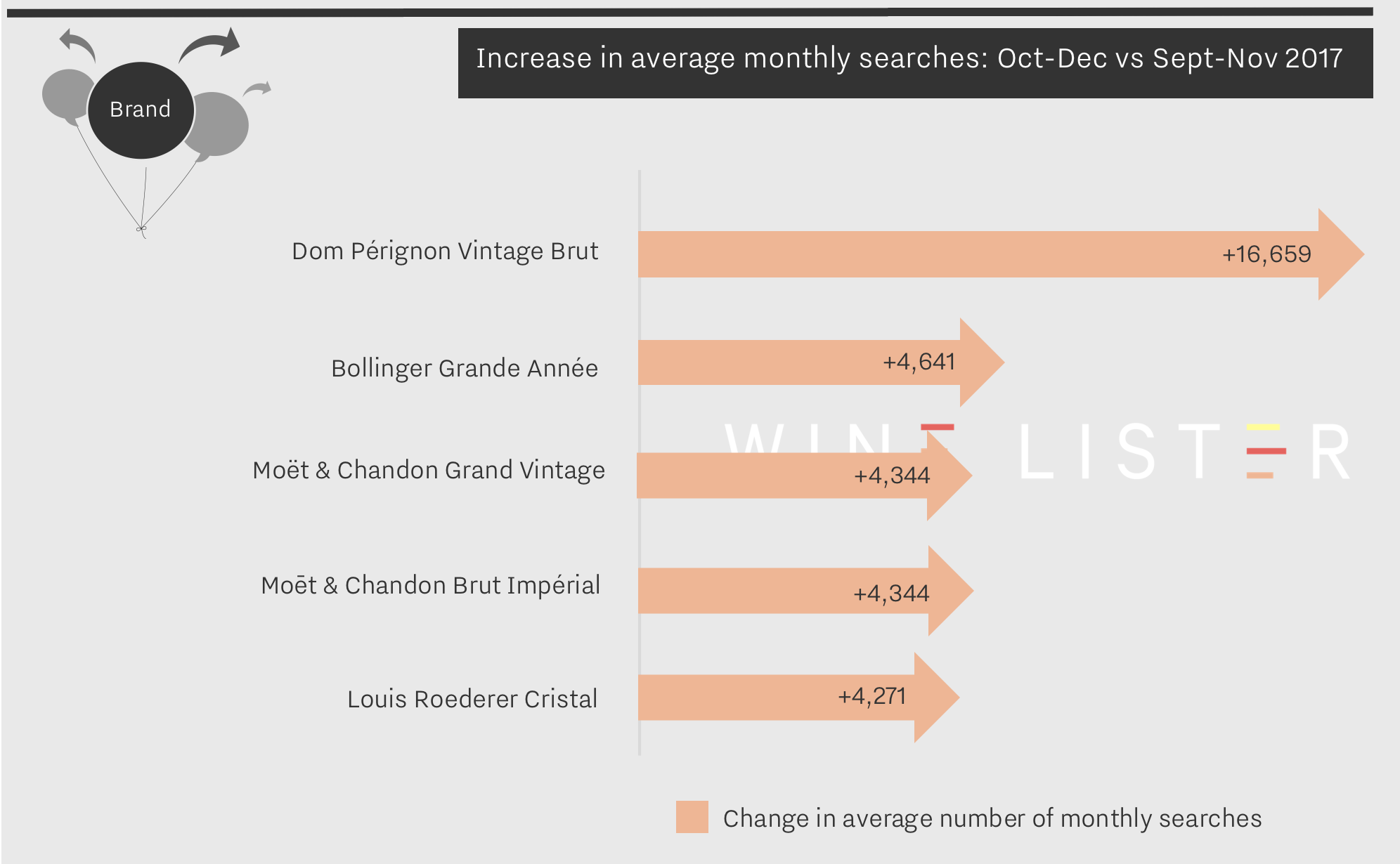 During arguably the busiest period of the year for searching and purchasing wines, these five wines gained between 20% and 77% increase in search frequency. The appearance of Dom Pérignon Vintage Brut at the top of search frequency lists is a shock to no one considering its position as one of the most searched-for wines of all time. Indeed, it consistently held the number one search spot from July to September last year. The Christmas influence still managed to add 16,659 online searches, allowing this almighty brand to achieve Wine Lister's first ever perfect Brand score (1000)!
Next on the list is Bollinger Grande Année. Its impressive 77% increase in search frequency at the end of last year can also be attributed to the festive season, but may also have been boosted by the release of the 2007 vintage earlier in the year. Bollinger's new Brand score is up 16 points on the previous quarter at 975.
Our next two appearances hail from the same owner as the first, Champagne divinity LVMH. Moët & Chandon, often considered the definitive Champagne brand holds not one, but two spots in the top five most searched for wines of the last three months. Moët & Chandon Grand Vintage is perhaps a classic Christmas choice, but the appearance of a non-vintage cuvee, the Moët & Chandon Brut Impérial is testament to the power of the Moët & Chandon brand. Each earned an increase in search frequency of 33%, bringing Brand scores to 987 and 938 respectively.
Last but not least, Louis Roederer Cristal takes fifth place with a search frequency increase of 20%. While achieving a fractional increase in searches (4,271) compared with Dom Pérignon, its presence in 54% of restaurants and consistent high quality (Quality score 970) makes Cristal an all-round achiever, and therefore a choice that's not just for Christmas.
Champagne's Brand prowess is clear, but these five are the shining stars of their region. It is interesting to note that the sixth most searched-for wine on our most recent list is in fact not a Champagne at all, but Château Margaux (Brand score 998).