Following on from our recent blog in which we looked at the five wines that enjoyed the greatest absolute increase in online search frequency during November, we thought it would be interesting to look at the five wines whose improved popularity had the biggest impact on their Brand score. This throws up some less obvious candidates.
Alongside presence in the world's best restaurants, Wine Lister's Brand score measures a wine's online popularity – as indicated by the number of searches received on Wine Searcher – as a marker of real consumer demand. The five wines below do not come close to rivalling the phenomenal popularity of the first growths and company whose search frequency increased the most in absolute terms in November. However, the relative change in their online search frequency led to some significant improvements in their Brand scores.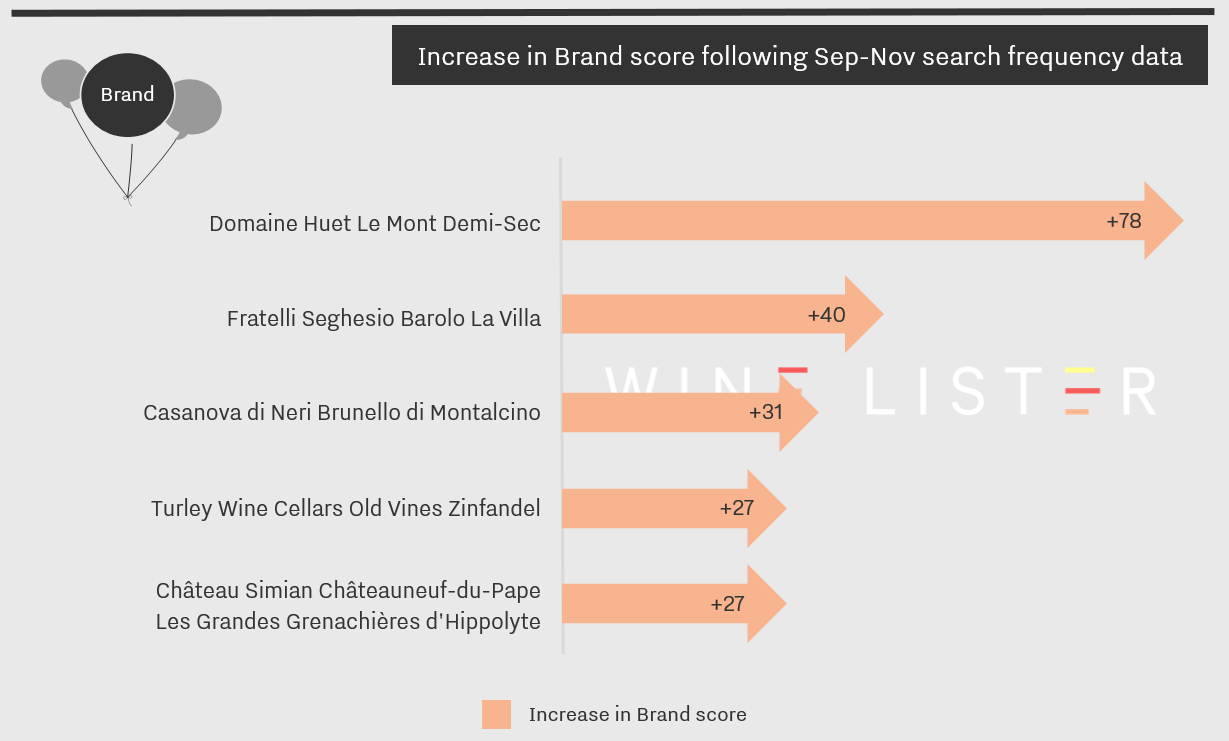 Whilst each of the five experienced an increase of at least 44% in their online search frequency, Domaine Huet Le Mont Demi-Sec's surged 147% during November, resulting in a whopping 78-point gain in its Brand score (now 765), tipping it into the very strong category on Wine Lister's 1,000 point scale. Its sharp increase in online popularity might be the result of the 2016 vintage being named the sixth best wine in the world by Wine Spectator last month. Whilst the 2016's Wine Lister Quality score (917) can't quite match the performance of two of Domaine Huet's sweeter cuvées for the vintage, it appears that it is a brand on the up.
Next comes a duo of Italian reds – Fratelli Seghesio Barolo La Villa and Casanova di Neri Brunello di Montalcino. Starting from a low base of just 243 searches each month, the Piedmontese red's search frequency leapt 63% to 396, resulting in a 40-point increase in its Brand score (506). In stark contrast, Casanova di Neri's straight Brunello already benefitted from a high level of online popularity, previously receiving 1,791 searches each month on average. It's 72% increase in search frequency – again presumably thanks to the 2012 vintage's fourth spot in Wine Spectator's top 100 wines – has resulted in a new Brand score of 799, the highest of the group.
Last but not least, Turley Wine Cellars Old Vines Zinfandel and Château Simian Châteauneuf-du-Pape Les Grandes Grenachières d'Hippolyte both enjoyed a 27-point increase in their Brand score with the latest search frequency data. Whilst their overall Wine Lister scores are fairly similar (605 and 577 respectively), their profiles differ markedly. The Californian red performs best in the Brand category, its new score of 650 comfortably outperforming its Quality and Economics scores (593 and 552 respectively). Conversely its Old-World peer has a weak brand (327), well below its very strong Quality score (808) and average Economics score (498).
It will be interesting to see if these brands continue to strengthen in 2018. Speaking of which, the Wine Lister team wishes you all a Happy New Year!