As the temperature drops, the natural reaction can be to reach for structured reds and hearty meals. The great Chardonnays of Corton-Charlemagne also warm the cockles, and belong in pride of place on any Christmas table. Here we look at the appellation's top five brands.
Wine Lister's Brand score measures a wine's prestige – as indicated by its visibility in the world's top restaurants – and popularity – as shown by the number of searches it receives each month on Wine-Searcher. Corton-Charlemagne's top brand is Bonneau du Martray's offering (947). This outstanding Brand score is the result of achieving by far the greatest level of restaurant presence of the group – it is visible in nearly twice as many of the world's top establishments as the next-best of the five (Coche-Dury's Corton-Charlemagne) – coupled with being comfortably the most popular of the group, receiving 24% more searches each month than the runner-up. No wonder it is one of the group's three Buzz Brands.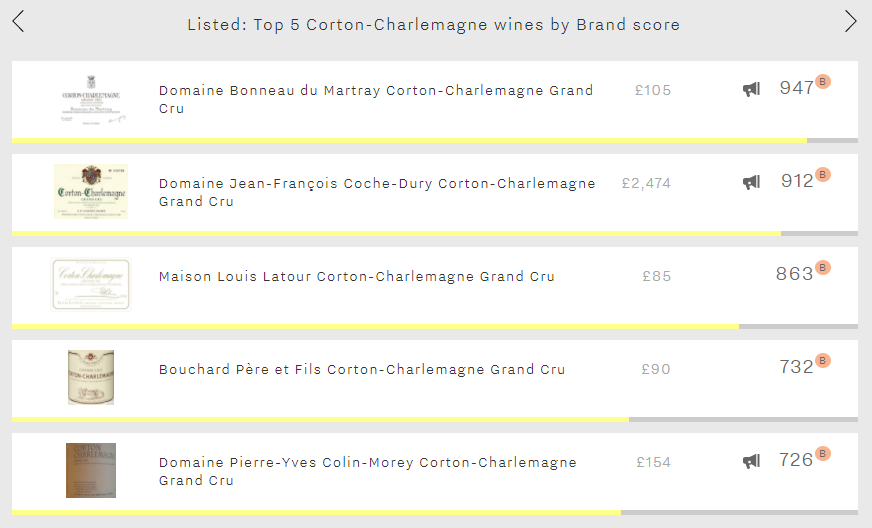 In second place is Coche-Dury's offering with a score of 912 for Brand, in fact its weakest category – perhaps unsurprising given its formidable Economics and Quality scores (985 – the highest of any white Burgundy – and 969 respectively). Its economic might is the result of its extraordinary price (£2,474), which is over 15 times higher than the second-most expensive wine of the group (the Pierre-Yves Colin-Morey (£154).
Almost 50 points further behind is Maison Louis Latour's Corton Charlemagne (863). Unlike the Coche-Dury, its Brand score is its best facet. This is thanks to very strong performance across both brand criteria – it features in 13% of top restaurants and receives 2,500 searches each month on average.
Trailing over 130 points further behind, Corton-Charlemagne's next-strongest brands are separated by just six points – Bouchard Père et Fils (732) and Pierre-Yves Colin-Morey (726). Whilst strong, their Brand scores are no match for their excellent quality scores (917 and 950 respectively). In fact, it seems that quality doesn't play an obvious role in establishing brand strength within Corton-Charlemagne: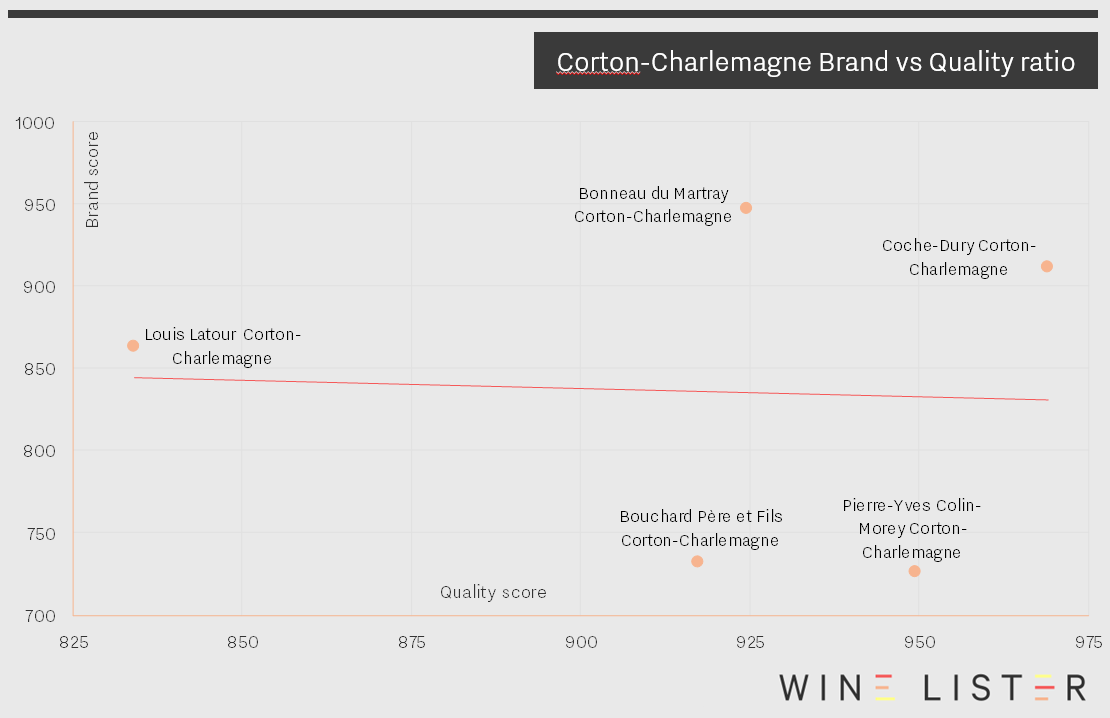 Whilst Corton-Charlemagnes's top five Brands display no correlation between quality and brand recognition, as indicated by the flat trendline, quality is much more of a factor for the top brands of another of Burgundy's most prestigious appellations, Montrachet: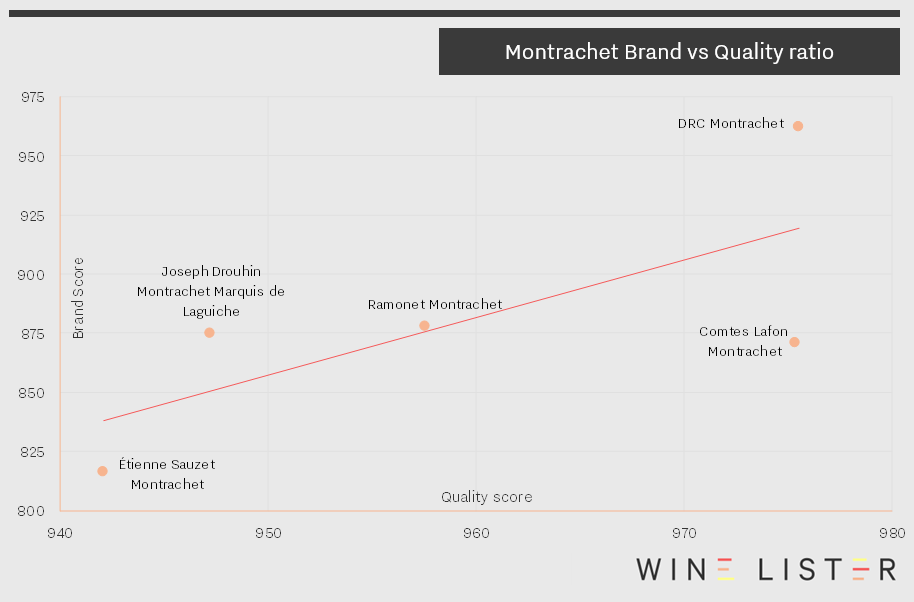 Remember that even if you don't currently have a Wine Lister subscription you can access all the underlying data behind these five wines as well as those featured in other recent Top 5s, giving you an insight into the wealth of tools at our subscribers' disposal.