With the days quickly shortening and misty mornings become the norm, we bid farewell to rosé for the year and welcome back old favourites. Autumn is the perfect season for Piedmontese reds, which are not only so redolent of mist-covered hills, but also pair perfectly with the region's food at this time of year. With that in mind, this week's Listed section features Piedmont's top five wines by Brand score.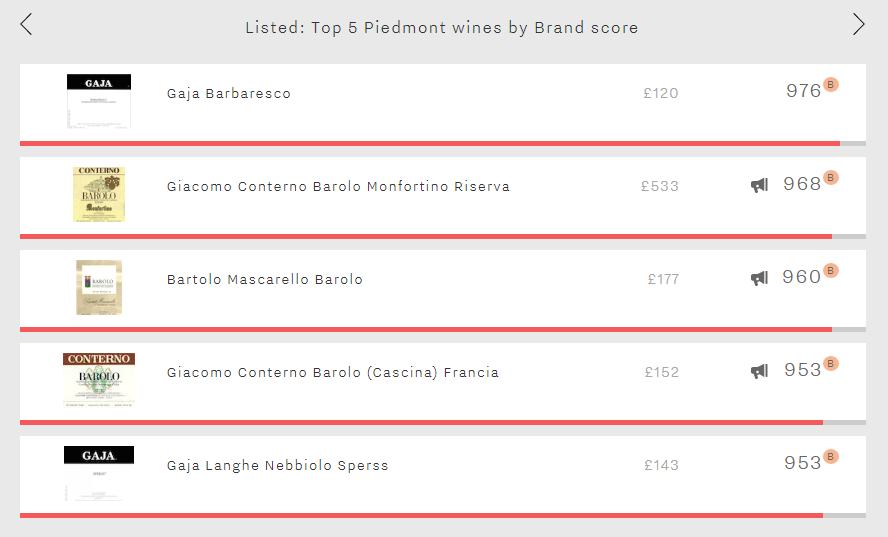 Whilst Barolo might be the region's most famous appellation, it is Gaja Barbaresco that tops the table with an outstanding Brand score of 976. It performs extremely well across both of Wine Lister's Brand criteria – restaurant presence and online popularity – coming first and second respectively. It is visible in 33% of the most prestigious establishments worldwide, and attracts more than 8,400 searches on Wine-Searcher each month.
Giacomo Conterno Barolo Monfortino Riserva comes next (968). The first of three Wine Lister Buzz Brands in the group, it is by far the most expensive. Receiving on average 9,358 searches each month on Wine-Searcher, it is also the most popular wine in the group. Interestingly, despite experiencing the lowest restaurant presence (23%), it enjoys the greatest depth in terms of number of vintages and formats listed (4.4) – testament to its extraordinary ageing potential of over 24 years.
Bartolo Mascarello Barolo (of "no barrique, no Berlusconi" fame) fills the third spot. This staunchly traditional producer enjoys its best scores in the Brand category, with its excellent search frequency of over 7,000 searches each month helping it to a score of 960.
The last two spots are filled by another wine each from Giacomo Conterno and Gaja – Barolo Francia (formerly Casina Francia) and  Sperss (now labelled as Barolo again from the 2013 vintage after 17 years declassified to Langhe Nebbiolo) [Friday fun fact – Gaja now labels wines under the Europe-wide DOP classification rather than the strictly Italian DOC status]. Both wines have strong restaurant presence, at 30% and 31% respectively. Either would be a perfect accompaniment to Alba's famous white truffles, which will be starting to appear in some of those restaurants now.