Wine Lister's four Indicators – Investment Staples, Value Picks, Hidden Gems, and Buzz Brands – were designed to enable users to find the perfect wine for any scenario in just a couple of clicks. Buzz Brands, the most talked-about wines, are sure to impress: they have strong distribution across the world's top restaurants, show high online search frequency or a recent growth in popularity, and are identified by the fine wine trade as trending or especially prestigious.
Having recently expanded and updated Wine Lister's restaurant presence coverage, 29 new wines now qualify as Buzz Brands, their global distribution broadening. To achieve Buzz Brand status, a wine must be among the top fifth of all wines that feature at least once on the menus of the world's best restaurants – prized for their wine lists as well as their food.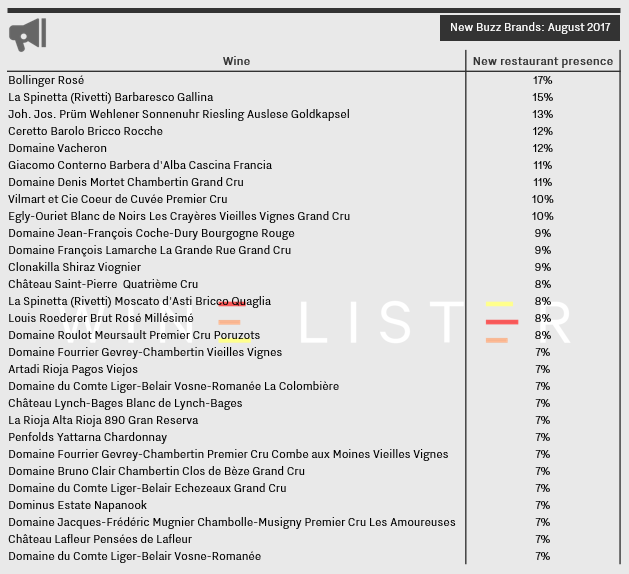 Of the 29 wines above, 11 hail from Burgundy, confirming the region's continued demand amongst the restaurant trade. Domaine du Comte Liger-Belair fares particularly well, with three of its wines becoming new Buzz Brands, thus suggesting it is a producer on an upward trajectory. These wines also benefit from a high online search frequency, as measured by Wine-Searcher, with the wine with the highest number of searches, Domaine du Comte Liger-Belair Echezeaux Grand Cru, seeing 1,400 searches per month.
Champagne has also benefitted from the restaurant presence update, with four wines from the region gaining Buzz Brand status. Of this month's new Buzz Brands, Bollinger Rosé now has the most impressive distribution, present in 17% of the world's top establishments.
Piedmont sees four wines attain Buzz Brand status. Two new wines from La Spinetta now qualify as Buzz Brands, with Ceretto Barolo Bricco Rocche and Giacomo Conterno Barbera d'Alba Cascina Francia making up the quartet.
There are three new Bordeaux Buzz Brands, and one carries the accolade of being the most searched-for wine in the table. Château Saint-Pierre receives in excess of 3,700 searches per month, which in addition to appearing on 8% of the world's very best restaurants makes it well-deserving of its new Buzz Brand status.