Trading volumes are a key measure of a wine's success in the marketplace. To evaluate these, Wine Lister uses figures collated by Wine Market Journal from sales at the world's major auction houses, looking at the total number of bottles sold of the top five vintages traded for each wine over the past four quarters.
With the first quarter data now in, we look at which wines saw the greatest incremental increase in bottles traded. Although the list is dominated by French wines, top of the table is a Tuscan, Biondi Santi Brunello di Montalcino Riserva. The producer was recently highlighted as one to watch in a survey of Wine Lister's Founding Members. The rise in auction sales for this wine has had a significant impact on its Economics score, boosting it from 911 to 945/1000. Volume is just one of the five criteria that feed into a wine's Economics score, along with four different price-related metrics.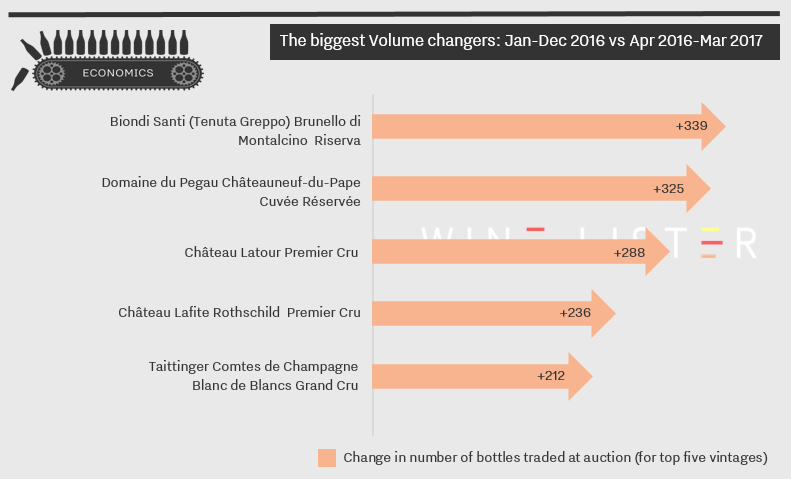 The wine seeing the second largest gain in trading volumes, Domaine du Pegau Châteauneuf-du-Pape Cuvée Réservée, also has the lowest Economics score of the table, at 789. Nonetheless, its overall Wine Lister score is very strong at 846 (lifted by a high score for Brand), and with the latest data in from Wine Market Journal its Economics score is on the rise.
The final three wines of the table – two Bordeaux first growths and a prestigious Champagne (Taittinger Comtes de Champagne)  – also benefitted from increased trades in the last quarter. All three enjoy very high Economics scores, with Lafite Rothschild the highest, at 955/1000. Meanwhile it seems that 2017 has been a positive year so far for Latour, which was also among the top five wines that saw its number of searches increase significantly in March.