As we know, the quality of a wine is not set in stone.  Just like our Brand and Economics scores, Wine Lister's Quality scores are also updated over time as wines evolve and new vintages are released.
Our algorithm analyses Quality by aggregating ratings from our three partner critics: Jancis Robinson, Bettane+Desseauve and Vinous (Antonio Galloni).  It also comprises a small weighting for a wine's longevity, based on the critics' combined drinking windows, with the drink-by date updated regularly as our partner critics retaste and reevaluate.
In this post we look at the 10 biggest gainers in Quality over the course of 2016: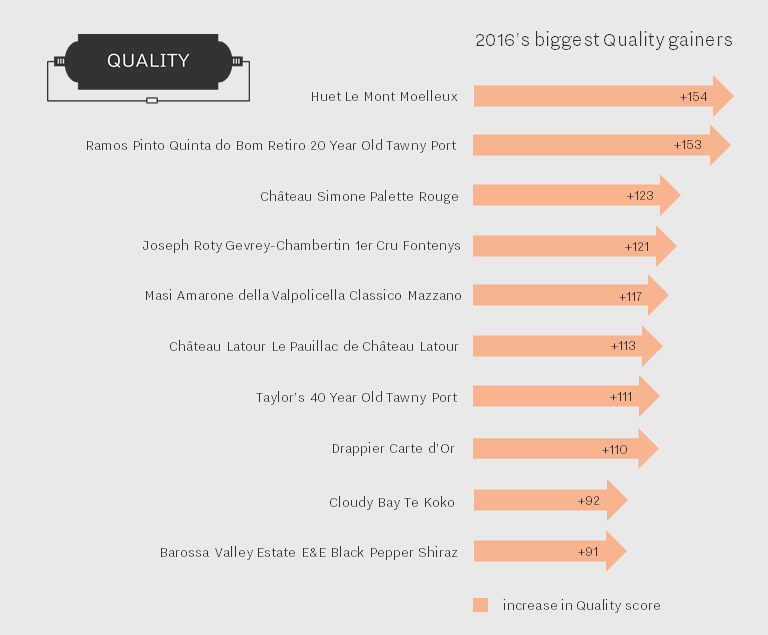 Huet's Le Mont Moelleux improved the most last year, adding over 20% to its score, taking it to 917.  This is down to a score of 18/20 for the 2015 vintage from our UK partner critic JancisRobinson.com.
Also partly thanks to a new score of 18 from the same critic, in second place is the fortified Ramos Pinto Quinta do Bom Retiro 20 Year Old Tawny Port. The wine was also deemed to be eight years longer-lived than had been previously thought, contributing considerably to its Quality score surge.
Château Simone's Palette Rouge received a higher-than-average score from Bettane+Desseauve for its 2012 vintage, making it the third-highest gainer for the year.
Improvements were also enjoyed across a wide range of other regions, from Bordeaux to Champagne, and in the New World.
Who will be 2017's biggest Quality gainers?  Only time (and tastings) will tell.