In a new climate of Brexit-induced uncertainty, with volatile fund performance and some economists forecasting recession, can fine wine offer some shelter? Research has consistently shown that wine has weak correlation with traditional financial assets, and can therefore be a useful diversification tool. Moreover, returns have been attractive historically, and less risky.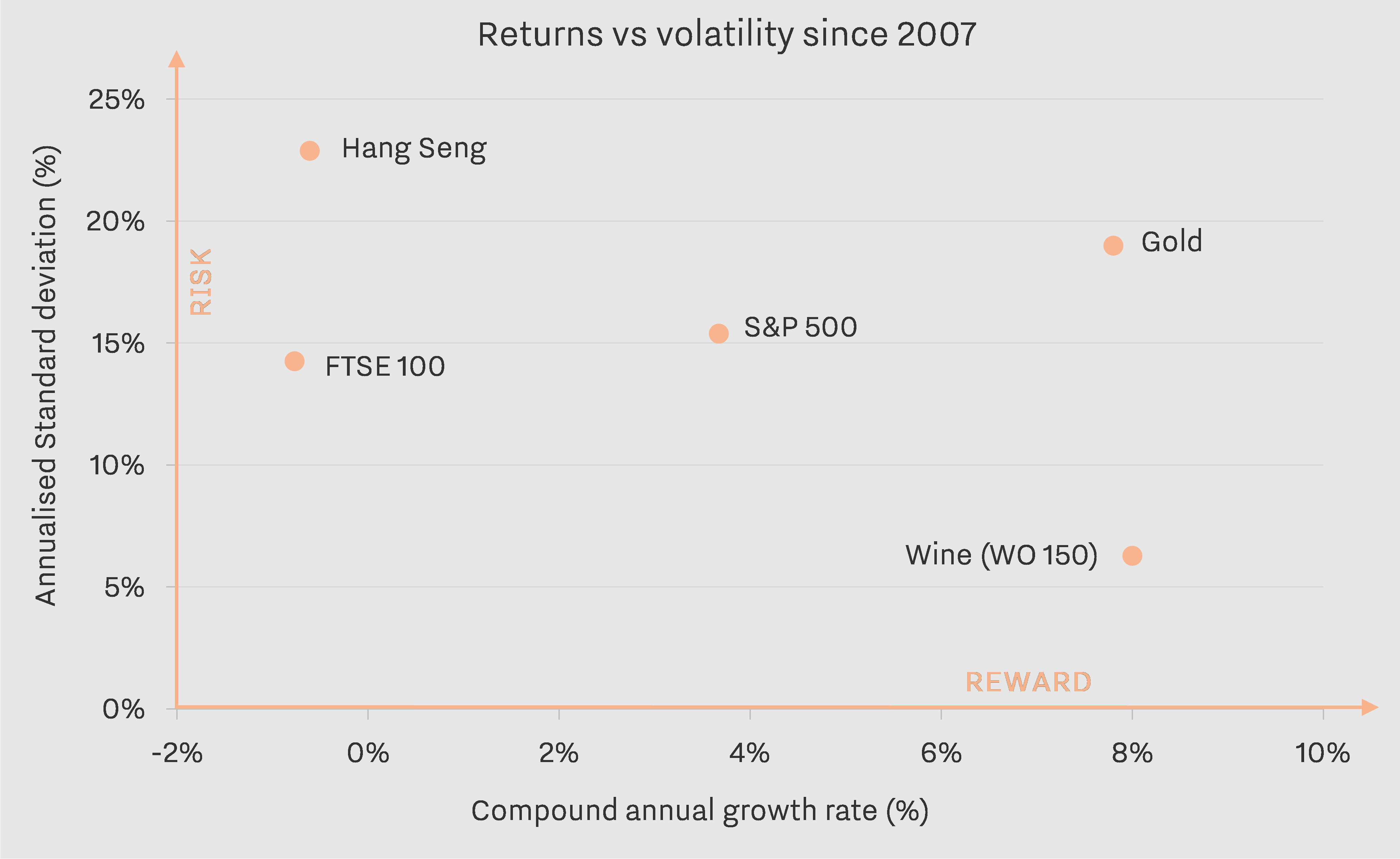 Attractive growth
The graph above shows returns since June 2007 for fine wine, gold, and three major stock indices. In spite of the fine wine bubble bursting in the summer of 2011, wine has produced the best annual returns over this period, at 8%.
Note that for this analysis we have used our price data partner's Wine Owners 150 index, which contains a range of wines from different regions and at different price points. This further underlines the wisdom of diversification at every step – a wine portfolio made up solely of Bordeaux first growths would not yet have regained losses suffered in 2011. It should also be noted that the performance of the WO 150 index does not take into account frictional costs associated with fine wine collecting, namely storage, insurance, transportation, and sales commissions.
Low risk
What about the risk profile of fine wine? Despite surpassing the S&P 500, the FTSE 100, and the Hang Seng in terms of return, fine wine displays less volatility. It is also less volatile than gold, while providing similar returns over the nine-year period.
Low correlation
Finally, we ran our own analysis to confirm fine wine's low correlation with stock markets over the same period – in mathematical terms, the index demonstrates correlation of 0.41, 0.03, and 0.15 with the S&P 500, Hang Seng and FTSE 100 respectively (where 1 is complete correlation, and -1 denotes mirror opposites). Fine wine behaves similarly to gold, often viewed as a refuge value in times of financial turmoil – the two show correlation of 0.8.
To take the plunge?
Fine wine seems to possess at least three characteristics making it a viable – and even attractive – alternative asset; a safe haven in tumultuous times. Independently of Brexit-fuelled uncertainty, now might be an opportune time to buy into wine, as it has shown steady – but not bubble-inducing growth since the beginning of 2016.
As a non-mainstream and (ironically) illiquid asset class, fine wine should only ever make up a small proportion of any investment portfolio. And, of course, it is a multi-faceted, non-fungible asset, ultimately made for drinking and enjoying, so we recommend that any notion of investing in wine always be secondary to its primary appeal, and undertaken with expert advice!
See Wine Lister's Investment Staples and filter by geography, price, score and more.
For more information on a specific wine – relating to quality, brand, and economics – click on any wine and open out the category bars.
Disclaimer: the opinions expressed in this post or elsewhere on the Wine Lister website do not constitute investment advice.