{"date":1622716909000,"content":"<h3 style=\"text-align: justify;\"><em>Wine Lister analyses Bordeaux 2020 scores from our partner critic, Neal Martin (Vinous).</em></h3>\r\n<p style=\"text-align: justify;\"><a href=\"https://vinous.com/\" target=\"_blank\" rel=\"noopener\"><img class=\"aligncenter size-full wp-image-7555\" src=\"https://www.wine-lister.com/blog/wp-content/uploads/2021/06/Screenshot-2021-06-03-at-10.24.14.png\" alt=\"\" width=\"1117\" height=\"640\" /></a><em>Bordeaux 2020 wines earning 95-97 and over from Neal Martin (Vinous)</em></p>\r\n\r\n<h3 style=\"text-align: center;\"><strong>Which were Neal Martin's (Vinous) top-scoring wines from Bordeaux's 2020 vintage?</strong></h3>\r\n<p style=\"text-align: justify;\">In his latest tasting report for <a href=\"https://vinous.com/articles/vingt-vingt-vins-bordeaux-2020-may-2021\" target=\"_blank\" rel=\"noopener\">Vinous</a>, "Vingt-vingts Vins", Wine Lister partner critic, Neal Martin, awards no perfect scores for Bordeaux 2020 en primeur (he gave two potential 100-point scores to the 2019 vintage – <a href=\"https://vinous.com/wines?wine_filter%5Bproducer_id%5D=3884\" target=\"_blank\" rel=\"noopener\">La Mission Haut-Brion</a> and <a href=\"https://vinous.com/wines/pichon-longueville-comtesse-de-lalande-2020-pichon-longueville-comtesse-de-lalande\" target=\"_blank\" rel=\"noopener\">Pichon Comtesse</a>).</p>\r\nHis top 33 wines below nonetheless sport three potential 99-point wines, for First Growth <a href=\"https://vinous.com/wines/margaux-2020-margaux\" target=\"_blank\" rel=\"noopener\">Margaux</a>, Moueix-owned <a href=\"https://vinous.com/wines/trotanoy-2020-trotanoy\" target=\"_blank\" rel=\"noopener\">Trotanoy</a>, and Pessac powerhouse <a href=\"https://vinous.com/wines/la-mission-haut-brion-2020-la-mission-haut-brion\" target=\"_blank\" rel=\"noopener\">La Mission Haut-Brion Rouge</a>.\r\n<p style=\"text-align: justify;\">The Right Bank fares well, earning 15 of the top spots (nine Saint-Émilion, and six Pomerol).</p>\r\n<p style=\"text-align: justify;\">Of Left Bank appellations, Pessac-Léognan fares the best, if entirely from reds, with <a href=\"https://vinous.com/wines/haut-brion-2020-haut-brion\" target=\"_blank\" rel=\"noopener\">Haut-Brion</a>, <a href=\"https://vinous.com/wines/pape-clement-2020-pape-clement\" target=\"_blank\" rel=\"noopener\">Pape Clément</a>, <a href=\"https://vinous.com/wines/haut-bailly-2020-haut-bailly-a78dde70-6d26-4c00-abf7-ac26a73c2525\" target=\"_blank\" rel=\"noopener\">Haut-Bailly</a>, and <a href=\"https://vinous.com/wines/smith-haut-lafitte-2020-smith-haut-lafitte\" target=\"_blank\" rel=\"noopener\">Smith Haut Lafitte Rouge</a> joining <a href=\"https://vinous.com/wines/la-mission-haut-brion-2020-la-mission-haut-brion\" target=\"_blank\" rel=\"noopener\">La Mission</a> for the top offerings in 2020. Pauillac also (perhaps unsurprisingly) performs well, with the two <a href=\"https://vinous.com/wines?utf8=%E2%9C%93&amp;q=pichon&amp;wine_filter%5Barticle_id%5D=&amp;commit=Search&amp;wine_filter%5Bproducer_id%5D=&amp;wine_filter%5Bvintage_range_min%5D=&amp;wine_filter%5Bvintage_range_max%5D=&amp;wine_filter%5Bscore_range_min%5D=&amp;wine_filter%5Bscore_range_max%5D=&amp;wine_filter%5Bprice_range_min%5D=&amp;wine_filter%5Bprice_range_max%5D=&amp;wine_filter%5Breview_date_year_range_min%5D=&amp;wine_filter%5Breview_date_year_range_max%5D=&amp;wine_filter%5Bcolor%5D=&amp;wine_filter%5Bcountry%5D=&amp;wine_filter%5Bauthor%5D=\" target=\"_blank\" rel=\"noopener\">Pichons</a> joining first growths <a href=\"https://vinous.com/wines/mouton-rothschild-2020-mouton-rothschild\" target=\"_blank\" rel=\"noopener\">Mouton</a> and <a href=\"https://vinous.com/wines/lafite-rothschild-2020-lafite-rothschild\" target=\"_blank\" rel=\"noopener\">Lafite</a> as the appellation's top scores.</p>\r\n\r\n<blockquote>\r\n<h3><strong>To find out Antonio Galloni's (Vinous) scores for Bordeaux 2020, read: <a href=\"https://www.wine-lister.com/posts/post/antonio-gallonis-top-bordeaux-2020-scores\" target=\"_blank\" rel=\"noopener\">Antonio Galloni's top Bordeaux 2020 scores</a></strong></h3>\r\n</blockquote>\r\n<p style=\"text-align: justify;\">Further top scorers are otherwise scattered across the remaining appellations, including three sweet wines from Sauternes – both cuvées from <a href=\"https://vinous.com/wines?utf8=%E2%9C%93&amp;q=Doisy-Da%C3%ABne&amp;wine_filter%5Barticle_id%5D=&amp;commit=Search&amp;wine_filter%5Bproducer_id%5D=&amp;wine_filter%5Bvintage_range_min%5D=&amp;wine_filter%5Bvintage_range_max%5D=&amp;wine_filter%5Bscore_range_min%5D=&amp;wine_filter%5Bscore_range_max%5D=&amp;wine_filter%5Bprice_range_min%5D=&amp;wine_filter%5Bprice_range_max%5D=&amp;wine_filter%5Breview_date_year_range_min%5D=&amp;wine_filter%5Breview_date_year_range_max%5D=&amp;wine_filter%5Bcolor%5D=&amp;wine_filter%5Bcountry%5D=&amp;wine_filter%5Bauthor%5D=\" target=\"_blank\" rel=\"noopener\">Doisy-Daëne</a>, and Lur-Saluces-owned <a href=\"https://vinous.com/wines/de-fargues-2020-de-fargues\" target=\"_blank\" rel=\"noopener\">de Fargues</a>.</p>\r\n<p style=\"text-align: justify;\">Some of the remaining top-scoring Bordeaux 2020 from Neal Martin are: <a href=\"https://vinous.com/wines/leoville-las-cases-2020-leoville-las-cases\" target=\"_blank\" rel=\"noopener\">Léoville Las Cases</a>, <a href=\"https://vinous.com/wines/l-eglise-clinet-2020-l-eglise-clinet\" target=\"_blank\" rel=\"noopener\">l'Eglise Clinet</a>, <a href=\"https://vinous.com/wines/la-gaffeliere-2020-la-gaffeliere\" target=\"_blank\" rel=\"noopener\">La Gaffelière</a>, <a href=\"https://vinous.com/wines/figeac-2020-figeac\" target=\"_blank\" rel=\"noopener\">Figeac</a>, <a href=\"https://vinous.com/wines/canon-2020-canon\" target=\"_blank\" rel=\"noopener\">Canon</a>, <a href=\"https://vinous.com/wines/la-conseillante-2020-la-conseillante\" target=\"_blank\" rel=\"noopener\">La Conseillante</a>, <a href=\"https://vinous.com/wines/vieux-chateau-certan-2020-vieux-chateau-certan\" target=\"_blank\" rel=\"noopener\">Vieux Château Certan</a>, <a href=\"https://vinous.com/wines/angelus-2020-angelus\" target=\"_blank\" rel=\"noopener\">Angélus</a>, <a href=\"https://vinous.com/wines/pape-clement-2020-pape-clement\" target=\"_blank\" rel=\"noopener\">Pape Clément</a>, <a href=\"https://vinous.com/wines/leoville-poyferre-2020-leoville-poyferre\" target=\"_blank\" rel=\"noopener\">Léoville Poyferré</a>, <a href=\"https://vinous.com/wines/haut-bailly-2020-haut-bailly\" target=\"_blank\" rel=\"noopener\">Haut-Bailly,</a> <a href=\"https://vinous.com/wines/hosanna-2020-hosanna\" target=\"_blank\" rel=\"noopener\">Hosanna</a>, <a href=\"https://vinous.com/wines/pavie-2020-pavie\" target=\"_blank\" rel=\"noopener\">Pavie</a>, <a href=\"https://vinous.com/wines/le-gay-2020-le-gay\" target=\"_blank\" rel=\"noopener\">Le Gay</a>, <a href=\"https://vinous.com/wines/la-mondotte-2020-la-mondotte\" target=\"_blank\" rel=\"noopener\">La Mondotte</a>, <a href=\"https://vinous.com/wines/belair-monange-2020-belair-monange\" target=\"_blank\" rel=\"noopener\">Belair-Monange</a>, <a href=\"https://www.wine-lister.com/wine/clos-fourtet\" target=\"_blank\" rel=\"noopener\">Clos Fourtet</a>, <a href=\"https://www.wine-lister.com/wine/cos-d-estournel\" target=\"_blank\" rel=\"noopener\">Cos d'Estournel</a>, <a href=\"https://www.wine-lister.com/wine/valandraud\" target=\"_blank\" rel=\"noopener\">Valandraud</a>, <a href=\"https://www.wine-lister.com/wine/brane-cantenac\" target=\"_blank\" rel=\"noopener\">Brane-Cantenac</a>, and <a href=\"https://vinous.com/wines/rauzan-segla-2020-rauzan-segla\" target=\"_blank\" rel=\"noopener\">Rauzan-Ségla</a>.</p>\r\n\r\n<blockquote>\r\n<h3 style=\"text-align: left;\">Explore the top Bordeaux 2020 scores from <a href=\"https://www.wine-lister.com/posts/post/bettanedesseauves-top-bordeaux-2020-scores\" target=\"_blank\" rel=\"noopener\">Bettane+Desseauve</a>, <a href=\"https://www.wine-lister.com/posts/post/top-bordeaux-2020-scores-from-jancisrobinson-com\" target=\"_blank\" rel=\"noopener\">JancisRobinson.com</a>, and <a href=\"https://www.wine-lister.com/posts/post/jeannie-cho-lees-top-bordeaux-2020-scores\" target=\"_blank\" rel=\"noopener\">Jeannie Cho Lee</a>.</h3>\r\n</blockquote>","title":"Neal Martin's top Bordeaux 2020 scores","slug":"neal-martins-top-bordeaux-2020-scores","url":"/posts/post/neal-martins-top-bordeaux-2020-scores","author":{"id":11,"email":"tara@wine-lister.com","name":"Tara Albini"},"terms":[{"name":"Analysis","slug":"analysis","url":"/posts?filter_by=analysis","type":"category","usageCounter":null},{"name":"Bordeaux en primeur","slug":"bordeaux-en-primeur","url":"/posts?filter_by=bordeaux-en-primeur","type":"category","usageCounter":null},{"name":"News","slug":"news","url":"/posts?filter_by=news","type":"category","usageCounter":null},{"name":"Score updates","slug":"score-updates","url":"/posts?filter_by=score-updates","type":"category","usageCounter":null},{"name":"Bordeaux","slug":"bordeaux","url":"/posts?filter_by=bordeaux","type":"post_tag","usageCounter":null},{"name":"Buzz Brands","slug":"buzz-brands","url":"/posts?filter_by=buzz-brands","type":"post_tag","usageCounter":null},{"name":"critics","slug":"critics","url":"/posts?filter_by=critics","type":"post_tag","usageCounter":null},{"name":"en primeur","slug":"en-primeur","url":"/posts?filter_by=en-primeur","type":"post_tag","usageCounter":null},{"name":"France","slug":"france","url":"/posts?filter_by=france","type":"post_tag","usageCounter":null},{"name":"Investment","slug":"investment","url":"/posts?filter_by=investment","type":"post_tag","usageCounter":null},{"name":"Margaux","slug":"margaux","url":"/posts?filter_by=margaux","type":"post_tag","usageCounter":null},{"name":"Pessac-Léognan","slug":"pessac-leognan","url":"/posts?filter_by=pessac-leognan","type":"post_tag","usageCounter":null},{"name":"Pomerol","slug":"pomerol","url":"/posts?filter_by=pomerol","type":"post_tag","usageCounter":null},{"name":"Quality","slug":"quality","url":"/posts?filter_by=quality","type":"post_tag","usageCounter":null},{"name":"Release","slug":"release","url":"/posts?filter_by=release","type":"post_tag","usageCounter":null},{"name":"Saint-Emilion","slug":"saint-emilion","url":"/posts?filter_by=saint-emilion","type":"post_tag","usageCounter":null},{"name":"Investment","slug":"investment","url":"/posts?filter_by=investment","type":"category","usageCounter":null},{"name":"New Release","slug":"new-release","url":"/posts?filter_by=new-release","type":"post_tag","usageCounter":null},{"name":"Bordeaux","slug":"bordeaux","url":"/posts?filter_by=bordeaux","type":"category","usageCounter":null},{"name":"Releases","slug":"releases","url":"/posts?filter_by=releases","type":"category","usageCounter":null},{"name":"Insight","slug":"insight","url":"/posts?filter_by=insight","type":"category","usageCounter":null}]}
Neal Martin's top Bordeaux 2020 scores
Wine Lister analyses Bordeaux 2020 scores from our partner critic, Neal Martin (Vinous).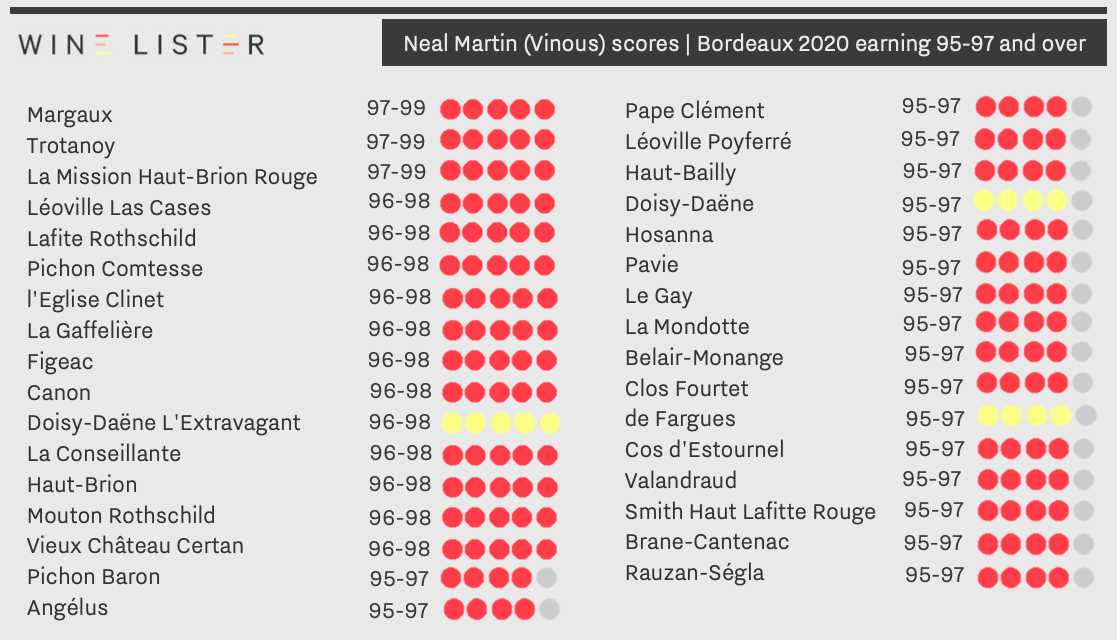 Bordeaux 2020 wines earning 95-97 and over from Neal Martin (Vinous)
Which were Neal Martin's (Vinous) top-scoring wines from Bordeaux's 2020 vintage?
In his latest tasting report for Vinous, "Vingt-vingts Vins", Wine Lister partner critic, Neal Martin, awards no perfect scores for Bordeaux 2020 en primeur (he gave two potential 100-point scores to the 2019 vintage – La Mission Haut-Brion and Pichon Comtesse).
His top 33 wines below nonetheless sport three potential 99-point wines, for First Growth
Margaux
, Moueix-owned
Trotanoy
, and Pessac powerhouse
La Mission Haut-Brion Rouge
.
The Right Bank fares well, earning 15 of the top spots (nine Saint-Émilion, and six Pomerol).
Of Left Bank appellations, Pessac-Léognan fares the best, if entirely from reds, with Haut-Brion, Pape Clément, Haut-Bailly, and Smith Haut Lafitte Rouge joining La Mission for the top offerings in 2020. Pauillac also (perhaps unsurprisingly) performs well, with the two Pichons joining first growths Mouton and Lafite as the appellation's top scores.
Further top scorers are otherwise scattered across the remaining appellations, including three sweet wines from Sauternes – both cuvées from Doisy-Daëne, and Lur-Saluces-owned de Fargues.
Some of the remaining top-scoring Bordeaux 2020 from Neal Martin are: Léoville Las Cases, l'Eglise Clinet, La Gaffelière, Figeac, Canon, La Conseillante, Vieux Château Certan, Angélus, Pape Clément, Léoville Poyferré, Haut-Bailly, Hosanna, Pavie, Le Gay, La Mondotte, Belair-Monange, Clos Fourtet, Cos d'Estournel, Valandraud, Brane-Cantenac, and Rauzan-Ségla.