{"date":1622735226000,"content":"<p style=\"text-align: justify;\">The majority of Bordeaux 2020 en primeur scores have now been published by Wine Lister partner critic, Antonio Galloni (<a href=\"https://vinous.com/\" target=\"_blank\" rel=\"noopener\">Vinous</a>), who notes in his latest tasting report that the vintage impresses "for a combination of energy and vibrancy".</p>\r\n<p style=\"text-align: justify;\">Explore all Bordeaux 2020 scores <a href=\"https://www.wine-lister.com/enprimeur?d=1&amp;n=&amp;s=quality&amp;p=\" target=\"_blank\" rel=\"noopener\">here</a>, or read more below.</p>\r\n<p style=\"text-align: justify;\"><a href=\"https://vinous.com/\" target=\"_blank\" rel=\"noopener\"><img class=\"aligncenter size-full wp-image-7569\" src=\"https://www.wine-lister.com/blog/wp-content/uploads/2021/06/Screenshot-2021-06-03-at-10.03.50.png\" alt=\"\" width=\"1092\" height=\"622\" /></a></p>\r\n<p style=\"text-align: justify;\">Antonio Galloni awards his top score of 97-99 to <a href=\"https://vinous.com/wines/pavie-2020-pavie-22f40f4c-c8f8-455c-bd6a-049c37be0160\" target=\"_blank\" rel=\"noopener\">Pavie</a>, <a href=\"https://vinous.com/wines/haut-brion-2020-haut-brion-777fc891-3181-44c4-846e-40b405de6ca8\" target=\"_blank\" rel=\"noopener\">Haut-Brion</a>, and fellow First Growth, <a href=\"https://vinous.com/wines/margaux-2020-margaux-1090129e-95c0-4dd7-97ae-5be010477297\" target=\"_blank\" rel=\"noopener\">Margaux</a>, which he describes as having "magnificent balance" in 2020. <a href=\"https://vinous.com/wines/mouton-rothschild-2020-mouton-rothschild-511edd7d-5975-4e34-b19f-cf2c44ab7ad5\" target=\"_blank\" rel=\"noopener\">Mouton</a> and <a href=\"https://vinous.com/wines/lafite-rothschild-2020-lafite-rothschild-dc382f0b-92f6-40e9-a7fb-7fba8a83e7ff\" target=\"_blank\" rel=\"noopener\">Lafite</a> are also featured on the list, having received 96-98 and 95-97, respectively.</p>\r\n<p style=\"text-align: justify;\">Stating in his report that "Pessac-Léognan is the most successful appellation as a whole" in 2020, Antonio Galloni's top Pessac picks alongside <a href=\"https://vinous.com/wines/haut-brion-2020-haut-brion-777fc891-3181-44c4-846e-40b405de6ca8\" target=\"_blank\" rel=\"noopener\">Haut-Brion</a> include <a href=\"https://vinous.com/wines/la-mission-haut-brion-2020-la-mission-haut-brion-50ce1bf8-89db-460e-9c10-07eb44951b92\" target=\"_blank\" rel=\"noopener\">La Mission Haut-Brion Rouge</a> (96-98), <a href=\"https://vinous.com/wines/les-carmes-haut-brion-2020-les-carmes-haut-brion-df72c0ba-bc05-43f0-b064-f5d6ccf3c9c0\" target=\"_blank\" rel=\"noopener\">Les Carmes Haut-Brion</a> (95-97+), <a href=\"https://vinous.com/wines/pape-clement-2020-pape-clement-de039c8a-5a17-40ad-958f-62b13811ac86\" target=\"_blank\" rel=\"noopener\">Pape Clément</a>, <a href=\"https://vinous.com/wines/smith-haut-lafitte-2020-smith-haut-lafitte-0b294e29-4b2e-4130-a483-543b71e05f76\" target=\"_blank\" rel=\"noopener\">Smith Haut Lafitte Rouge</a>, <a href=\"https://vinous.com/wines/haut-bailly-2020-haut-bailly-a78dde70-6d26-4c00-abf7-ac26a73c2525\" target=\"_blank\" rel=\"noopener\">Haut-Bailly</a>, and <a href=\"https://vinous.com/wines/domaine-de-chevalier-2020-domaine-de-chevalier-5e26b351-7f7e-4ab3-9c65-61313a86e5fb\" target=\"_blank\" rel=\"noopener\">Domaine de Chevalier Rouge</a> (all 95-97).</p>\r\n<p style=\"text-align: justify;\">A significant 21 out of the 37 wines earning 95-97 and over from Antonio Galloni hail from the Right Bank, suggesting once again that it coped well with fluctuating water tables in 2020.</p>\r\n<p style=\"text-align: justify;\">Further top-scoring Bordeaux 2020 from <a href=\"https://vinous.com/\" target=\"_blank\" rel=\"noopener\">Antonio Galloni</a> are: <a href=\"https://vinous.com/wines/angelus-2020-angelus-4ea6c3e8-d9d8-4b66-88a6-9f7017d90ad9\" target=\"_blank\" rel=\"noopener\">Angélus</a>, <a href=\"https://vinous.com/wines/clos-fourtet-2020-clos-fourtet-d532ac22-739f-4f12-b6c8-f955d7fc3554\" target=\"_blank\" rel=\"noopener\">Clos Fourtet</a>, <a href=\"https://vinous.com/wines/vieux-chateau-certan-2020-vieux-chateau-certan-00d4d3c8-e3d2-4697-9e27-184d0a0f72f0\" target=\"_blank\" rel=\"noopener\">Vieux Château Certan</a>, <a href=\"https://vinous.com/wines/trotanoy-2020-trotanoy-9cfb7c0a-4e04-48bb-b1af-f936e7690ef0\" target=\"_blank\" rel=\"noopener\">Trotanoy</a>, <a href=\"https://vinous.com/wines/l-eglise-clinet-2020-l-eglise-clinet-2e921c35-8859-43ab-bf48-c6b120a4b588\" target=\"_blank\" rel=\"noopener\">L'Eglise-Clinet</a>, <a href=\"https://vinous.com/wines/pichon-baron-2020-pichon-baron\" target=\"_blank\" rel=\"noopener\">Pichon Baron</a>, <a href=\"https://vinous.com/wines/leoville-las-cases-2020-leoville-las-cases-010a6972-25c2-4e17-8f30-15530212b053\" target=\"_blank\" rel=\"noopener\">Léoville Las Cases</a>, <a href=\"https://vinous.com/wines/pavie-macquin-2020-pavie-macquin-24ba9f43-2c83-453d-b10c-6c8249fa7901\" target=\"_blank\" rel=\"noopener\">Pavie Macquin</a>, <a href=\"https://vinous.com/wines/beausejour-heritiers-duffau-lagarrosse-2020-beausejour-heritiers-duffau-lagarrosse\" target=\"_blank\" rel=\"noopener\">Beauséjour Héritiers Duffau-Lagarrosse</a>, <a href=\"https://vinous.com/wines/leoville-poyferre-2020-leoville-poyferre-8e96fbd8-17e9-4bae-8755-615058687d79\" target=\"_blank\" rel=\"noopener\">Léoville-Poyferré</a>, <a href=\"https://vinous.com/wines/belair-monange-2020-belair-monange-2c8c0dda-1f97-4b73-850c-dfc56951139b\" target=\"_blank\" rel=\"noopener\">Bélair-Monange</a>, <a href=\"https://vinous.com/wines/valandraud-2020-valandraud-d55929fc-11e6-45b0-a451-a6f467643411\" target=\"_blank\" rel=\"noopener\">Valandraud</a>, <a href=\"https://vinous.com/wines/le-prieure-2020-le-prieure-43505096-f97f-481f-a498-47c6c5a93809\" target=\"_blank\" rel=\"noopener\">Le Prieuré</a>, <a href=\"https://vinous.com/wines/bellevue-mondotte-2020-bellevue-mondotte-962422bb-da04-4a43-b4fb-2106eab22e5b\" target=\"_blank\" rel=\"noopener\">Bellevue Mondotte</a>, <a href=\"https://vinous.com/wines/larcis-ducasse-2020-larcis-ducasse-87060d64-cd16-4abb-818e-7f0fdc135fa2\" target=\"_blank\" rel=\"noopener\">Larcis Ducasse</a>, <a href=\"https://vinous.com/wines/la-mondotte-2020-la-mondotte-a5944e69-0fd7-40ad-b276-b735226923d1\">La Mondotte</a>, <a href=\"https://vinous.com/wines/figeac-2020-figeac-f0fca209-d265-4623-a580-2eb520c9404b\" target=\"_blank\" rel=\"noopener\">Figeac</a>, <a href=\"https://vinous.com/wines/canon-2020-canon-ee25d600-ea61-4e10-8856-c8f156e28943\">Canon</a>, <a href=\"https://vinous.com/wines/tertre-roteboeuf-2020-tertre-roteboeuf-285626b5-b62a-4934-9566-fcf107f7470b\" target=\"_blank\" rel=\"noopener\">Tertre-Rôteboeuf</a>, <a href=\"https://vinous.com/wines/l-if-2020-l-if\" target=\"_blank\" rel=\"noopener\">L'If</a>, <a href=\"https://vinous.com/wines/l-evangile-2020-l-evangile-b11debf4-84ef-425b-a1c4-fc87c8bd7b64\" target=\"_blank\" rel=\"noopener\">L'Évangile</a>, <a href=\"https://vinous.com/wines/feytit-clinet-2020-feytit-clinet-48a2dabf-943f-4ffd-9b3c-ca998f88cbbc\" target=\"_blank\" rel=\"noopener\">Feytit-Clinet</a>, <a href=\"https://vinous.com/wines/clos-l-eglise-2020-clos-l-eglise-06b918a2-bb4d-4f8f-9ec4-e8ed9064b3e4\" target=\"_blank\" rel=\"noopener\">Clos L'Eglise</a>, <a href=\"https://vinous.com/wines/pontet-canet-2020-pontet-canet\" target=\"_blank\" rel=\"noopener\">Pontet-Canet</a>, <a href=\"https://vinous.com/wines/pichon-longueville-comtesse-de-lalande-2020-pichon-longueville-comtesse-de-lalande-9359025e-89a8-4cc8-aa01-76f9e22c116e\" target=\"_blank\" rel=\"noopener\">Pichon Comtesse</a>, and <a href=\"https://vinous.com/wines/rauzan-segla-2020-rauzan-segla-6c5cc8e9-2072-44a9-af1b-8c5ab2f5a0d2\" target=\"_blank\" rel=\"noopener\">Rauzan-Ségla</a>.</p>\r\n<p style=\"text-align: justify;\">Explore the top Bordeaux 2020 scores from <a href=\"https://www.wine-lister.com/posts/post/bettanedesseauves-top-bordeaux-2020-scores\" target=\"_blank\" rel=\"noopener\">Bettane+Desseauve</a>, <a href=\"https://www.wine-lister.com/posts/post/top-bordeaux-2020-scores-from-jancisrobinson-com\" target=\"_blank\" rel=\"noopener\">JancisRobinson.com</a>, Neal Martin (<a href=\"https://www.wine-lister.com/posts/post/neal-martins-top-bordeaux-2020-scores\" target=\"_blank\" rel=\"noopener\">Vinous</a>), and <a href=\"https://www.wine-lister.com/posts/post/jeannie-cho-lees-top-bordeaux-2020-scores\" target=\"_blank\" rel=\"noopener\">Jeannie Cho Lee</a>.</p>","title":"Antonio Galloni's top Bordeaux 2020 scores","slug":"antonio-gallonis-top-bordeaux-2020-scores","url":"/posts/post/antonio-gallonis-top-bordeaux-2020-scores","author":{"id":11,"email":"tara@wine-lister.com","name":"Tara Albini"},"terms":[{"name":"Bordeaux en primeur","slug":"bordeaux-en-primeur","url":"/posts?filter_by=bordeaux-en-primeur","type":"category","usageCounter":null},{"name":"News","slug":"news","url":"/posts?filter_by=news","type":"category","usageCounter":null},{"name":"Score updates","slug":"score-updates","url":"/posts?filter_by=score-updates","type":"category","usageCounter":null},{"name":"Bordeaux","slug":"bordeaux","url":"/posts?filter_by=bordeaux","type":"post_tag","usageCounter":null},{"name":"Buzz Brands","slug":"buzz-brands","url":"/posts?filter_by=buzz-brands","type":"post_tag","usageCounter":null},{"name":"critics","slug":"critics","url":"/posts?filter_by=critics","type":"post_tag","usageCounter":null},{"name":"en primeur","slug":"en-primeur","url":"/posts?filter_by=en-primeur","type":"post_tag","usageCounter":null},{"name":"France","slug":"france","url":"/posts?filter_by=france","type":"post_tag","usageCounter":null},{"name":"Investment","slug":"investment","url":"/posts?filter_by=investment","type":"post_tag","usageCounter":null},{"name":"Margaux","slug":"margaux","url":"/posts?filter_by=margaux","type":"post_tag","usageCounter":null},{"name":"Pauillac","slug":"pauillac","url":"/posts?filter_by=pauillac","type":"post_tag","usageCounter":null},{"name":"Pessac-Léognan","slug":"pessac-leognan","url":"/posts?filter_by=pessac-leognan","type":"post_tag","usageCounter":null},{"name":"Pomerol","slug":"pomerol","url":"/posts?filter_by=pomerol","type":"post_tag","usageCounter":null},{"name":"Release","slug":"release","url":"/posts?filter_by=release","type":"post_tag","usageCounter":null},{"name":"Saint-Emilion","slug":"saint-emilion","url":"/posts?filter_by=saint-emilion","type":"post_tag","usageCounter":null},{"name":"Investment","slug":"investment","url":"/posts?filter_by=investment","type":"category","usageCounter":null},{"name":"New Release","slug":"new-release","url":"/posts?filter_by=new-release","type":"post_tag","usageCounter":null},{"name":"Bordeaux","slug":"bordeaux","url":"/posts?filter_by=bordeaux","type":"category","usageCounter":null},{"name":"Releases","slug":"releases","url":"/posts?filter_by=releases","type":"category","usageCounter":null},{"name":"Insight","slug":"insight","url":"/posts?filter_by=insight","type":"category","usageCounter":null}]}
Antonio Galloni's top Bordeaux 2020 scores
The majority of Bordeaux 2020 en primeur scores have now been published by Wine Lister partner critic, Antonio Galloni (Vinous), who notes in his latest tasting report that the vintage impresses "for a combination of energy and vibrancy".
Explore all Bordeaux 2020 scores here, or read more below.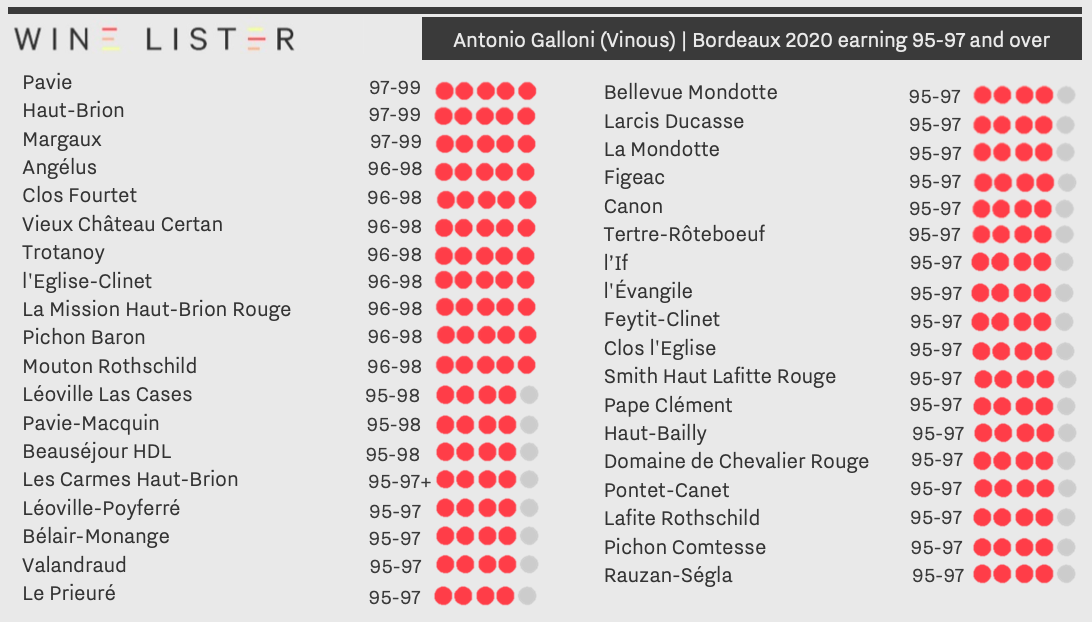 Antonio Galloni awards his top score of 97-99 to Pavie, Haut-Brion, and fellow First Growth, Margaux, which he describes as having "magnificent balance" in 2020. Mouton and Lafite are also featured on the list, having received 96-98 and 95-97, respectively.
Stating in his report that "Pessac-Léognan is the most successful appellation as a whole" in 2020, Antonio Galloni's top Pessac picks alongside Haut-Brion include La Mission Haut-Brion Rouge (96-98), Les Carmes Haut-Brion (95-97+), Pape Clément, Smith Haut Lafitte Rouge, Haut-Bailly, and Domaine de Chevalier Rouge (all 95-97).
A significant 21 out of the 37 wines earning 95-97 and over from Antonio Galloni hail from the Right Bank, suggesting once again that it coped well with fluctuating water tables in 2020.
Further top-scoring Bordeaux 2020 from Antonio Galloni are: Angélus, Clos Fourtet, Vieux Château Certan, Trotanoy, L'Eglise-Clinet, Pichon Baron, Léoville Las Cases, Pavie Macquin, Beauséjour Héritiers Duffau-Lagarrosse, Léoville-Poyferré, Bélair-Monange, Valandraud, Le Prieuré, Bellevue Mondotte, Larcis Ducasse, La Mondotte, Figeac, Canon, Tertre-Rôteboeuf, L'If, L'Évangile, Feytit-Clinet, Clos L'Eglise, Pontet-Canet, Pichon Comtesse, and Rauzan-Ségla.
Explore the top Bordeaux 2020 scores from Bettane+Desseauve, JancisRobinson.com, Neal Martin (Vinous), and Jeannie Cho Lee.