{"date":1622714008000,"content":"<p style=\"text-align: justify;\">The majority of Bordeaux 2020 en primeur scores have now been published by Wine Lister partner critic, <a href=\"https://www.bettanedesseauve.com/wine/?id=\" target=\"_blank\" rel=\"noopener\">Bettane+Desseauve</a>, offering further insight into some of the best bottles from the latest vintage.</p>\r\n<p style=\"text-align: justify;\">Explore all Bordeaux 2020 WL scores <a href=\"https://www.wine-lister.com/search?searchtext=bordeaux%202020\" target=\"_blank\" rel=\"noopener\">here</a>, or read more below.</p>\r\n<p style=\"text-align: justify;\"><a href=\"https://www.mybettanedesseauve.fr/wp-content/uploads/2021/05/BettaneDesseauve-Primeurs-2020.pdf\" target=\"_blank\" rel=\"noopener\"><img class=\"aligncenter wp-image-7547 size-full\" src=\"https://www.wine-lister.com/blog/wp-content/uploads/2021/06/Screenshot-2021-06-03-at-09.33.22.png\" alt=\"\" width=\"1172\" height=\"539\" /></a><em>Note that this year <a href=\"https://www.mybettanedesseauve.fr/2015/07/17/wine-and-the-city/?id\" target=\"_blank\" rel=\"noopener\">Bettane+Desseauve</a>'s scores are officially ranked on a 100-point scale, as shown above. For consistent and comparable analysis with previous vintages, <a href=\"https://www.mybettanedesseauve.fr/wp-content/uploads/2021/05/BettaneDesseauve-Primeurs-2020.pdf\" target=\"_blank\" rel=\"noopener\">Bettane+Desseauve</a> </em><em>have provided 20-point scores to be d</em><em>isplayed on individual Wine Lister wine pages during the transition into their new system. </em></p>\r\n<p style=\"text-align: justify;\">Five of the six wines that receive a score of 98 from <a href=\"https://www.mybettanedesseauve.fr/wp-content/uploads/2021/05/BettaneDesseauve-Primeurs-2020.pdf\" target=\"_blank\" rel=\"noopener\">Bettane+ Desseauve</a> this year hail from the Right Bank, with <a href=\"https://www.mybettanedesseauve.fr/wp-content/uploads/2021/05/BettaneDesseauve-Primeurs-2020.pdf\" target=\"_blank\" rel=\"noopener\">Cheval Blanc</a>, Pavie, Ausone, Petrus, and Lafleur leading the list. This adheres to initial indications that it is a Right Bank year, with earlier-ripening Merlot, partnered with the soil's increased water-holding capacity, helping it handle the drought during the summer.</p>\r\n<p style=\"text-align: justify;\">Indeed, a further five wines on the list come from Saint-Emilion, whose limestone terroirs encouraged a steady water table for the vines in 2020. Figeac, Angélus, Canon, Clos Fourtet, and Belair-Monange all score an impressive 97.5 with their latest vintages.</p>\r\n<p style=\"text-align: justify;\">Pomerol also provides a further four picks, with La Fleur-Pétrus, Trotanoy, and La Conseillante gaining 97.5, followed by micro-production La Violette (releasing 4,800 bottles in 2020) with 97 points.</p>\r\n<p style=\"text-align: justify;\">Also featured on the list of Bordeaux 2020s earning 97 and over from Wine Lister partner critic, <a href=\"https://www.mybettanedesseauve.fr/wp-content/uploads/2021/05/BettaneDesseauve-Primeurs-2020.pdf\" target=\"_blank\" rel=\"noopener\">Bettane+Desseauve</a> are: Mouton Rothschild, La Fleur-Pétrus, Haut-Brion, Margaux, Palmer, Ducru-Beaucaillou, La Mission Haut-Brion, Pontet-Canet, and Léoville Poyferré.</p>\r\n<p style=\"text-align: justify;\">Explore the top Bordeaux 2020 scores from <a href=\"https://www.wine-lister.com/posts/post/top-bordeaux-2020-scores-from-jancisrobinson-com\" target=\"_blank\" rel=\"noopener\">JancisRobinson.com</a>, <a href=\"https://www.wine-lister.com/posts/post/neal-martins-top-bordeaux-2020-scores\" target=\"_blank\" rel=\"noopener\">Neal Martin</a> and <a href=\"https://www.wine-lister.com/posts/post/antonio-gallonis-top-bordeaux-2020-scores\" target=\"_blank\" rel=\"noopener\">Antonio Galloni</a> (Vinous), and <a href=\"https://www.wine-lister.com/posts/post/jeannie-cho-lees-top-bordeaux-2020-scores\" target=\"_blank\" rel=\"noopener\">Jeannie Cho Lee</a>.</p>","title":"Bettane+Desseauve's top Bordeaux 2020 scores","slug":"bettanedesseauves-top-bordeaux-2020-scores","url":"/posts/post/bettanedesseauves-top-bordeaux-2020-scores","author":{"id":11,"email":"tara@wine-lister.com","name":"Tara Albini"},"terms":[{"name":"Analysis","slug":"analysis","url":"/posts?filter_by=analysis","type":"category","usageCounter":null},{"name":"Bordeaux en primeur","slug":"bordeaux-en-primeur","url":"/posts?filter_by=bordeaux-en-primeur","type":"category","usageCounter":null},{"name":"News","slug":"news","url":"/posts?filter_by=news","type":"category","usageCounter":null},{"name":"Score updates","slug":"score-updates","url":"/posts?filter_by=score-updates","type":"category","usageCounter":null},{"name":"Bordeaux","slug":"bordeaux","url":"/posts?filter_by=bordeaux","type":"post_tag","usageCounter":null},{"name":"Buzz Brands","slug":"buzz-brands","url":"/posts?filter_by=buzz-brands","type":"post_tag","usageCounter":null},{"name":"critics","slug":"critics","url":"/posts?filter_by=critics","type":"post_tag","usageCounter":null},{"name":"en primeur","slug":"en-primeur","url":"/posts?filter_by=en-primeur","type":"post_tag","usageCounter":null},{"name":"France","slug":"france","url":"/posts?filter_by=france","type":"post_tag","usageCounter":null},{"name":"Investment","slug":"investment","url":"/posts?filter_by=investment","type":"post_tag","usageCounter":null},{"name":"Margaux","slug":"margaux","url":"/posts?filter_by=margaux","type":"post_tag","usageCounter":null},{"name":"Pauillac","slug":"pauillac","url":"/posts?filter_by=pauillac","type":"post_tag","usageCounter":null},{"name":"Pessac-Léognan","slug":"pessac-leognan","url":"/posts?filter_by=pessac-leognan","type":"post_tag","usageCounter":null},{"name":"Pomerol","slug":"pomerol","url":"/posts?filter_by=pomerol","type":"post_tag","usageCounter":null},{"name":"Quality","slug":"quality","url":"/posts?filter_by=quality","type":"post_tag","usageCounter":null},{"name":"Release","slug":"release","url":"/posts?filter_by=release","type":"post_tag","usageCounter":null},{"name":"Saint-Emilion","slug":"saint-emilion","url":"/posts?filter_by=saint-emilion","type":"post_tag","usageCounter":null},{"name":"Investment","slug":"investment","url":"/posts?filter_by=investment","type":"category","usageCounter":null},{"name":"New Release","slug":"new-release","url":"/posts?filter_by=new-release","type":"post_tag","usageCounter":null},{"name":"Bordeaux","slug":"bordeaux","url":"/posts?filter_by=bordeaux","type":"category","usageCounter":null},{"name":"Releases","slug":"releases","url":"/posts?filter_by=releases","type":"category","usageCounter":null},{"name":"Insight","slug":"insight","url":"/posts?filter_by=insight","type":"category","usageCounter":null}]}
Bettane+Desseauve's top Bordeaux 2020 scores
The majority of Bordeaux 2020 en primeur scores have now been published by Wine Lister partner critic, Bettane+Desseauve, offering further insight into some of the best bottles from the latest vintage.
Explore all Bordeaux 2020 WL scores here, or read more below.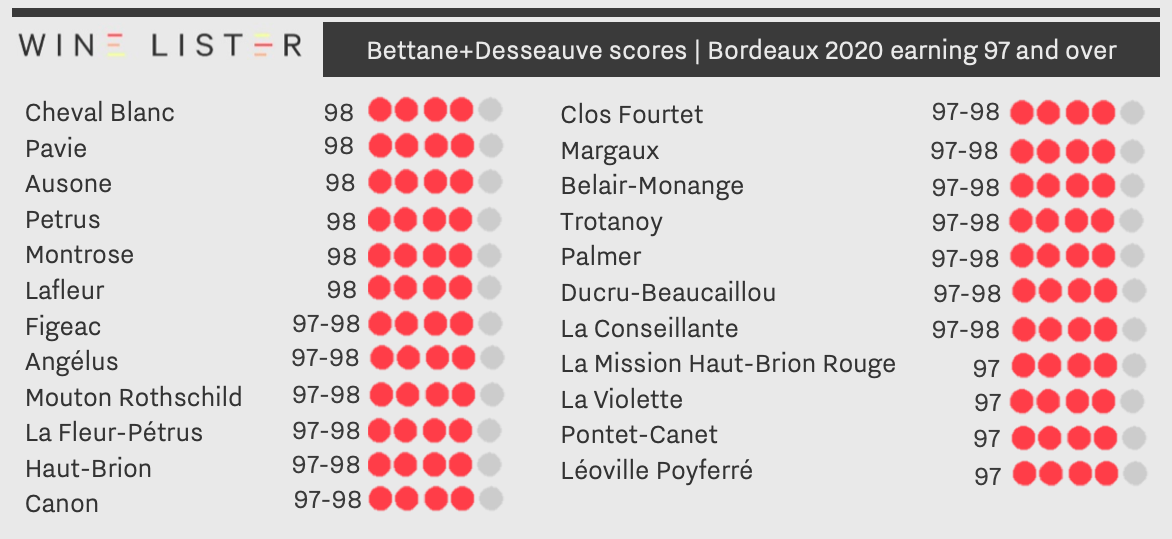 Note that this year Bettane+Desseauve's scores are officially ranked on a 100-point scale, as shown above. For consistent and comparable analysis with previous vintages, Bettane+Desseauve have provided 20-point scores to be displayed on individual Wine Lister wine pages during the transition into their new system. 
Five of the six wines that receive a score of 98 from Bettane+ Desseauve this year hail from the Right Bank, with Cheval Blanc, Pavie, Ausone, Petrus, and Lafleur leading the list. This adheres to initial indications that it is a Right Bank year, with earlier-ripening Merlot, partnered with the soil's increased water-holding capacity, helping it handle the drought during the summer.
Indeed, a further five wines on the list come from Saint-Emilion, whose limestone terroirs encouraged a steady water table for the vines in 2020. Figeac, Angélus, Canon, Clos Fourtet, and Belair-Monange all score an impressive 97.5 with their latest vintages.
Pomerol also provides a further four picks, with La Fleur-Pétrus, Trotanoy, and La Conseillante gaining 97.5, followed by micro-production La Violette (releasing 4,800 bottles in 2020) with 97 points.
Also featured on the list of Bordeaux 2020s earning 97 and over from Wine Lister partner critic, Bettane+Desseauve are: Mouton Rothschild, La Fleur-Pétrus, Haut-Brion, Margaux, Palmer, Ducru-Beaucaillou, La Mission Haut-Brion, Pontet-Canet, and Léoville Poyferré.
Explore the top Bordeaux 2020 scores from JancisRobinson.com, Neal Martin and Antonio Galloni (Vinous), and Jeannie Cho Lee.