{"date":1622715734000,"content":"<p style=\"text-align: justify;\">Wine Lister's partner critic platform, <a href=\"https://www.jancisrobinson.com/\">JancisRobinson.com</a> has now released the majority of its scores for the 2020 vintage, helping to paint a better picture of some of the top en primeur picks.</p>\r\n<p style=\"text-align: justify;\">Explore all Bordeaux 2020 scores <a href=\"https://www.wine-lister.com/enprimeur?d=1&amp;n=&amp;s=quality&amp;p=\" target=\"_blank\" rel=\"noopener\">here</a>, or read more below.</p>\r\n<a href=\"https://www.jancisrobinson.com/\" target=\"_blank\" rel=\"noopener\"><img class=\"aligncenter size-full wp-image-7552\" src=\"https://www.wine-lister.com/blog/wp-content/uploads/2021/06/Screenshot-2021-06-02-at-08.42.21.png\" alt=\"\" width=\"1091\" height=\"617\" /></a>\r\n<p style=\"text-align: justify;\">With a shared score of 19 from James Lawther for <a href=\"https://www.jancisrobinson.com/\">JancisRobinson.com</a>, First Growths <a href=\"https://www.jancisrobinson.com/tastings/231954\">Margaux</a> and <a href=\"https://www.jancisrobinson.com/tastings/231963\" target=\"_blank\" rel=\"noopener\">Lafite</a> lead the pack alongside Pomerol's beloved <a href=\"https://www.jancisrobinson.com/tastings/232106\" target=\"_blank\" rel=\"noopener\">Lafleur</a>. Lawther describes <a href=\"https://www.jancisrobinson.com/tastings/231954\" target=\"_blank\" rel=\"noopener\">Margaux 2020</a> as "aromatically complex with floral, mineral and dark-fruit notes", and notes that <a href=\"https://www.jancisrobinson.com/tastings/231963\" target=\"_blank\" rel=\"noopener\">Lafite 2020</a> is "rich, but with a massive charge of fine-grained tannin and lingering freshness" on the palate.</p>\r\n<p style=\"text-align: justify;\">Fellow First Growths <a href=\"https://www.jancisrobinson.com/tastings/231655\" target=\"_blank\" rel=\"noopener\">Haut-Brion</a> and <a href=\"https://www.jancisrobinson.com/tastings/231968\" target=\"_blank\" rel=\"noopener\">Mouton</a> follow shortly after with a score of 18.5, shared with <a href=\"https://www.jancisrobinson.com/tastings/232106\" target=\"_blank\" rel=\"noopener\">Lafleur</a>'s neighbouring property, <a href=\"https://www.jancisrobinson.com/tastings/232109\" target=\"_blank\" rel=\"noopener\">Petrus</a>, and Saint-Estèphe staple, <a href=\"https://www.jancisrobinson.com/tastings/231980\" target=\"_blank\" rel=\"noopener\">Cos d'Estournel</a>.</p>\r\n<p style=\"text-align: justify;\">Pomerol represents eight out of the 39 wines earning 17.5 and over from the <a href=\"https://www.jancisrobinson.com/\" target=\"_blank\" rel=\"noopener\">JancisRobinson.com</a> critics, recalling sentiments that earlier-ripening Merlots fared best in the latest vintage. Joining <a href=\"https://www.jancisrobinson.com/tastings/232106\" target=\"_blank\" rel=\"noopener\">Lafleur</a> and <a href=\"https://www.jancisrobinson.com/tastings/232109\" target=\"_blank\" rel=\"noopener\">Petrus</a>, <a href=\"https://www.jancisrobinson.com/tastings/232107\" target=\"_blank\" rel=\"noopener\">Vieux Château Certan</a>, <a href=\"https://www.jancisrobinson.com/tastings/232104\" target=\"_blank\" rel=\"noopener\">Le Pin</a>, <a href=\"https://www.jancisrobinson.com/tastings/231823\" target=\"_blank\" rel=\"noopener\">Trotanoy</a>, <a href=\"https://www.jancisrobinson.com/tastings/232228\" target=\"_blank\" rel=\"noopener\">l'Eglise Clinet</a>, <a href=\"https://www.jancisrobinson.com/tastings/231820\" target=\"_blank\" rel=\"noopener\">Certan de May</a>, and <a href=\"https://www.jancisrobinson.com/tastings/231822\" target=\"_blank\" rel=\"noopener\">La Fleur-Pétrus</a> earn a score of 17.5 for their 2020s.</p>\r\n<p style=\"text-align: justify;\"><a href=\"https://www.jancisrobinson.com/tastings/232261\" target=\"_blank\" rel=\"noopener\">Smith Haut Lafitte Blanc</a> is the only dry white Bordeaux to gain a score of 17.5 and above from <a href=\"https://www.jancisrobinson.com/\" target=\"_blank\" rel=\"noopener\">JancisRobinson.com</a> critics so far. Robinson tasted the wine herself, and observes that it is "already gorgeous" with "some richness on palate entry" that "gives way to really fantastic vibrancy on the palate".</p>\r\n<p style=\"text-align: justify;\">Also featured in the list of Bordeaux 2020s earning 17.5 and over from Wine Lister partner critic platform, <a href=\"https://www.jancisrobinson.com/\" target=\"_blank\" rel=\"noopener\">JancisRobinson.com</a> are: <a href=\"https://www.jancisrobinson.com/tastings/231978\" target=\"_blank\" rel=\"noopener\">Calon Ségur</a>, <a href=\"https://www.jancisrobinson.com/tastings/232975\" target=\"_blank\" rel=\"noopener\">Pichon Baron</a>, <a href=\"https://www.jancisrobinson.com/tastings/231952\" target=\"_blank\" rel=\"noopener\">Palmer</a>, <a href=\"https://www.jancisrobinson.com/tastings/231457\" target=\"_blank\" rel=\"noopener\">Léoville Barton</a>, <a href=\"https://www.jancisrobinson.com/tastings/231806\" target=\"_blank\" rel=\"noopener\">Pavie</a>, <a href=\"https://www.jancisrobinson.com/tastings/232245\" target=\"_blank\" rel=\"noopener\">Angélus,</a> <a href=\"https://www.jancisrobinson.com/tastings/231730\" target=\"_blank\" rel=\"noopener\">Pichon Comtesse</a>, <a href=\"https://www.jancisrobinson.com/tastings/232258\" target=\"_blank\" rel=\"noopener\">Léoville Las Cases</a>, <a href=\"https://www.jancisrobinson.com/tastings/231975\" target=\"_blank\" rel=\"noopener\">Montrose</a>, <a href=\"https://www.jancisrobinson.com/tastings/232097\" target=\"_blank\" rel=\"noopener\">Ausone</a>, <a href=\"https://www.jancisrobinson.com/tastings/231650\" target=\"_blank\" rel=\"noopener\">La Mission Haut-Brion Rouge</a>, <a href=\"https://www.jancisrobinson.com/tastings/231823\" target=\"_blank\" rel=\"noopener\">Trotanoy</a>, <a href=\"https://www.jancisrobinson.com/tastings/231961\" target=\"_blank\" rel=\"noopener\">Duhart-Milon</a>, <a href=\"https://www.jancisrobinson.com/tastings/232101\" target=\"_blank\" rel=\"noopener\">Figeac</a>, <a href=\"https://www.jancisrobinson.com/tastings/231957\" target=\"_blank\" rel=\"noopener\">Durfort-Vivens</a>, <a href=\"https://www.jancisrobinson.com/tastings/231966\" target=\"_blank\" rel=\"noopener\">Clerc-Milon</a>, <a href=\"https://www.jancisrobinson.com/tastings/231962\" target=\"_blank\" rel=\"noopener\">Carruades de Lafite</a>, <a href=\"https://www.jancisrobinson.com/tastings/231967\" target=\"_blank\" rel=\"noopener\">Le Petit Mouton</a>, <a href=\"https://www.jancisrobinson.com/tastings/231722\" target=\"_blank\" rel=\"noopener\">Rauzan-Ségla</a>, <a href=\"https://www.jancisrobinson.com/tastings/231771\" target=\"_blank\" rel=\"noopener\">Canon</a>, <a href=\"https://www.jancisrobinson.com/tastings/231728\" target=\"_blank\" rel=\"noopener\">Grand-Puy-Lacoste</a>, <a href=\"https://www.jancisrobinson.com/tastings/233194\" target=\"_blank\" rel=\"noopener\">Léoville Poyferré</a>, <a href=\"https://www.jancisrobinson.com/tastings/232260\" target=\"_blank\" rel=\"noopener\">Meyney</a>, <a href=\"https://www.jancisrobinson.com/tastings/231766\" target=\"_blank\" rel=\"noopener\">Belair-Monange</a>, <a href=\"https://www.jancisrobinson.com/tastings/231723\" target=\"_blank\" rel=\"noopener\">Gruaud-Larose</a>, and <a href=\"https://www.jancisrobinson.com/tastings/233182\" target=\"_blank\" rel=\"noopener\">d'Issan</a>.</p>\r\nExplore the top Bordeaux 2020 scores from Bettane+Desseauve, Neal Martin and Antonio Galloni (Vinous), and Jeannie Cho Lee.","title":"Top Bordeaux 2020 scores from JancisRobinson.com","slug":"top-bordeaux-2020-scores-from-jancisrobinson-com","url":"/posts/post/top-bordeaux-2020-scores-from-jancisrobinson-com","author":{"id":11,"email":"tara@wine-lister.com","name":"Tara Albini"},"terms":[{"name":"Bordeaux en primeur","slug":"bordeaux-en-primeur","url":"/posts?filter_by=bordeaux-en-primeur","type":"category","usageCounter":null},{"name":"News","slug":"news","url":"/posts?filter_by=news","type":"category","usageCounter":null},{"name":"Score updates","slug":"score-updates","url":"/posts?filter_by=score-updates","type":"category","usageCounter":null},{"name":"Bordeaux","slug":"bordeaux","url":"/posts?filter_by=bordeaux","type":"post_tag","usageCounter":null},{"name":"Buzz Brands","slug":"buzz-brands","url":"/posts?filter_by=buzz-brands","type":"post_tag","usageCounter":null},{"name":"critics","slug":"critics","url":"/posts?filter_by=critics","type":"post_tag","usageCounter":null},{"name":"en primeur","slug":"en-primeur","url":"/posts?filter_by=en-primeur","type":"post_tag","usageCounter":null},{"name":"Investment","slug":"investment","url":"/posts?filter_by=investment","type":"post_tag","usageCounter":null},{"name":"Margaux","slug":"margaux","url":"/posts?filter_by=margaux","type":"post_tag","usageCounter":null},{"name":"Pauillac","slug":"pauillac","url":"/posts?filter_by=pauillac","type":"post_tag","usageCounter":null},{"name":"Pessac-Léognan","slug":"pessac-leognan","url":"/posts?filter_by=pessac-leognan","type":"post_tag","usageCounter":null},{"name":"Pomerol","slug":"pomerol","url":"/posts?filter_by=pomerol","type":"post_tag","usageCounter":null},{"name":"Saint-Emilion","slug":"saint-emilion","url":"/posts?filter_by=saint-emilion","type":"post_tag","usageCounter":null},{"name":"Investment","slug":"investment","url":"/posts?filter_by=investment","type":"category","usageCounter":null},{"name":"Tasting","slug":"tasting","url":"/posts?filter_by=tasting","type":"post_tag","usageCounter":null},{"name":"partner critics","slug":"partner-critics","url":"/posts?filter_by=partner-critics","type":"post_tag","usageCounter":null},{"name":"Bordeaux","slug":"bordeaux","url":"/posts?filter_by=bordeaux","type":"category","usageCounter":null},{"name":"Releases","slug":"releases","url":"/posts?filter_by=releases","type":"category","usageCounter":null},{"name":"Tasting","slug":"tasting","url":"/posts?filter_by=tasting","type":"category","usageCounter":null},{"name":"Insight","slug":"insight","url":"/posts?filter_by=insight","type":"category","usageCounter":null},{"name":"insight","slug":"insight","url":"/posts?filter_by=insight","type":"post_tag","usageCounter":null},{"name":"Bordeaux 2020","slug":"bordeaux-2020","url":"/posts?filter_by=bordeaux-2020","type":"post_tag","usageCounter":null}]}
Top Bordeaux 2020 scores from JancisRobinson.com
Wine Lister's partner critic platform, JancisRobinson.com has now released the majority of its scores for the 2020 vintage, helping to paint a better picture of some of the top en primeur picks.
Explore all Bordeaux 2020 scores here, or read more below.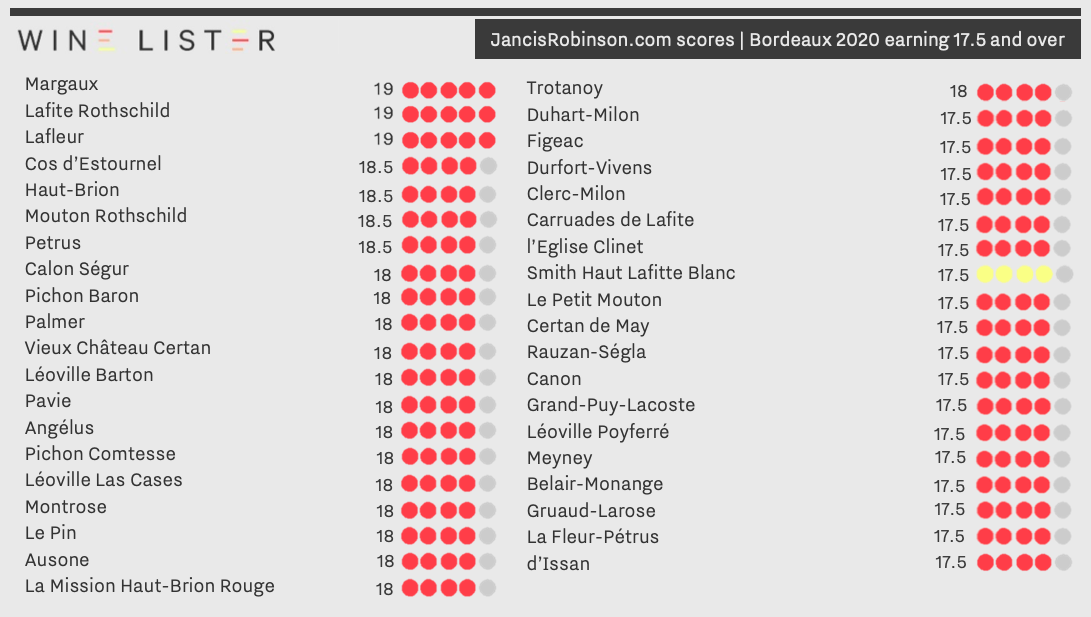 With a shared score of 19 from James Lawther for JancisRobinson.com, First Growths Margaux and Lafite lead the pack alongside Pomerol's beloved Lafleur. Lawther describes Margaux 2020 as "aromatically complex with floral, mineral and dark-fruit notes", and notes that Lafite 2020 is "rich, but with a massive charge of fine-grained tannin and lingering freshness" on the palate.
Fellow First Growths Haut-Brion and Mouton follow shortly after with a score of 18.5, shared with Lafleur's neighbouring property, Petrus, and Saint-Estèphe staple, Cos d'Estournel.
Pomerol represents eight out of the 39 wines earning 17.5 and over from the JancisRobinson.com critics, recalling sentiments that earlier-ripening Merlots fared best in the latest vintage. Joining Lafleur and Petrus, Vieux Château Certan, Le Pin, Trotanoy, l'Eglise Clinet, Certan de May, and La Fleur-Pétrus earn a score of 17.5 for their 2020s.
Smith Haut Lafitte Blanc is the only dry white Bordeaux to gain a score of 17.5 and above from JancisRobinson.com critics so far. Robinson tasted the wine herself, and observes that it is "already gorgeous" with "some richness on palate entry" that "gives way to really fantastic vibrancy on the palate".
Also featured in the list of Bordeaux 2020s earning 17.5 and over from Wine Lister partner critic platform, JancisRobinson.com are: Calon Ségur, Pichon Baron, Palmer, Léoville Barton, Pavie, Angélus, Pichon Comtesse, Léoville Las Cases, Montrose, Ausone, La Mission Haut-Brion Rouge, Trotanoy, Duhart-Milon, Figeac, Durfort-Vivens, Clerc-Milon, Carruades de Lafite, Le Petit Mouton, Rauzan-Ségla, Canon, Grand-Puy-Lacoste, Léoville Poyferré, Meyney, Belair-Monange, Gruaud-Larose, and d'Issan.
Explore the top Bordeaux 2020 scores from Bettane+Desseauve, Neal Martin and Antonio Galloni (Vinous), and Jeannie Cho Lee.