{"date":1622735242000,"content":"<p style=\"text-align: justify;\">The final Wine Lister partner critic to release their Bordeaux 2020 scores, <a href=\"https://www.jeanniecholee.com/\" target=\"_blank\" rel=\"noopener\">Jeannie Cho Lee'</a>s latest ratings provide further insight into the best of Bordeaux's latest vintage.</p>\r\n<p style=\"text-align: justify;\">Recap the top scores from <a href=\"https://www.wine-lister.com/posts/post/bettanedesseauves-top-bordeaux-2020-scores\" target=\"_blank\" rel=\"noopener\">Bettane+Desseauve</a>, <a href=\"https://www.wine-lister.com/posts/post/top-bordeaux-2020-scores-from-jancisrobinson-com\" target=\"_blank\" rel=\"noopener\">JancisRobinson.com</a>, <a href=\"https://www.wine-lister.com/posts/post/neal-martins-top-bordeaux-2020-scores\" target=\"_blank\" rel=\"noopener\">Neal Martin</a> and <a href=\"https://www.wine-lister.com/posts/post/antonio-gallonis-top-bordeaux-2020-scores\" target=\"_blank\" rel=\"noopener\">Antonio Galloni</a> (Vinous), or read more below.</p>\r\n<p style=\"text-align: justify;\"><a href=\"https://www.jeanniecholee.com/\" target=\"_blank\" rel=\"noopener\"><img class=\"aligncenter size-full wp-image-7575\" src=\"https://www.wine-lister.com/blog/wp-content/uploads/2021/06/Screenshot-2021-06-02-at-17.26.18.png\" alt=\"\" width=\"1245\" height=\"577\" /></a></p>\r\n<p style=\"text-align: justify;\">Giving a near-perfect score of 99, Jeannie Cho Lee praises <a href=\"https://winenote.jeanniecholee.com/wine_database/detail/773/2020\" target=\"_blank\" rel=\"noopener\">Lafite 2020</a>, calling it a "classic Lafite with a soft, almost effortless entry" and a "long lingering finish".</p>\r\n<p style=\"text-align: justify;\">Along with <a href=\"https://winenote.jeanniecholee.com/wine_database/detail/306/2020\" target=\"_blank\" rel=\"noopener\">La Mission Haut-Brion Rouge</a>, First Growths <a href=\"https://winenote.jeanniecholee.com/wine_database/detail/662/2020\" target=\"_blank\" rel=\"noopener\">Haut-Brion</a>, <a href=\"https://winenote.jeanniecholee.com/wine_database/detail/878/2020\" target=\"_blank\" rel=\"noopener\">Margaux</a>, and <a href=\"https://winenote.jeanniecholee.com/wine_database/detail/341/2020\" target=\"_blank\" rel=\"noopener\">Mouton</a> follow shortly behind with 98 points. <a href=\"https://winenote.jeanniecholee.com/wine_database/detail/663/2020\" target=\"_blank\" rel=\"noopener\">Haut-Brion Blanc</a> gains 94 points, while several siblings of the Premier Crus clan also appear on the list, with <a href=\"https://winenote.jeanniecholee.com/wine_database/detail/9824/2020\" target=\"_blank\" rel=\"noopener\">Carruades de Lafite</a> and <a href=\"https://winenote.jeanniecholee.com/wine_database/detail/880/2020\" target=\"_blank\" rel=\"noopener\">Pavillon Rouge</a> scoring 95.</p>\r\n<p style=\"text-align: justify;\">Of the 27 wines that earn 94 and over from <a href=\"https://www.jeanniecholee.com/\" target=\"_blank\" rel=\"noopener\">Jeannie Cho Lee</a>, 13 hail from Saint-Emilion - once again suggesting the success of the appellation in 2020. <a href=\"https://winenote.jeanniecholee.com/wine_database/detail/29/2020\" target=\"_blank\" rel=\"noopener\">Angélus</a>, <a href=\"https://winenote.jeanniecholee.com/wine_database/detail/936/2020\" target=\"_blank\" rel=\"noopener\">Monbousquet,</a> and <a href=\"https://winenote.jeanniecholee.com/wine_database/detail/1019/2020\" target=\"_blank\" rel=\"noopener\">Pavie</a> lead the pack with a score of 98, while Pavie's second wine, <a href=\"https://winenote.jeanniecholee.com/wine_database/detail/9858/2020\" target=\"_blank\" rel=\"noopener\">Arômes de Pavie</a> also makes an appearance.</p>\r\n<p style=\"text-align: justify;\">Further top-scoring Bordeaux 2020 from <a href=\"https://www.jeanniecholee.com/\" target=\"_blank\" rel=\"noopener\">Jeannie Cho Lee</a> are: <a href=\"https://winenote.jeanniecholee.com/wine_database/detail/9825/2020\" target=\"_blank\" rel=\"noopener\">Pichon Baron</a>, <a href=\"https://winenote.jeanniecholee.com/wine_database/detail/9826/2020\" target=\"_blank\" rel=\"noopener\">Bellevue-Mondotte</a>, <a href=\"https://winenote.jeanniecholee.com/wine_database/detail/151/2020\" target=\"_blank\" rel=\"noopener\">Canon</a>, <a href=\"https://winenote.jeanniecholee.com/wine_database/detail/267/2020\" target=\"_blank\" rel=\"noopener\">l'Evangile</a>, <a href=\"https://winenote.jeanniecholee.com/wine_database/detail/793/2020\" target=\"_blank\" rel=\"noopener\">Laroze</a>, <a href=\"https://winenote.jeanniecholee.com/wine_database/detail/9859/2020\" target=\"_blank\" rel=\"noopener\">Pavie-Decesse</a>, <a href=\"https://winenote.jeanniecholee.com/wine_database/detail/1091/2020\" target=\"_blank\" rel=\"noopener\">Rauzan-Ségla</a>, <a href=\"https://winenote.jeanniecholee.com/wine_database/detail/1190/2020\" target=\"_blank\" rel=\"noopener\">Smith Haut Lafitte Rouge</a>, <a href=\"https://winenote.jeanniecholee.com/wine_database/detail/7434/2020\" target=\"_blank\" rel=\"noopener\">Clos des Jacobins</a>, <a href=\"https://winenote.jeanniecholee.com/wine_database/detail/89/2020\" target=\"_blank\" rel=\"noopener\">Bellevue</a>, <a href=\"https://winenote.jeanniecholee.com/wine_database/detail/406/2020\" target=\"_blank\" rel=\"noopener\">Cos d'Estournel</a>, <a href=\"https://winenote.jeanniecholee.com/wine_database/detail/442/2020\" target=\"_blank\" rel=\"noopener\">Destieux</a>, <a href=\"https://winenote.jeanniecholee.com/wine_database/detail/495/2020\" target=\"_blank\" rel=\"noopener\">Duhart-Milon</a>, <a href=\"https://winenote.jeanniecholee.com/wine_database/detail/560/2020\" target=\"_blank\" rel=\"noopener\">Fleur Cardinale</a>, <a href=\"https://winenote.jeanniecholee.com/wine_database/detail/9858/2020\" target=\"_blank\" rel=\"noopener\">Arômes de Pavie</a>, and <a href=\"https://winenote.jeanniecholee.com/wine_database/detail/1081/2020\" target=\"_blank\" rel=\"noopener\">Quintus</a>.</p>\r\n<p style=\"text-align: justify;\">Watch this space for Wine Lister's latest <a href=\"https://www.wine-lister.com/wine-league\" target=\"_blank\" rel=\"noopener\">Wine Leagues</a> on the new vintage – examining which Bordeaux 2020s rank best for WL score in each major appellation.</p>","title":"Jeannie Cho Lee's top Bordeaux 2020 scores","slug":"jeannie-cho-lees-top-bordeaux-2020-scores","url":"/posts/post/jeannie-cho-lees-top-bordeaux-2020-scores","author":{"id":11,"email":"tara@wine-lister.com","name":"Tara Albini"},"terms":[{"name":"Bordeaux en primeur","slug":"bordeaux-en-primeur","url":"/posts?filter_by=bordeaux-en-primeur","type":"category","usageCounter":null},{"name":"News","slug":"news","url":"/posts?filter_by=news","type":"category","usageCounter":null},{"name":"Score updates","slug":"score-updates","url":"/posts?filter_by=score-updates","type":"category","usageCounter":null},{"name":"Bordeaux","slug":"bordeaux","url":"/posts?filter_by=bordeaux","type":"post_tag","usageCounter":null},{"name":"critics","slug":"critics","url":"/posts?filter_by=critics","type":"post_tag","usageCounter":null},{"name":"en primeur","slug":"en-primeur","url":"/posts?filter_by=en-primeur","type":"post_tag","usageCounter":null},{"name":"France","slug":"france","url":"/posts?filter_by=france","type":"post_tag","usageCounter":null},{"name":"Investment","slug":"investment","url":"/posts?filter_by=investment","type":"post_tag","usageCounter":null},{"name":"Margaux","slug":"margaux","url":"/posts?filter_by=margaux","type":"post_tag","usageCounter":null},{"name":"Pauillac","slug":"pauillac","url":"/posts?filter_by=pauillac","type":"post_tag","usageCounter":null},{"name":"Pessac-Léognan","slug":"pessac-leognan","url":"/posts?filter_by=pessac-leognan","type":"post_tag","usageCounter":null},{"name":"Pomerol","slug":"pomerol","url":"/posts?filter_by=pomerol","type":"post_tag","usageCounter":null},{"name":"Saint-Emilion","slug":"saint-emilion","url":"/posts?filter_by=saint-emilion","type":"post_tag","usageCounter":null},{"name":"Investment","slug":"investment","url":"/posts?filter_by=investment","type":"category","usageCounter":null},{"name":"Buzz Brand","slug":"buzz-brand","url":"/posts?filter_by=buzz-brand","type":"post_tag","usageCounter":null},{"name":"New Release","slug":"new-release","url":"/posts?filter_by=new-release","type":"post_tag","usageCounter":null},{"name":"Bordeaux","slug":"bordeaux","url":"/posts?filter_by=bordeaux","type":"category","usageCounter":null},{"name":"Releases","slug":"releases","url":"/posts?filter_by=releases","type":"category","usageCounter":null},{"name":"Insight","slug":"insight","url":"/posts?filter_by=insight","type":"category","usageCounter":null}]}
Jeannie Cho Lee's top Bordeaux 2020 scores
The final Wine Lister partner critic to release their Bordeaux 2020 scores, Jeannie Cho Lee's latest ratings provide further insight into the best of Bordeaux's latest vintage.
Recap the top scores from Bettane+Desseauve, JancisRobinson.com, Neal Martin and Antonio Galloni (Vinous), or read more below.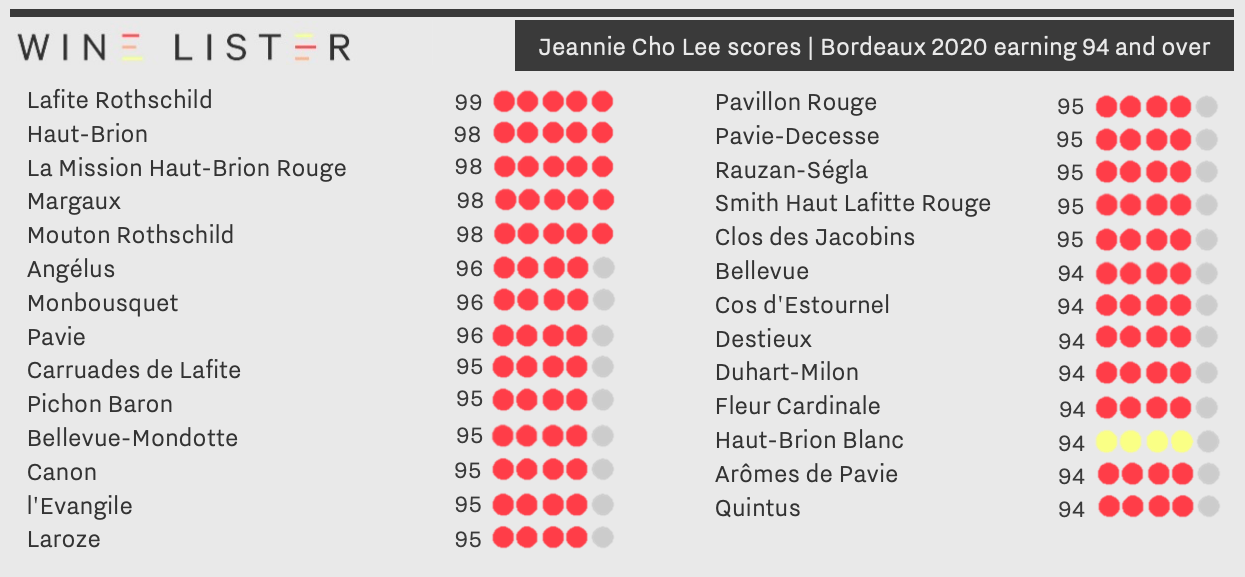 Giving a near-perfect score of 99, Jeannie Cho Lee praises Lafite 2020, calling it a "classic Lafite with a soft, almost effortless entry" and a "long lingering finish".
Along with La Mission Haut-Brion Rouge, First Growths Haut-Brion, Margaux, and Mouton follow shortly behind with 98 points. Haut-Brion Blanc gains 94 points, while several siblings of the Premier Crus clan also appear on the list, with Carruades de Lafite and Pavillon Rouge scoring 95.
Of the 27 wines that earn 94 and over from Jeannie Cho Lee, 13 hail from Saint-Emilion - once again suggesting the success of the appellation in 2020. Angélus, Monbousquet, and Pavie lead the pack with a score of 98, while Pavie's second wine, Arômes de Pavie also makes an appearance.
Further top-scoring Bordeaux 2020 from Jeannie Cho Lee are: Pichon Baron, Bellevue-Mondotte, Canon, l'Evangile, Laroze, Pavie-Decesse, Rauzan-Ségla, Smith Haut Lafitte Rouge, Clos des Jacobins, Bellevue, Cos d'Estournel, Destieux, Duhart-Milon, Fleur Cardinale, Arômes de Pavie, and Quintus.
Watch this space for Wine Lister's latest Wine Leagues on the new vintage – examining which Bordeaux 2020s rank best for WL score in each major appellation.