Winemakers of the iconic Pomerol estate: "It's easier to make great wines with strong women and sensitive men".
Our next interview in Le Figaro Vin's series finds us in Bordeaux's Right Bank, where we meet Julie and Baptiste Guinaudeau, who stand at #6 in the rankings, a couple that creates the kind of wines you fall in love with.
Just like its illustrious Pomerol neighbours, Petrus and Vieux Château Certain, Château Lafleur likes to keep things close to the chest. Julie and Baptiste Guinaudeau, partners in life and in vine, are at the head of this micro-estate of 4.58 hectares. Dynamic, engaging, and sociable, they are pursuing the work of Baptiste's parents – Sylvie and Jacques Guinaudeau – who, in 1985, decided to lease Château Lafleur from two cousins, Marie and Thérèse Robin. In 2001, the Guinaudeau family acquired the entire estate. Baptiste and Julie, then aged 20 and 18, decided to take a leap of faith and move in. Twenty years later, this seems to have paid off: Château Lafleur is a cult name among experts and collectors. Since buying their flagship estate, the Guinaudeau family has slowly built a constellation of different sites across the region, where they produce several wines: Les Perrières, Château Grand Village, and Les Champs Libres. These wines, more accessible than Château Lafleur, also showcase the skill and sincerity so characteristic of Baptiste and Julie's work.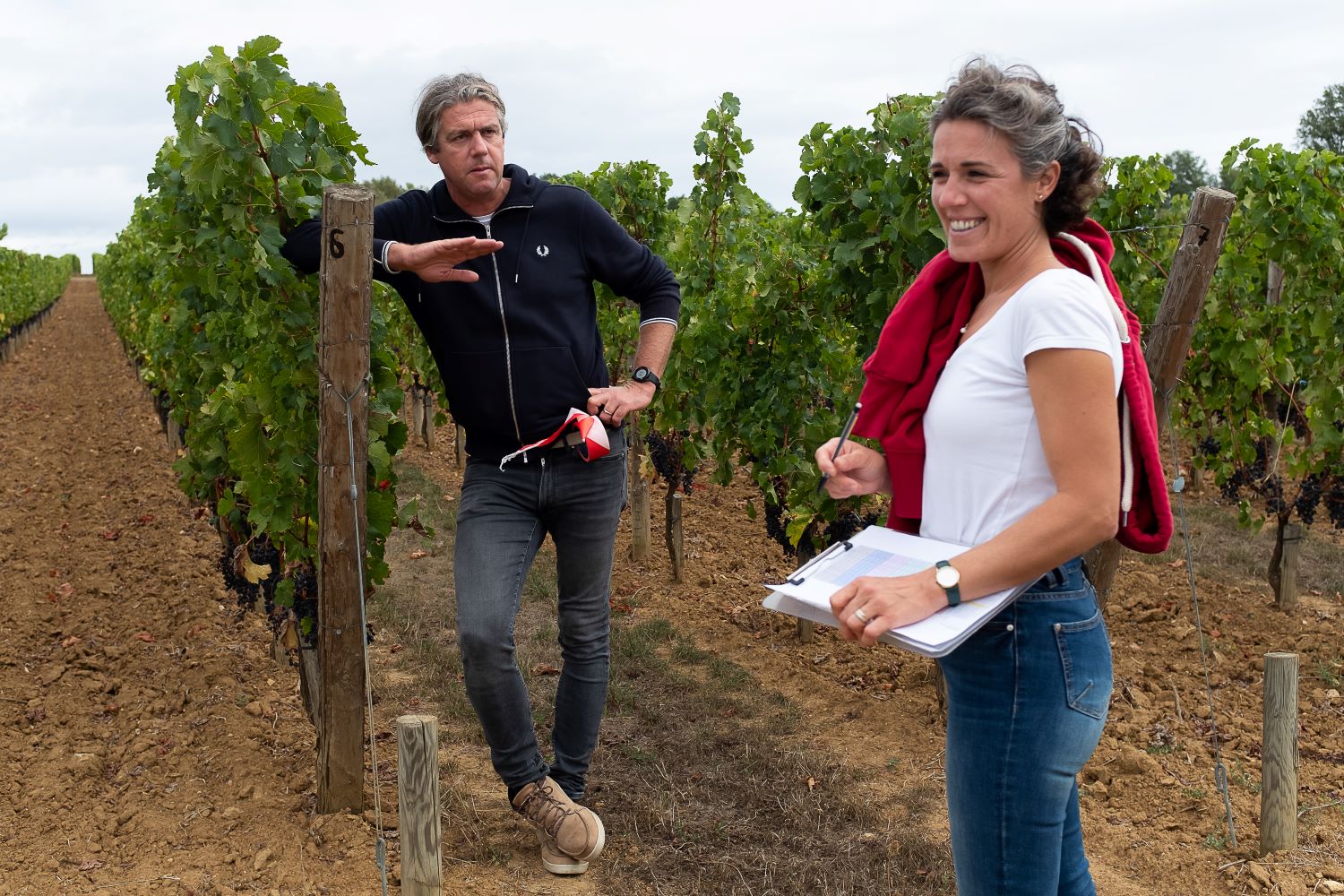 Le Figaro Vin: How does it feel to be crowned a winemaking champion?
Julie Guinaudeau. – At the end of the day, this doesn't really change anything.
Baptiste Guinaudeau. – What are we the champions of? Of nothing. We are, first and foremost, farmers; our lives follow the rhythm of the seasons. We are fortunate to be in this position and to be doing the work we love. Above all, we are very lucky.
Is wine a team sport?
BG: Yes, without a doubt. Wine is truly a team sport, one that isn't bound by time or borders. Even more so in Bordeaux, contrary to the somewhat dusty, fossilised, "members club" image people have of it. In the wine world, Bordeaux is an exception. Nowhere else involves so many people who do not hail from the region and as many women in leadership roles. In fact, Bordeaux might be the region with the freshest and most feminine approach.
It's important to stress that wine doesn't encompass a single profession: there are several. We can't do everything alone. For this reason, it's essential to know who to surround ourselves with. We have an international, multidisciplinary team. Thanks to the renown of Bordeaux, we attract people from all around the world that want to work with us. We've never needed to post job offers anywhere. There are 25 of us in the team, of which a little under a third had never made wine before working with us. A third come from abroad, another third from other parts of France (most of whom had nothing to do with wine before joining us), and a final third from a more "classic" background. We really appreciate this group of people, who always give it their all.
Who is your mentor?
BG: Here, that would be me. You always need a conductor, a team coach, who has an overview of the game, but I discuss things with Julie and my parents a lot. We are a couple, following in the footsteps of another couple, Sylvie and Jacques (Guinandeau, Baptiste's parents and previous estate managers, ed.) in the story of Lafleur. They are the ones who built the foundations of what we are today.
We have a specific progression path at Lafleur, and it always begins in the vineyard, for a cycle of two to three years. Out of 25 people, there's only one person who's never pruned a vine plant: our accountant! Other than that, everyone starts out in the vineyard with us. This is the foundation, the "core curriculum". During these first few years, you get to know the true personality of what'sin front of you. This evolves: the vines mature, they change, and we constantly strive to get the best out of them.
Have you been training for long?
BG: We both began our careers in wine very young. We started working together 22 years ago: 2001 was our first joint vintage. What sets us apart is that we make wines together, as a couple. We are both in love with each other and with the wines we make. We are living on-site, 100% immersed, and are lucky to own the estate. We are among the youngest, but we already have two decades of foolishness and success behind us. My parents brought us into the fold from the get-go. Throughout the 2000s, the four of us symbiotically. We are a family that has been making wine for many years, but we're only the second generation of full-time winemakers.
JG: I worked on my parents' organic farm in the Lot-et-Garonne. I met Baptiste in high school when I was 16 years old. I came to Bordeaux to learn oenology – there was something magical about winemaking for me. I had the opportunity to make my first wine at Lafleur in 2001, which confirmed to me that it was something wonderful. I grew up with a strong sense of taste instilled in me, through my parents, who grew tomatoes and other vegetables. For this reason, I had a very developed palate. Wine naturally followed in the footsteps of my upbringing.
What is the key to making a good wine? The terroir or the team?
BG: Everything! We have a somewhat simplistic formula that states that great wine is the sum of three elements: a great soil (with a favourable climate); great genetics (when it comes to the variety); and a winemaker that calls the right shots at the right time.
To what do you owe your success?
BG: We owe it to discomfort, which is at the heart of our profession. As long as you feel discomfort, you're not in any danger. It's comfort that's dangerous. Within prestigious, historic appellations, it's being tempted to rest on your laurels. For us, discomfort came from having to buy Lafleur in 2001. When you buy land in Pomerol in the 21st century, it's an investment, a gamble, one that needs to work out. The second discomfort came in the 2010s, when we had to change our distribution model because we weren't reaching our consumers anymore. We looked for the best ambassadors, the best distributors, to share our vision with them. The latest thing that is stirring up discomfort is climate uncertainty, which we have always lived with but has turned a new corner today. What's interesting, is that we have never felt so much agency over it.
Are your daughters proud of you?
JG: They are, because they see how hard we work. There are few women in my profession and our daughters are proud to see me amongst other strong women in a male-dominated field.
BG: My daughters are proud of their mother. It's easier to make great wines with strong women and sensitive men.
Who has been your biggest sponsor throughout your career?
BG: My parents.
Your favourite colour? 
BG: All the reds.
JG: Yellow, because it's the colour of the beautiful light we're often blessed with in Bordeaux, that casts its warm glow on the landscape.
Your favourite variety?
BG: Bouchet. That's what we call Cabernet Franc on the Right Bank. This fine variety fathered the two main Bordeaux varieties: Merlot and Cabernet Sauvignon. Born in the Basque Country, it was brought to Bordeaux by sailors, before ending up in the Loire Valley. It has everything going for it: grace, character, and a sense of balance that we love. As it's relatively unknown, it always evolved in the shadows, and we identify with it. We live by the proverb "pour vivre heureux, vivons cachés" ("to live happily, live hidden", ed.). Bouchet has been living on the Right Bank, in the shadow of Merlot.
Your favourite cuvée?
BG: The one we will discover next, whether that's at home or somewhere else. I live in the future more so than in the past. At the moment, I really like the wines of Elian Da Ros – a winemaker from the samevillage that Julie grew up in, in the Côtes du Marmandais (in the Lot-et-Garonne, ed.). He is listed in Michelin-starred restaurants all over the world, but he marches to the beat of his own drum. His flagship wine is called Le Clos Baquet.
JG: The wines that have moved me the most have been German Rieslings. We're very fond of the Prüm family, for example. If we had to pick one of our own cuvées, it would be Les Champs Libres. I love the idea that we can create something completely new with a Bordeaux variety (but with Liger-Sauternes genetics – Les Champs Libres is a Sauvignon Blanc from the Bordeaux Blanc appellation, but with a more Burgundian style. The first vintage was released in 2013, ed.).
Your favourite vintage?
BG: Always the next one to come!
If your wine was a person, who would it be?
BG: It would be Lafleur.
What's the best way to enjoy it?
BG: Very simply and spontaneously.
JG: In a relaxed state.
With whom?
BG: With neophytes.
Have you ever thought about chemically enhancing your estate? 
BG: We're dangerous enough as it is! We don't need to and neither does the wine. Great wines are pure wines, they don't need any help to express themselves. We're sometimes lucky enough to be able to go far back, and taste wines that are a century old. Even in that crude state, they are wonderful.
JG: We've tasted some incredible bottles. When we think about it technically, the conditions in which the wine was made, you realise the finest vintages were always the toughest, those where you managed, despite everything, to make a great wine.
For what price would you be prepared to sell your estate?
BG: It's priceless. You would have to buy us alongside the estate, good luck with that!
Who is your most formidable opponent in Pomerol?
BG: We don't have opponents. It might be because there's less of a competitive spirit in Pomerol. You don't have the weight of history, of rankingset cetera, unlike in other Bordeaux appellations, because our appellation is relatively young. We are tiny and we need each other. Together, we feel stronger. If we had an opponent, it would be the climate, but things aren't black and white, because the climate can also help us. Just like a sailor fears the sea while depending on it, we fear and depend on the climate.
What is your greatest achievement?
JG: That Jacques and Sylvie placed their trust in me. They allowed me to express myself, to be a part of the family and hold the reigns, alongside Baptiste, of the production, in the vineyard and in the cellar. Others also saw my potential, such as Claude Berrouet (previously winemaker at Petrus, ed.), who taught us a lot. He educated our palates.
What has been your most innovative strategy in the vineyard and in the cellar?
To work and be in love! More seriously, we don't innovate, because you must be wary of innovations in viticulture. Above all, you need to avoid being suddenly behind. You need to think long-term and take things slowly, but you also need to be able to act in the moment. We tinker, but we don't innovate.
What's your most original tactic?
BG: We harvest grapes that we've pruned. When we're in the vineyard, we think about the wines we've enjoyed the previous day and discuss their various qualities. In the cellar, we always consider how we birthed the vintage, we think about the vines a lot. We spend a lot of time at the tasting table. We are against parcel-driven vinification. It can be very risky in tiny estates like Lafleur: micro-vinifying in the absence of mass. What makes the difference between a great wine and a good wine is the quality of the tannins, their length on the palate and the minutes that follow. The quality of tannins is linked to a delicate maceration. We prefer talking about "infusion" and "diffusion" rather than "extraction". You need a minimum of mass for that, so these choices happen very early on. You can't separate all the vines by age, by variety, by soil. 80% of the grape blend is made during the harvest.
JG: Wine is made in the vineyard. Once it passes the doors of the cellar, the die has already been cast. At Lafleur, it's the sum of all the little details each step of the way, in the vineyard and in the cellar, that determine the end result.
Who would be your ideal successor on the podium?
BG and JG: Our daughters!